Apple blows away iPhone and iPad records, but Mac sales down 16 percent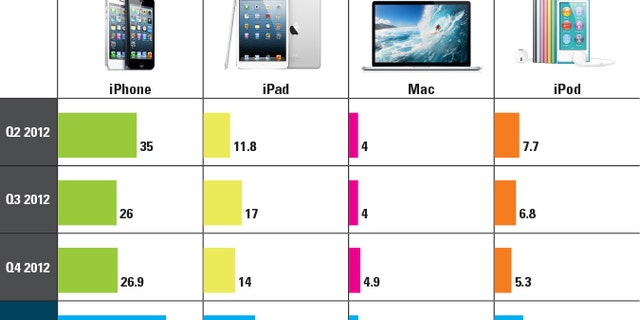 NEWYou can now listen to Fox News articles!
Apple shipped a whopping 47 million iPhones in its first quarter of 2013 and 22.9 million iPads. Both numbers represent a huge jump from a year ago, with Apple recording $54.5 billion in revenue and resulting in a net profit of $13.1 billion. However, these numbers fell slightly below analyst expectations, and Apple's stock fell during late trading.
Nevertheless, it's hard to overlook that Apple sold 10 iOS devices per second during the past quarter. And if you're wondering whether Apple will cheap out to catch up to Samsung, CEO Tim Cook emphasized during the earnings call that "the most important thing to us that people love our products. They don't just buy them."
If you look at iPhone sales, Apple sold nearly 10 million more devices versus the year-ago quarter. Apple says that sales in China more than double and that the company now has 51 percent smartphone market share in the U.S.
On the iPad front, Apple's sales jumped 7 million units from the same quarter last year, thanks to the introduction of the one-hand-friendly iPad mini and fourth-generation iPad. Despite challengers like the Microsoft Surface, Apple says the iPad continues to be the tablet of choice for businesses.
So what about Macs? Sales were down to 4.1 million, compared to 5.2 million in the year-ago quarter. Apple blames part of the shortfall on supply constraints for the new iMac. It probably didn't either help that Apple's most exciting new notebooks were both on the pricier side in the MacBook Pro with Retina Display.
Apple sold 12.7 million iPods in the quarter, compared to 15.4 million last year. Apple stressed that the iPod touch was the most popular item, accounts for half of all iPods sold. Still, it's hard to overlook that the overall iPod business is declining.
Overall, Apple's net profit for the quarter was the same year over year overall at $13.1 billion, but per share profit was slightly down at $13.81 versus $13.87 a year ago. That's the part that has analysts worried, but Apple noted during the call that this Q1 was comprised of 13 weeks versus 14 weeks last year.