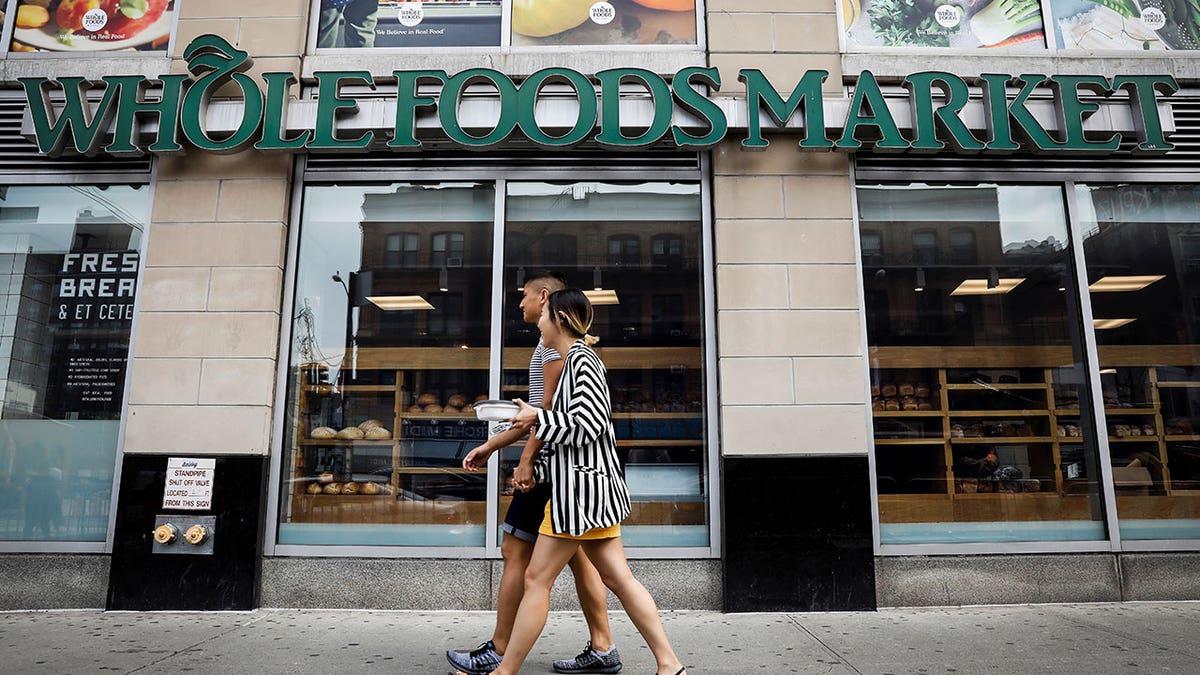 Amazon announced it will start free two-hour delivery of natural and organic products from Whole Foods via its Prime Now service. This further demonstrates the benefits of its $13.7 billion Whole Foods acquisition, while continuing to take aim at grocery markets and online delivery companies.
In a press release, the company noted that Prime customers in Austin, TX., Cincinnati, Dallas and Viriginia Beach will be able to use Prime Now to get goods such as meats, seafoods, and bakery items from Whole Foods.
"We're happy to bring our customers the convenience of free two-hour delivery through Prime Now and access to thousands of natural and organic groceries and locally sourced favorites," said John Mackey, Whole Foods Market co-founder and CEO, in the release. "Together, we have already lowered prices on many items, and this offering makes Prime customers' lives even easier," he added.
AMAZON'S LACK OF INCOME TAX PAID HAS BECOME AN 'UNCOMFORTABLE ISSUE'
The company added that delivery is available from 8 a.m. to 10 p.m. and said that two-hour delivery is free, while one-hour delivery will cost $7.99. Both require orders of $35 or more.
The move is the latest by Amazon to put its stamp on its recent purchase of Whole Foods. Amazon has cut prices on bananas, yogurt and other items, and began selling Kindle e-readers and Echo devices in some of its 470 stores.
Since Amazon bought Whole Foods last year, rival grocers have been working to increase delivery, worried about what Amazon might do. Target, for example, bought grocery-delivery company Shipt. Others have partnered with Instacart.
It's unclear how the move will affect Instarcart over the long-haul, which already has a relationship with Whole Foods for delivering household goods. An Instagram spokesperson told Fox News, "While Whole Foods remains a valued partner, they represent a small and declining portion of our revenue as Instacart customers have gained access to more and more of North America's favorite grocers including Sprouts Farmers Market, Publix, Costco, Albertsons, Wegmans, Kroger, HEB and Ahold-Delhaize."
Currently, Instacart delivers fresh produce, as well as dry goods, personal care and household items from Whole Foods, among others.
Experts see the move as a way for Amazon to control the entire process of buying groceries.
"The launch of Whole Foods grocery delivery via Prime means Amazon will have full control over the end-to-end customer experience," Andrew Park, Sr. Director, CX Strategy at InMoment told Fox News via email. "This gives them a big leg up over other delivery providers that often experience a disconnect between their services and the source stores."
Dan Wilkinson, CCO of 1WorldSync, agreed with Park, noting Amazon's usage of Whole Foods stores is an advantage over its competition. "As the lines between online and in store have blurred, Amazon has realized that location will be a key driver for commerce success," Wilkinson said. "The ability to deliver products that consumers demand as quickly and conveniently as possible will be a major competitive advantage, but it will also require significant adjustment for its logistics operations."

AMAZON MIGHT BUY TARGET, BUT COULD TRUMP STAND IN THE WAY?
Pertinence of Prime
Prime, which costs $99 a year, is an important part of Amazon's business. It allows users to get two-day shipping, as well as access to movies and television shows and has become a pillar for the Jeff Bezos-led company, along with its e-commerce and Amazon Web Services units.
In 2016, Bezos said all of the parts of Amazon Prime work together to keep customers locked into the Amazon ecosystem, allowing it to sell other products.
"When we win a Golden Globe, it helps us sell more shoes," Bezos said at the Vox Code Conference. "And it does that in a very direct way. Because if you look at Prime members, they buy more on Amazon than non-Prime members, and one of the reasons they do that is once they pay their annual fee, they're looking around to see, 'How can I get more value out of the program?' And so they look across more categories — they shop more. A lot of their behaviors change in ways that are very attractive to us as a business. And the customers utilize more of our services."
Earlier this month, Amazon hinted that it would start to integrate Prime further into its 2017 purchase of Whole Foods.
On the company's fourth-quarter earnings call, CFO Brian Olsavsky said Prime could come to Whole Foods stores perhaps by the end of this year.
When asked how the Whole Foods acquisition was performing relative to Amazon's expectations, Olsavsky said Amazon had been doing technical work behind the scenes to integrate Prime and the Whole Foods customer rewards program "and we expect to have more on that later in the year."
Separately, Olsavsky added that Amazon would continue to look at how Amazon's various offerings – AmazonFresh, Prime Now and Whole Foods – can "work together to create better and better offerings for our customer base."
Amazon generated $60.5 billion in revenue in the fourth-quarter, aided by $4.5 billion from its physical stores, "which is primarily comprised of Whole Foods," Olsavsky said on the call.
The move comes after a media report that Greg Greeley, VP of Amazon Prime and delivery experience, reportedly told employees he would be spending more time at Whole Foods, to better integrate the two companies.
The Associated Press contributed to this report. Follow Chris Ciaccia on Twitter @Chris_Ciaccia