5 of the hottest new rifles at SHOT Show
NEWYou can now listen to Fox News articles!
From hunting rifles to prepared-for-anything rifles, SHOT Show is the place where the new guns are revealed.
For a range of budgets and objectives, here are five highlights of the best rifles unveiled for 2017.
Browning BAR Safari Rifle
Considering investing in a rifle with some meaningful military history behind it? Then Browning has a special limited-edition option for you. Unveiled at SHOT, the rifle will be tough to nab because they are only producing a mere one-hundred pieces.
Before World War I, the US Army commissioned John Browning to design a next-level rifle. He created the Browning Automatic Rifle (BAR) in a remarkable three months – such a brilliant design that it withstood the test of time. The BAR continued to be used by the military through World War II until Vietnam. John Browning's grandson then introduced a sporting twist on this iconic weapon and teamed up with FN to leverage their expertise as well.
JOHN WAYNE GUNS FOR BEGINNERS REVEALED AT SHOT SHOW
In honor of the 100th anniversary, Browning is introducing the BAR Safari 100th Anniversary model with some special features. The stock is high-end Grade V Turkish walnut with oil finish. And military and hunting scenes will be engraved on the steel receiver and highlighted with gold.
It weighs 7 pounds 14 ounces, and is 44 inches long including the 22 inch barrel length. This semi-automatic sporting classic BAR rifle will be available for around $2,699.99.
Remington Model 700 American Wilderness Rifle
Speaking of anniversaries and safaris, another iconic American company, Remington, has reached 200 years and revealed their new big game rifle – the Model American Wilderness Rifle (AWR).
It is designed to be very durable and performs extremely well in tough outdoor conditions while looking good at the same time.
The Model 700 AWR has a stainless steel action and a black Cerakote coated 24-inch free-floated 5R barrel to withstand any abuse your remote adventures might throw at it.
SHOT SHOW 2017: WHAT YOU NEED TO KNOW
The rifle also has a very robust Grayboe stock with high fiberglass content to provide further durability against weather you may come up against in the wilderness.
And the trigger? There's an X-Mark Pro that is externally adjustable.
The AWR will be on sale in 2017 for about $1,225.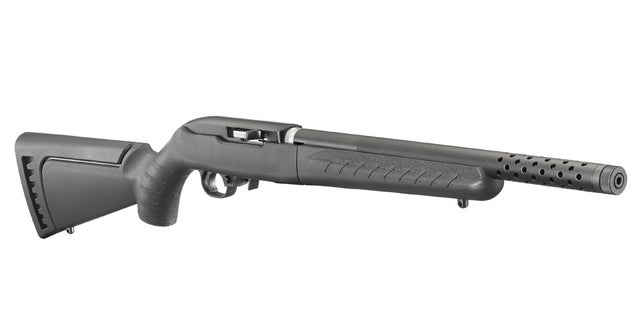 Ruger 10-22 Takedown Lite
Whether you need to react and move quickly or are just keen on a highly capable, accurate rifle that you can store and carry easily, the new 10-22 Takedown Lite is a big reveal at SHOT for 2017.
The 10-22 Takedown Lite is a rapid takedown separating the action from the cold hammer-forged barrel. And where does the Lite come in? This new rifle weighs 4.5 pounds, making it a great option for long days at the range, for women who prefer a lighter weight, and for professionals who want to stay light, fast, and agile.
Just how easy is it to takedown? Thanks to the very smart design it is incredibly easy. You just lock the bolt back, push the recessed lever and twist the subassemblies pulling it apart. That's it. It is literally that fast.
The design incorporates a threaded muzzle with a thread cap that can be easily removed to use muzzle accessories. It also features the Ruger Modular Stock System with a standard pull length and low comb.
There's a detachable 10-round rotary magazine with a cutting-edge rotor that enhances feeding reliability. The 10-22 Takdown Lite comes with the option of a high comb standard pull length module too and will be available for about $659.
Winchester XPC
Another new chassis-based precision rifle for this year is the Winchester XPC. Designed for extreme accuracy, the action is based on their popular XPR, and there's a threaded muzzle with target crown.
The free-floating barrel features a Permacote black finish. The design incorporates a cerakote fully machined alloy frame chassis and the Magpul PRS Gen 3 fully adjustable butt stock. There's an M.O.A. trigger system and two-position thumb safety.
The ten-pounder, bolt-action XPC is very accessory friendly. There's a 20-MOA scope base, full-length top Picatinny rail and an M-LOK accessory rail.
This new rifle is expected to be available for about $1,599.99.
Saint shines at SHOT Show
The Saint made by Springfield Armory is definitely another standout. It was introduced at the very end of last year and made its first appearance at SHOT, drawing a whole lot of buzz.
Fit for fighting and for the range, this new AR-15-style rifle has a mid-length gas system, Bravo Company's slim contour Polymer KeyMod handguard, an enhanced trigger, well-balanced weight, excellent accuracy and much more.
At Range Day, while testing this rifle out, folks raved about Springfield's Accu-Tite Tension system that tightens up the space between the lower and upper receivers. The new Saint retails for about $899.