$250 32GB Nexus 7 Pops Up for Sale at Office Depot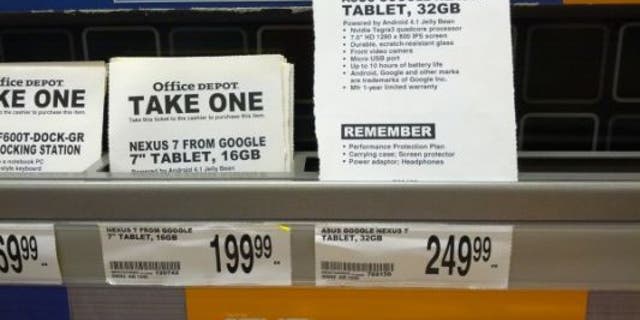 Hurricane Sandy might have postponed the Android event Google scheduled for later today, but that doesn't mean that the company's retail partners slammed the brakes on plans to roll out the new gear that will no doubt be unveiled on the make-up date. Keen-eyed shoppers have found the long-rumored 32GB variant of the Nexus 7 on Office Depot's shelves this morning for just $250.
Found next to the slate was the 16GB Nexus 7, which had its price dropped from $250 to $200 to make room for the new addition to the lineup. That price was mirrored at Gamestop.com, and the formerly $200 8GB Nexus 7 seems to have disappeared from the face of the earth online.
BetaNews.com's Joe Wilcox, who snapped the picture above at his local Office Depot, notes that despite the rumor of an upcoming Android 4.2 update, the 32GB Nexus 7 is advertised as running Android 4.1 Jelly Bean -- the same operating system found on the previously available Nexus 7 tablets.
Droid-Life's tipsters note that Office Depot's 32GB Nexus 7 supplies are limited, so be sure to snag one soon if you want one soon. The Android keynote hasn't been rescheduled yet, but we'll be there when the weather clears and Google officially pulls the veil back on the 32GB Nexus 7 (and, very likely, the Retina Display-slaying Nexus 10 tablet and the LG Nexus 4 smartphone).
Image credit: Betanews.com