2012: The Year Steve Jobs Returned to CES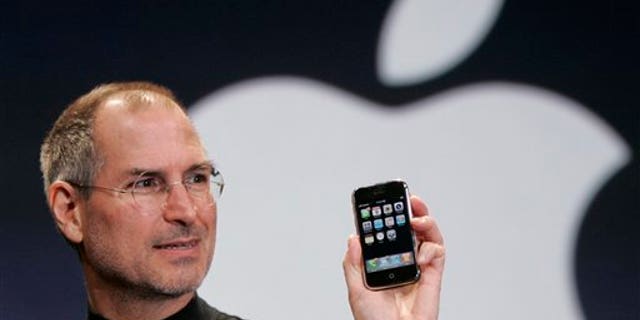 Apple has shunned the Las Vegas Consumer Electronics Show (CES) for years, first in favor of the Mac-only MacWorld Expo event, then for Apple-only product unveilings that were spearheaded by Steve Jobs himself.
But Jobs' revolutionary company, his sleek sense of design, his friendly and "insanely great" products are more visible than ever this year at CES, the world's largest consumer technology event. Despite Jobs' death in October, it seems as if this is the year the beloved technology guru finally made it back to the show.
"Even without an actual booth or direct on-floor display, it will be all but impossible to escape the shadow of Steve Jobs," Scott Steinberg, head of business consulting firm TechSavvy, told FoxNews.com.
"[Apple's] presence will inevitably be felt -- arguably more so than ever."
Apple didn't always ignore CES. In the company's early days, it had a booth and even gave presentations at the show.
"They did exhibit -- and Apple CEO John Sculley also delivered a CES keynote address in 1992," explained Jason Oxman, a spokesman for the Consumer Electronics Association. The most recent Apple listing in the show's exhibitor directory is for 1994.
Since the mid-'90s, Apple made a series of presentations at MacWorld Expo, memorably introducing the world to the iMac in 1998 and the iPhone in a 2007 keynote. Apple abandoned that show as well in 2009, but even without a booth -- and even without Jobs himself -- the technology powerhouse is impossible to avoid.
"Apple's specter looms large over the consumer electronics world, and CES 2012 itself -- a continued testament to the firm's growing power, despite its recent change of leadership," Steinberg said.
In 2010, the CEA unveiled the iLounge TechZone at CES, featuring accessories and related gear for Apple products. That first year, it was 25,000 square feet and included over 100 exhibitors. This year, more than 350 exhibitors fill 85,000 square feet -- approximately the same footprint as the Empire State Building.
And that's in addition to the goodies shown off by Apple-friendly vendors such as Belkin, Philips, and others.
"Apple's ecosystem is a huge part of the CES show floor," Oxman said.
The company's legacy -- Jobs' legacy -- will be most obvious in several key markets that promise to dominate the show: tablet PCs, ultra skinny laptops, and, surprisingly, even televisions.
"At least the shadow of an upcoming Apple iTV will loom large over the event," explained Lance Ulanoff, editor in chief of tech news site Mashable.com. The company has reportedly been investigating making Apple-branded sets in a variety of sizes that are expected to link consumers to the iTunes marketplace.
Even co-founder Steve Wozniak thinks an Apple set is coming, telling USA Today, "I do expect Apple to make an attempt."
"No one knows exactly what that TV will be, but every other TV manufacturer is going to make sure we all know their sets were smart, first," Ulanoff told FoxNews.com.
Apple is likely to continue to dominate the tablet market with its iPad 2, and there are rumors that an iPad 3 is imminent.
"Jobs' iPad legacy is likely going to drive, yet again, a whole bunch of companies back into the tablet breach," Ulanoff agreed.
Apple declined to comment for this story.