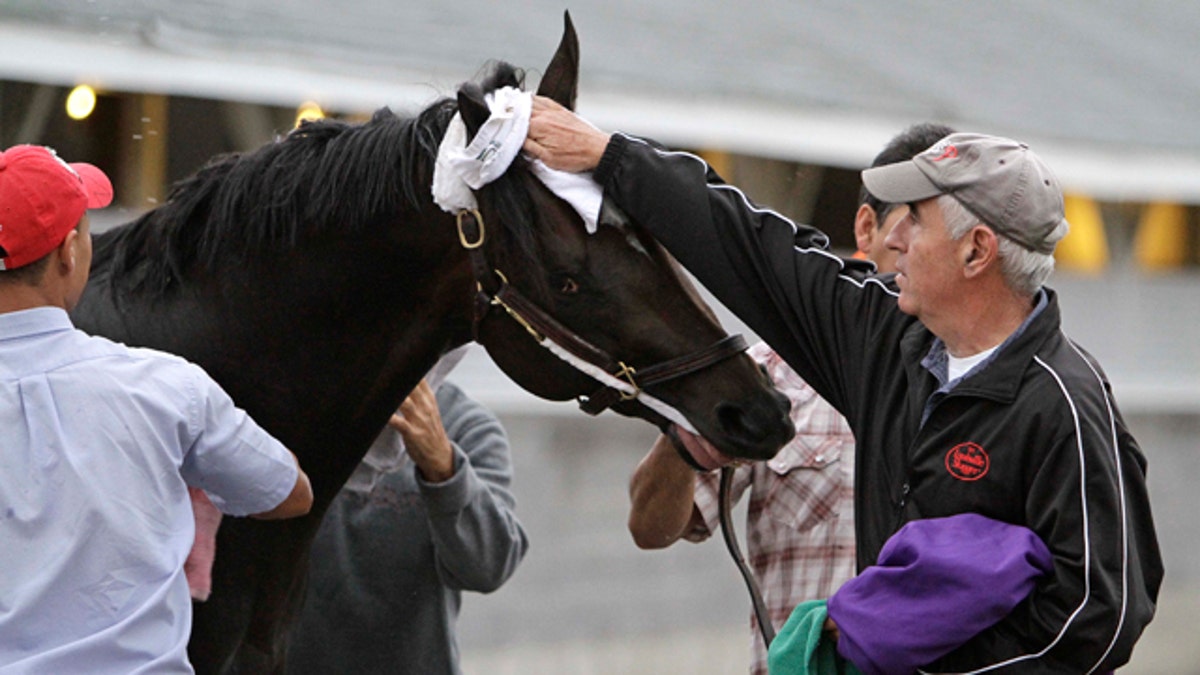 LOUISVILLE, Ky. — Nick Zito knows the good part of the Kentucky Derby as a two-time winner. He also knows the heartbreak of America's greatest race.
Zito nearly joined fellow Hall of Fame trainer Bob Baffert as a three-time champ last year, when Ice Box overcame traffic trouble twice only to finish second, beaten 2½ lengths by Super Saver.
Now, after a winter of ups and downs on the Derby trail, Zito is back at Churchill Downs with Dialed In, the likely favorite for Saturday's 137th Derby.
"There's a little bit more pressure when you've got the favorite," he said, standing trackside in between rain showers on Monday. "As long as everything is going good, I'm OK with it. It's flattering to have the favorite."
That role was all set to go to Uncle Mo until the colt finished a stunning third in the Wood Memorial, the first loss of his career and one that turned the Derby into a wide-open race.
"That's what happens in our business," Zito said, "as soon as you fall off, there are not that many people there. His race wasn't that bad in the Wood. He's still the 2-year-old champion and you got to give him respect."
Dialed In didn't exactly dominate his final tuneup, either. He edged Shackleford by a head to win last month's Florida Derby, making him 3 for 4.
"He's still the only horse who's won two major races," Zito said, noting Dialed In's first win of the year came in the Holy Bull Stakes.
"Right now, this is a great horse," owner Robert LaPenta said after the Florida Derby.
And Dialed In has prior experience at Churchill Downs, where he won his first career start by a half-length in November.
Back in October 2001, LaPenta approached Zito at a horse sale asking how they could get into business together. By then, LaPenta had been in racing for three years as a partner of Louisville basketball coach Rick Pitino.
As passionate and outspoken as Zito can be, LaPenta is just the opposite, which makes him a good client.
"He stays completely out of the training of the horses," Zito said. "Most of my owners do the same, but I think because he buys a lot of horses, you really can't overmanage because then you probably get sidetracked."
Zito and LaPenta are 0 for 4 in their previous attempts to win the Derby together. They came closest with Ice Box last year. The Cliff's Edge finished fifth in 2004, Andromeda's Hero was eighth in 2005 and Cool Coal Man was 15th in 2008.
Their biggest score since teaming up came in the 2008 Belmont Stakes, when Da' Tara spoiled Big Brown's Triple Crown hopes with a victory at 38-1 odds.
Zito liked Dialed In when he spotted him at a sale, having trained the colt's brother Andromeda's Hero, who later ran second to Afleet Alex in the 2005 Belmont Stakes.
Zito bought Dialed In for $475,000 on behalf of LaPenta, president and CEO of a Connecticut company that provides products to secure personal identities and assets.
Dialed In spent the winter in Florida before flying to Louisville last weekend. He was joined by Zito, who eschewed a commercial flight to sit on a bale of hay on the equine charter. The 63-year-old trainer then rode the horse van that brought Dialed In from the airport to the track.
"It was cool," he said, adding that the last time he flew with a horse was in the days of propeller planes.
If not for the capricious nature of horse racing, Zito might have had two Derby contenders this year.
He originally bought Stay Thirsty as a yearling for $160,000 on behalf of LaPenta, who then turned around and sold the horse for a $340,000 profit in a practice known as pinhooking.
"I didn't want to lose that horse. Sometimes you can get burned," Zito said. "That's what Bob told me, 'That's the dumbest thing I ever did in horse racing.'"
The buyer? Mike Repole, who besides Stay Thirsty, will have Uncle Mo in the Derby.
Repole has said if Uncle Mo isn't the favorite when the morning line is set Wednesday, he'll make him the favorite, meaning the wealthy former owner of Vitaminwater would bet enough to put his horse over the top.
"The only thing I wish maybe Mike would do is always remember there's 19 others in the race, you got to give them respect, too," Zito said.
"Vince Lombardi had a great quote: 'Don't ever underestimate your opponent.' That's something I never do."