Yankees owner Hal Steinbrenner has 'no love' for Red Sox after rival wins World Series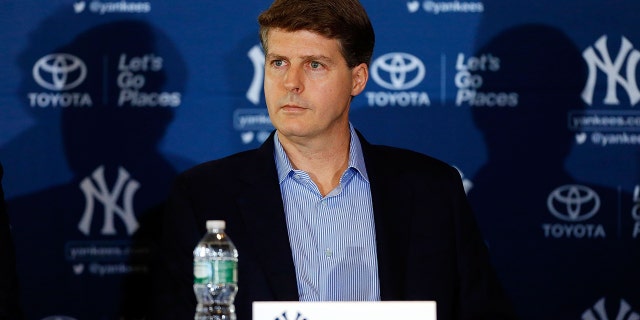 New York Yankees owner Hal Steinbrenner expressed his anger toward the Boston Red Sox on Thursday weeks after the division rival eliminated them in the playoffs on their way to a World Series victory.
Having the Red Sox defeat the Yankees and win their fourth championship in 15 years "certainly pisses me off," Steinbrenner told the New York Post. "I never want a division rival to outdo us."
"I have no love for the Red Sox on the field or in the division," he added.
Steinbrenner reflected on the season and praised Masahiro Tanaka for pitching well in the playoffs.
"I am frustrated we did not play up to our ability," he told the New York Post. "Except for Tanaka, the starting pitching was not good and the hitting was inconsistent. We are much better than we played in that series."
Steinbrenner, 48, said the Yankees' strategy in the offseason will remain the same as he still believes a team with a payroll under $200 million could win a World Series. Boston had a $227 million payroll and the runner-up Los Angeles Dodgers had a $199 million payroll, according to Spotrac.
Steinbrenner's comments will certainly add fuel to the reignited rivalry between the Yankees and Red Sox.
"I have no love for the Red Sox on the field or in the division."
The war between the two teams was renewed earlier in the 2018 season when then-Yankees first baseman Tyler Austin went after Red Sox pitcher Joe Kelly after being hit by a pitch. It led to several ejections.
The Red Sox got the better of the Yankees in the regular season, winning 10 of their 19 meetings. Boston finished with 108 wins to lead the American League East, while the Yankees won 100 games to secure an American League Wildcard spot.
The two teams met in the American League Division Series. New York outfielder Aaron Judge was seen blasting "New York, New York" after the Yankees' Game 2 win in Boston. Judge's jab appeared to rally the Red Sox, who went on to win the next two games to win the series, and ultimately the whole thing.
Red Sox manager Alex Cora, during the team's parade earlier this week, reminded Yankees fans of the brutal beat down the team laid on them during the playoffs.
"We scored 16 [runs] at Yankee Stadium. Suck on it" he said, referencing their Game 3 win.
The rivalry will pick up again during a two-game slate on April 16 in the Bronx. The two teams will play a series in London June 29 and 30.