Yankees-Red Sox rivalry reignites with early season brawl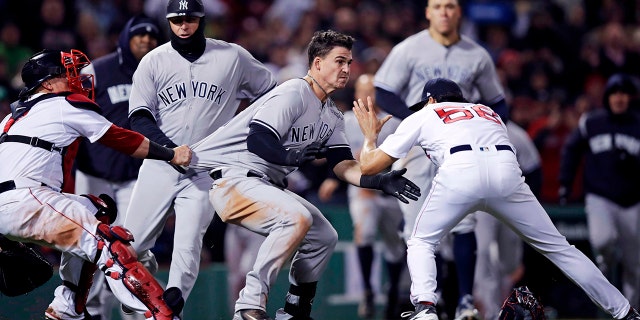 A new generation of New York Yankees and Boston Red Sox players etched a new mark in the bitter rivalry Wednesday night as a hit by pitch sparked a rambunctious brawl at Fenway Park.
Yankees batter Tyler Austin took a 97 mph fastball to the upper body from Red Sox righty Joe Kelly, triggering the bench-clearing brawl in the seventh before New York's 10-7 win.
Austin slammed his bat down and charged the mound, sparking a fury of punches and pushes from both sides of the field.
"It's Yankees-Red Sox. That's what everybody wants. That's what they got," Red Sox pitcher David Price said.
Austin and Kelly were both ejected from the game. Yankees third-base coach Phil Nevin and reliever Tommy Kahnle were also tossed. According to MLB.com, Nevin said he had been yelling toward the Red Sox's dugout and Kahnle said he got angry after he was pushed by an umpire.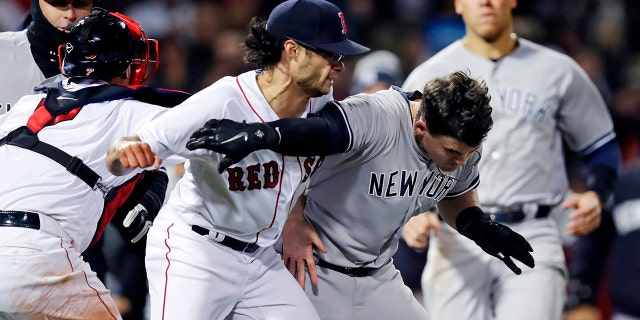 Kelly said after the game that the ball got away from him, but things got feisty in the third inning when Austin slid spikes first into second baseman Brock Holt – which cleared benches the first time.
Austin said he felt like the pitch was intentional, according to MLB.com.
"I felt like that it was intentional and I didn't want to let anybody push myself around or do anything like that," Austin said. "That's why I went out there."
Kelly had red marks around his neck after the skirmish and left the field with a torn jersey.
"I was ready to defend myself," Kelly said. "Someone comes on my property and in my backyard — I've got two dogs and if you come on my property and I feel like I was getting attacked then I'm going to have to defend myself."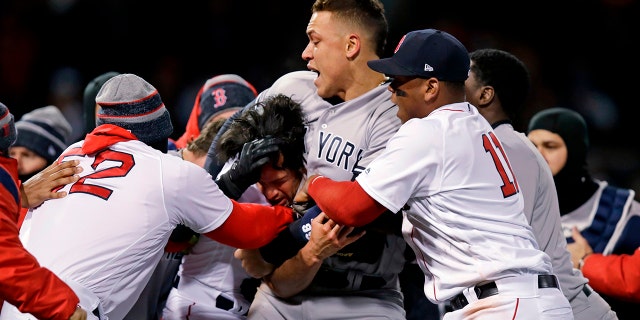 The Yankees and Red Sox play their series finale Thursday night, and Yankees manager Aaron Boone believes the theatrics will be behind everyone.
"I think it's probably over with," Boone said. "Hopefully put this to bed."
The brawl in Boston was the second big fight of the day in baseball.
Colorado Rockies slugger Nolan Arenado went after San Diego Padres pitcher Luis Perdomo after a 96 mph fastball sailed behind his back.
"It made me wonder, too, if they were in their clubhouse watching the Padre-Rockie brawl and planted the seed for them and led them to think that that's why they should do," Yankees general manager Brian Cashman said.
The Austin-Kelly fight follows some of the more infamous brawls in the storied rivalry from Alex Rodriguez and Jason Varitek to Don Zimmer and Pedro Martinez to Lou Pinella and Carlton Fisk.
The Associated Press contributed this report.