Red Sox manager Alex Cora to Yankees, doubters: 'Suck on it'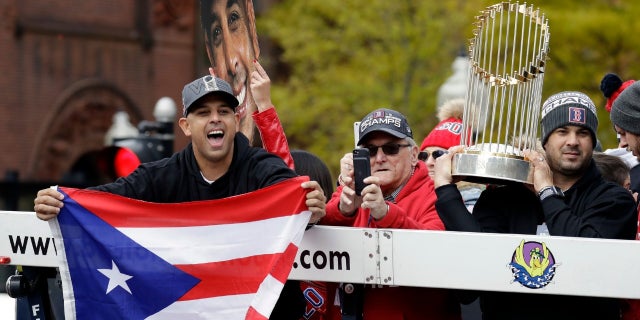 Boston Red Sox manager Alex Cora, fresh off his team's World Series win on Sunday night, decided to get next season's rivalry with the New York Yankees started early.
Speaking from the team's victory parade, Cora recounted the team's early stumble in the American League Division Series and how the Red Sox quickly recovered at Yankee Stadium.
The bad blood apparently started when Cora's squad lost 6-2 to the rival Yankees in Game 2 of the ALDS, and following the game, Yankees star Aaron Judge was spotted blasting "New York, New York" as he exited Fenway Park.
BOSTON RED SOX PITCHER THROWS SUPPORT TO TRUMP, WOULD VISIT WHITE HOUSE IF INVITED
The Red Sox got the final say, however, annihilating the Yankees, 16-1, in Game 3 before winning the ALDS the next night. Cora acknowledged the team ran into trouble -- but showed some swagger over the final result.
"Yeah, the sky was falling. We lost Game 2 and there was panicking here. Everybody was like 'Whoa, it's over,'" Cora said.
He then added: "We scored 16 [runs] at Yankee Stadium. Suck on it."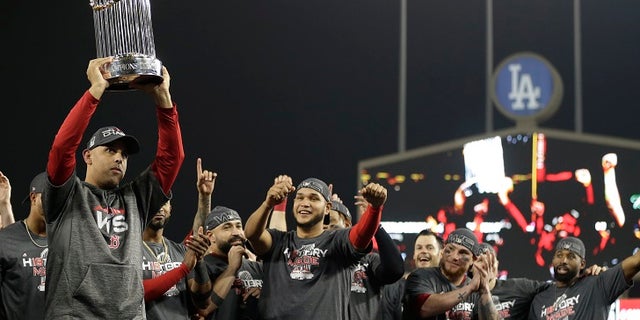 BOSTON RED SOX WIN THE WORLD SERIES BEHIND TWO HOMERS FROM STEVE PEARCE
Cora then turned his attention to the Houston Astros, the team the Red Sox beat, 4-1, in the American League Championship Series. Cora was the Astro's bench coach in 2017, when Houston won its first World Series.
"And then, for how much I care about those guys in Houston, well, we went to Houston and swept them down there," he said.
Cora called the season "an amazing year" and thanked the fans. The Red Sox beat the Los Angeles Dodgers in five games to win the coveted World Series title -- the Red Sox's fourth since 2004.