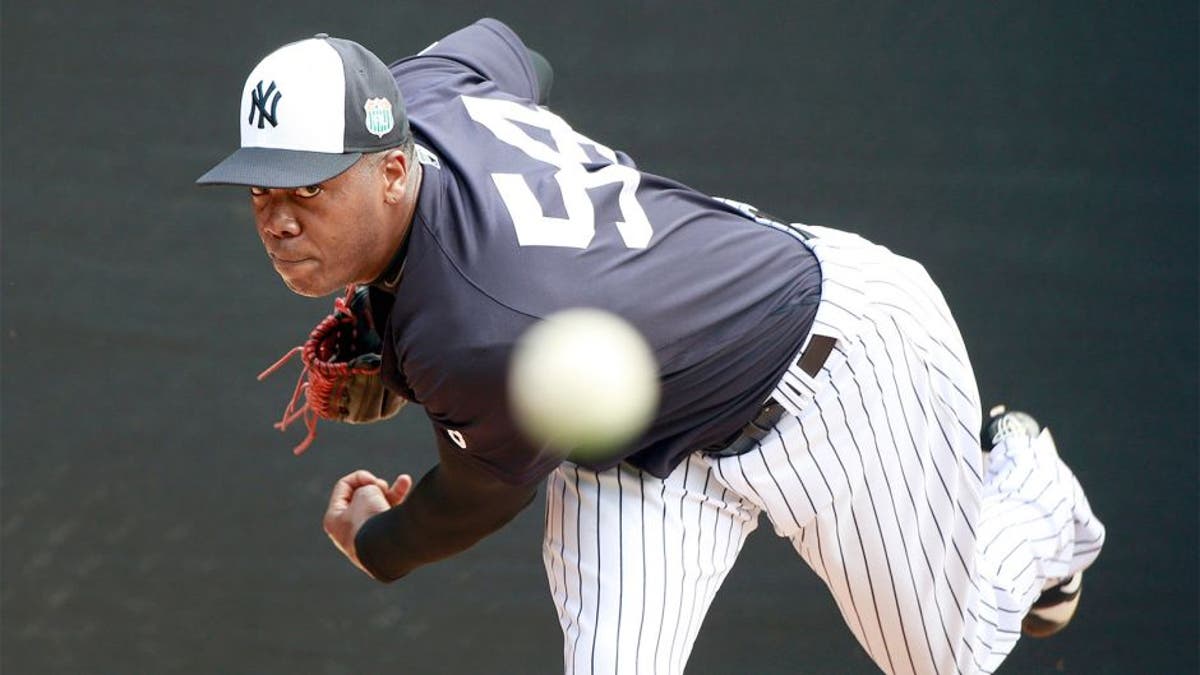 TAMPA, Fla. -- Closer Aroldis Chapman rejoined the New York Yankees after missing one day of spring training while tending to a family matter in Miami and said he hasn't heard from Major League Baseball about possible discipline under the sport's new domestic violence policy.
Baseball Commissioner Rob Manfred said Monday he has made "additional progress" toward decisions on two of the first three cases under investigation and expects an announcement in the next couple of days.
"In general, I never hurt anybody ever in my life," Chapman said Tuesday through a translator. "That's not my character or the person I am."
Yankees manager Joe Girardi recently read the case's police report.
"There's different accounts," Girardi said. "I don't know if we'll ever truly know exactly what happened. Obviously when there's domestic violence brought up, it's a concern. It's a concern in our society. It's a concern for me. You worry about it."
Chapman is under investigation for an incident at his house in Florida in October involving his girlfriend. Chapman is alleged to have fired a gun during the encounter.
Prosecutors declined to file charges. Chapman said he would appeal any suspension to baseball's arbitrator.
Chapman, acquired from Cincinnati to join a bullpen that already included Andrew Miller and Dellin Betances, threw 27 pitches during his second bullpen session.
"You see the arm action, you see the whip," Girardi said. "He's extremely athletic."
Starter CC Sabathia threw 40 pitches off the mound in his second spring training session.
A-ROD'S ARRIVAL
Alex Rodriguez reports this week for his second season following his suspension for violations of baseball's drug agreement and labor contract.
"I think they'll be less attention paid on him from the media," Girardi said. "I don't imagine the press conference about him and the questions I was asked about him will be nearly as numerous as last year."
Rodriguez hit .250 with 33 homers and 86 RBI last season, slumping in the final weeks of the season.
MISSING YOGI
This is the first spring training since the death of Yankees' great Yogi Berra. The Yankees are continuing to wear Berra's No. 8 on the sleeves of their jerseys.
"I think it's difficult for all of us," Girardi said. "There was always that hope he would show up at spring training. You know if he wasn't at spring training, we'd see him opening day. We all know that's changed.