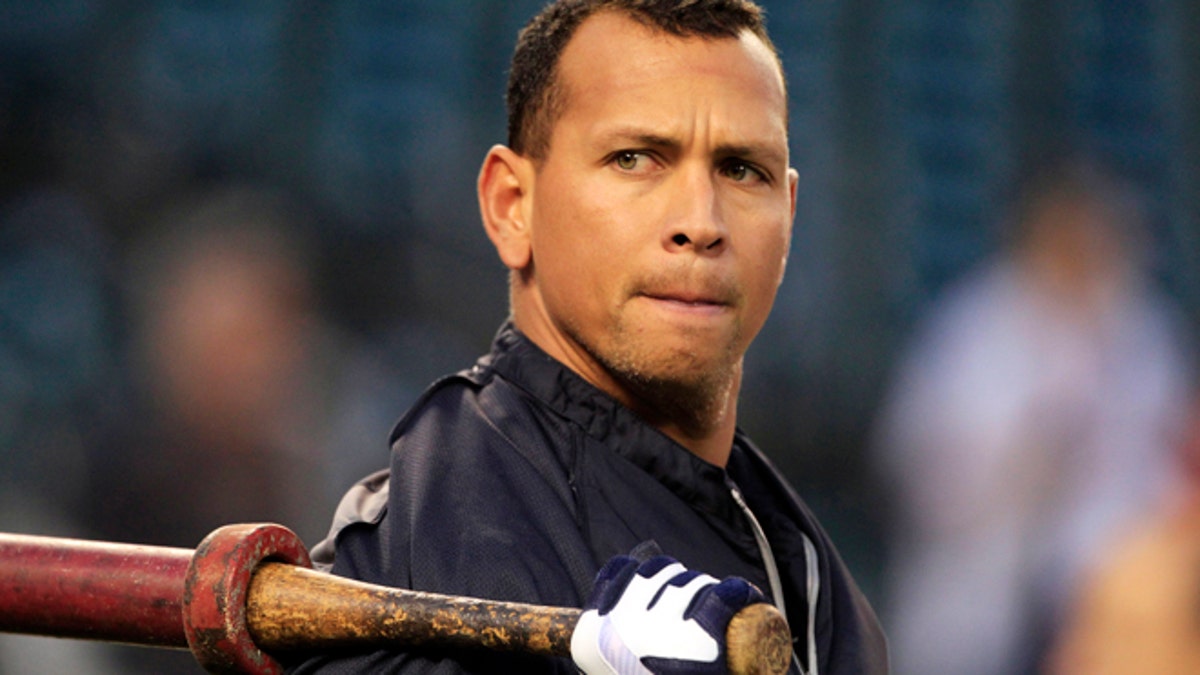 NEW YORK – Alex Rodriguez was ensnared in a doping investigation once again Tuesday when an alternative weekly newspaper reported baseball's highest-paid star was among a half-dozen players listed in records of a Florida clinic the paper said sold performance-enhancing drugs.
The Miami New Times said the three-time AL MVP bought human growth hormone and other performance-enhancing substances during 2009-12 from Biogenesis of America LLC, a now-closed anti-aging clinic in Coral Cables, Fla., near Rodriguez's offseason home.
The new public relations firm for the New York Yankees third baseman issued a statement denying the allegations.
The newspaper said it obtained records detailing purchases by Rodriguez, 2012 All-Star game MVP Melky Cabrera, 2005 AL Cy Young Award winner Bartolo Colon and 2011 AL championship series MVP Nelson Cruz of Texas.
Cabrera left San Francisco after the season to sign with Toronto, while Oakland re-signed Colon.
Other baseball players the newspaper said appeared in the records include Washington pitcher Gio Gonzalez, who finished third in last year's NL Cy Young Award voting, and San Diego catcher Yasmani Grandal.
Biogenesis, which the New Times said was run by Anthony Bosch, was located in a beige, nondescript office park. The former clinic is no longer listed as a business in its directory,
"There was a flier put out by the building management a couple weeks ago. It was put on all the doors and windows of all the offices," said Brad Nickel, who works in a group cruise planning company on the floor above where the clinic was located. "It just said this guy's not really a doctor, he doesn't belong here, he's no longer allowed here, call the police or the building management if you see him."
David Sierra, who works in his aunt's real estate office in the same building, kept a picture of the flier on his iPhone. He recognized the doctor in the picture from passing him in the hallway.
Sierra said while he never recognized any of the clients at the clinic, "there were always really nice cars in front -- I'm not talking just Mercedes. Range Rovers, Bentleys."
The New Times posted copies of what it said were Bosch's handwritten records, obtained through a former Biogenesis employee it did not identify.
Rodriguez appears 16 times in the documents it received, the paper said, either as "Alex Rodriguez," "Alex Rod" or the nickname "Cacique," a pre-Columbian Caribbean chief.
Rodriguez admitted four years ago that he used PEDs from 2001-03. Cabrera, Colon and Grandal were suspended for 50 games each last year by MLB following tests for elevated testosterone. Responding to the testosterone use, MLB and the players' union said Jan. 10 they were authorizing the World Anti-Doping Agency laboratory outside Montreal to store each major leaguer's baseline testosterone/epitestosterone (T/E) ratio in order to detect abnormalities.
"We are always extremely disappointed to learn of potential links between players and the use of performance-enhancing substances," MLB said in a statement. "Only law enforcement officials have the capacity to reach those outside the game who are involved in the distribution of illegal performance-enhancing drugs. ... We are in the midst of an active investigation and are gathering and reviewing information."
A baseball official, speaking on condition of anonymity because he was not authorized to make public statements, said Monday that MLB did not have any documentation regarding the allegations. If MLB does obtain evidence, the players could be subject to discipline. First offenses result in a 50-game suspension and second infractions in 100-game penalties. A third violation results in a lifetime ban.
Rodriguez is sidelined for at least the first half of the season after hip surgery Jan. 16. A 50-game suspension would cost him $7.65 million of his $28 million salary.
"The news report about a purported relationship between Alex Rodriguez and Anthony Bosch are not true," Rodriguez said in a statement issued by a publicist. "He was not Mr. Bosch's patient, he was never treated by him and he was never advised by him. The purported documents referenced in the story -- at least as they relate to Alex Rodriguez -- are not legitimate."
Jay Reisinger, a lawyer who has represented Rodriguez in recent years, said the three-time AL MVP had retained Roy Black, an attorney from Rodriguez's hometown of Miami. Black's clients have included Rush Limbaugh and William Kennedy Smith.
Bosch did not return a phone message seeking comment.
MLB hopes to gain the cooperation of Bosch and others connected with the clinic, another baseball official said, also on condition of anonymity because no public statements on the matter were authorized. In order to successfully discipline players based on the records, witnesses would be needed to authenticate them, the official said.
Players could be asked to appear before MLB for interviews, but the official said MLB would be reluctant to request interviews before it has more evidence.
Rodriguez spent years denying he used PEDs before Sports Illustrated reported in February 2009 that he tested positive for two steroids in MLB's anonymous survey while with the Texas Rangers in 2003. Two days later, he admitted in an ESPN interview that he used PEDs over a three-year period. He has denied using PEDs after 2003.
If the new allegations were true, the Yankees would face high hurdles to get out of the final five years and $114 million of Rodriguez's record $275 million, 10-year contract. Because management and the players' union have a joint drug agreement, an arbitrator could determine that any action taken by the team amounted to multiple punishments for the same offense.
But if Rodriguez were to end his career because of the injury, about 85 percent of the money owed by the Yankees would be covered by insurance, one of the baseball officials said.
The Yankees said "this matter is now in the hands of the commissioner's office" and said they will not comment further until MLB's investigation ends.
Gonzalez, 21-8 for the Washington Nationals last season, posted on his Twitter feed: "I've never used performance enhancing drugs of any kind and I never will, I've never met or spoken with tony Bosch or used any substance provided by him. anything said to the contrary is a lie."
Colon was not issuing a statement, agent Adam Katz said through spokeswoman Lisa Cohen.
"We are aware of certain allegations and inferences," Cruz's law firm, Farrell & Reisinger, said in a statement. "To the extent these allegations and inferences refer to Nelson, they are denied."
Sam and Seth Levinson, the agents for Cabrera, Cruz and Gonzalez, did not respond to emails seeking comment. Greg Genske, Grandal's agent, also did not reply to an email.
Cruz and Gonzalez had not previously been linked to performance-enhancing drugs. Cruz hit 24 home runs last year for the Texas Rangers, who says they notified MLB last week after being contacted by the New Times.
The New Times report said it obtained notes by Bosch listing the players' names and the substances they received. Several unidentified employees and clients confirmed to the publication that the clinic distributed the substances, the paper said. The employees said that Bosch bragged of supplying drugs to professional athletes but that they never saw the sports stars in the office.
The paper said the records list that Rodriguez paid for HGH; testosterone cream; IGF-1, a substance banned by baseball that stimulates insulin production; and GHRP, which releases growth hormones.
Rodriguez's cousin, Yuri Sucart, also is listed as having purchased HGH. Sucart was banned from the Yankees clubhouse, charter flights, bus and other team-related activities by MLB in 2009 after Rodriguez said Sucart obtained and injected PEDs for him.
Also listed among the records, according to the New Times, are tennis player Wayne Odesnik, Cuban boxer Yuriorkis Gamboa and Jimmy Goins, the strength and conditioning coach of the University of Miami baseball team.
Odesnik, who lost in the first round of qualifying for this year's Australian Open, is a former top-100 player who was suspended by the International Tennis Federation after Australian customs officers found eight vials containing HGH in his luggage when he arrived in that country ahead of a January 2010 tournament. He denied using HGH and never tested positive for it. What originally was a two-year ban was cut in half because the ITF said Odesnik cooperated with its anti-doping program.
Mia Ro, a spokeswoman for the federal Drug Enforcement Administration in Miami, said she could not confirm or deny the existence of an investigation into Bosch or the clinic.
The University of Miami said it was conducting "an intensive review" of the matter but did not identify Goins by name.
Goins was "very surprised" to learn of the allegations raised by the New Times, according to a statement from Michelle A. White, of the Coral Gables law firm of Fenderson & Hampton, which said it was representing him.
White would not comment on whether Goins was a patient of Bosch but added that Goins "has done nothing improper either personally or as a representative of the University of Miami," and denies any allegation or inference of wrongdoing.