World Series opener is MLB's hottest-ever postseason game
Tuesday night's World Series opener was the hottest postseason game in recorded Major League Baseball history, besting a record that had stood for 16 years.
The temperature at Dodger Stadium when Los Angeles Dogers ace Clayton Kershaw threw the first pitch to George Springer of the Houston Astros was a sizzling 103 degrees.
The previous high game-time temperature for a World Series game dating back to 1975 was 94 degrees for the 2001 Fall Classic opener between the New York Yankees and the Arizona Diamondbacks. Game 6 of that series reached 91 degrees.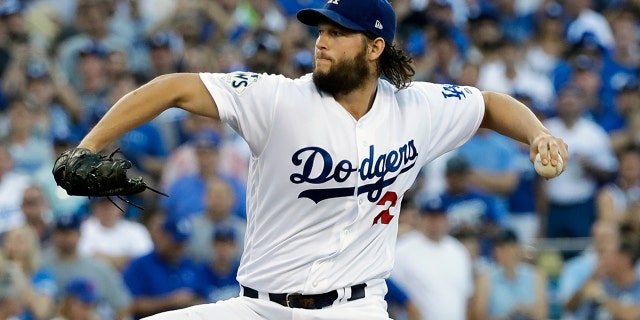 Temperatures across Southern California are expected to top 100 degrees during the next few days as part of a late October heatwave.
The National Weather Service warned of dangerous heat Tuesday and Wednesday, with highs predicted to reach 95 to 105 degrees in many areas, coupled with hot, gusty Santa Ana winds that could reach 60 mph at times.
WORLD SERIES TICKET PRICES SURGE AHEAD OF GAME 1 BETWEEN DODGERS, ASTROS
Despite the heat, Kershaw warmed up wearing his Dodgers jacket. Fewer fans than usual watched the team take batting practice from the exposed outfield pavilion seats, while others sought any shade they could find.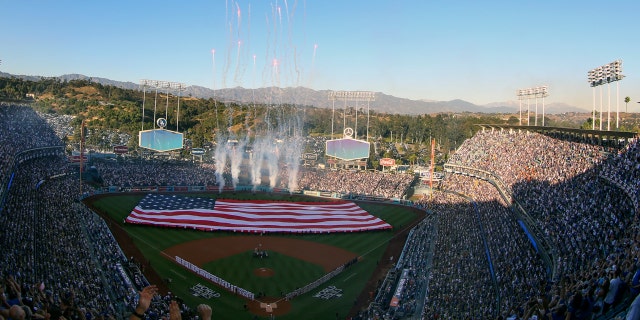 "They're from Houston, I'm from Texas, it's going to be hot for everybody,'' Kershaw said when asked about the heat. "We're all used to it. It will be fine.''
AT LONG LAST, KERSHAW TO PITCH IN WORLD SERIES
Elsewhere in the region, Downtown Los Angeles passed its 108-year-old record of 99 degrees for the date before midday Tuesday.
Even proximity to the ocean was no relief, as surfing mecca Huntington Beach also reached 103.

The Los Angeles Fire Department declared its first citywide Red Flag Alert since May 2014, banning vehicles from being parked on roads in areas designated as very high fire hazard zones for at least 24 hours starting at 8 a.m. Tuesday.
"These are narrow streets with hairpin turns, areas that would essentially create a chokepoint if a car was parked there while people were trying to evacuate out and a fire apparatus is trying to get into those areas to extinguish a fire," Captain Erik Scott with the LAFD told FOX 11.
Southern California fire agencies put extra firefighters on duty. Rangers patrolling the Santa Monica Mountains were on the lookout for signs of fire or risks such as people smoking in the sprawling area covered with dangerously flammable dry grass.
The Associated Press contributed to this report.