Why Tom Brady will win NFL MVP despite his Deflategate suspension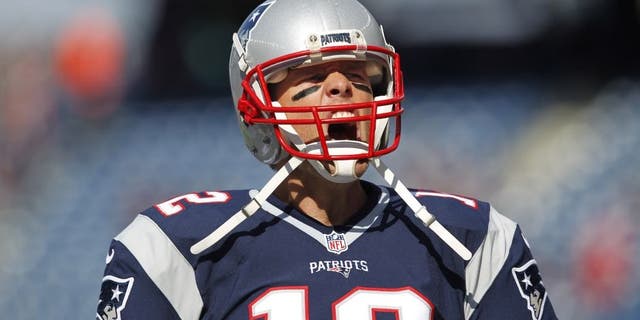 When Tom Brady was suspended for the first four games of the season, it was a significant blow to the New England Patriots. Sure, they had a capable backup in Jimmy Garoppolo and an offense that was tailored to make quarterbacks look good, but it was the biggest challenge New England had to face since Brady's knee injury in 2008.
The Patriots obviously overcame his ban by going 3-1 despite also losing Garoppolo to an injury. They're now 7-1 and look like world-beaters as surefire Super Bowl contenders. There simply isn't a team that looks as dominant as the Patriots, and it's largely thanks to the remarkable play of Brady.
Heck, he's been so good that one could easily make the case that he's the top NFL MVP candidate at the moment and has a legitimate shot at winning the award in just 12 games.
Through four games, Brady has 1,319 passing yards, 12 touchdown passes and zero interceptions with a passer rating of 133.9. He is second in the league in yards per game (330), 11th in touchdown passes and first in passer rating (by a wide margin). He's completed 73.1 percent of his passes and is the only starting quarterback over 70 percent this season.
As it stands, Brady is on pace for 3,957 passing yards, 36 touchdown passes and no interceptions this season … in 12 games. Stretch those numbers out over a 16-game slate, and he'd be on track for 5,276 yards, 48 touchdown passes and no interceptions. Excluding his zero interceptions -- because no starting quarterback has ever gone a season without throwing a pick -- only one quarterback has had at least 5,200 passing yards and 48 touchdown throws.
Of course, Brady can't possibly reach those numbers because he can only play 12 games this year, but it puts into perspective just how incredible his season has been thus far. He may not have the stats to contend for MVP right now, but as the season rolls on, he will.
Let's take a minute to consider the other candidates for MVP:
Derek Carr, QB, Raiders
Carr has thrown for 2,321 yards, 17 touchdowns and just three interceptions. His passer rating is 100.9, good for fifth in the NFL. He has the Raiders playing like Super Bowl contenders at 6-2 and single-handily carried Oakland to an overtime win Sunday. His development has been remarkable, and his numbers are a testament to that. He's on pace for 4,642 yards, 34 touchdowns and just six interceptions. Brady's pace has him ahead of Carr in touchdowns and passer rating, but the yards will be tough to match. He's the front-runner for MVP right now.
Matt Ryan, QB, Falcons
Ryan is in the midst of the best season of his career through eight games. He has 2,636 passing yards, 19 touchdowns and four interceptions with a passer rating of 115.8. The Falcons are 5-3 and sit atop the NFC South. Atlanta's defense isn't very good, which makes Ryan's statistics all the more impressive, given that he's gotten little help on the other side of the ball. He's right there with Carr as a favorite. Ryan is on pace for 5,272 passing yards, 38 touchdowns and eight interceptions.
Ezekiel Elliott, RB, Cowboys
Running backs don't often win MVP in today's pass-happy NFL, but Elliott is making a case due to Dallas' success. He leads the league with 799 rushing yards and has five touchdowns. He's the only back in football to average more than 100 yards per game, and he's also contributed in the passing game. He's caught 15 passes for 150 yards in seven games, running his per-game yards from scrimmage average to more than 130.
Matthew Stafford, QB, Lions
A dark horse in the running is Stafford. He's carried the Lions, who are depleted at running back and sans Calvin Johnson. Yet, all he's done is throw for 2,154 yards, 16 touchdowns and four interceptions, leading the Lions to a 4-4 record through eight weeks. Detroit's overall body of work will cost him the award as it almost certainly won't make the playoffs, but he's on track for a respectable 4,308 yards, 32 touchdowns and eight interceptions.
Some would consider Von Miller to be an MVP candidate, but it's incredibly difficult for defensive players to win the award. Also take into account that he's only on pace for 17 sacks this season. He doesn't even lead the league in that department, and typically a 20-sack year (done only 11 times) is the mark of an outstanding season. Even if he hits that number, it won't be enough.
You'd be foolish to rule Brady out of the running for MVP because of the fact that he can play only 12 games. He's still on pace for 36 touchdowns and nearly 4,000 yards, which would be remarkable. In fact, only 25 times since 1970 has a quarterback thrown for at least 3,900 yards and 36 touchdowns, and every single one of them played at least 15 games.
Only once since 1970 has a quarterback started 12 or fewer games and thrown for at least 3,000 yards and 30 touchdown passes: Joe Montana in 1987.
With Ben Roethlisberger injured, Peyton Manning out of the league, Drew Brees on a bad team and Aaron Rodgers struggling, Brady is the most reliable candidate at this point in the season. Carr is young and has never been in this position before, while Ryan has a history of falling apart down the stretch -- as do his teams.
Brady's Patriots are just the opposite. They're 7-1 and favorites to reach the Super Bowl in a depleted AFC. They're surefire bets to make the playoffs and will absolutely win at least 12 games this season. When it comes to MVPs, the winners almost always come from the best teams in the league. The Patriots are exactly that, further strengthening Brady's chances.
When it's all said and done, Brady will win NFL MVP. And when he does, it will be one of the most incredible feats in league history.