Why the rumor mill got it all wrong about Kevin Harvick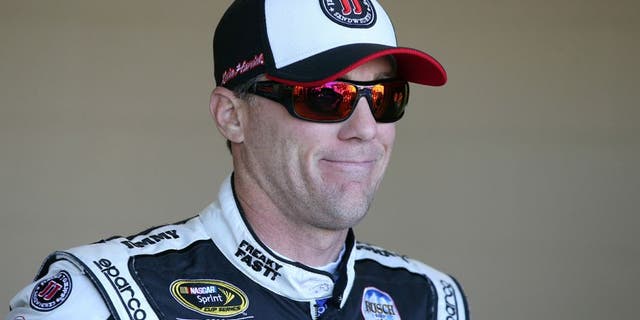 From the moment in late February when Stewart-Haas Racing shocked the NASCAR community by announcing the team would end its long-running allegiance with Chevrolet to join the Ford camp in 2017 and beyond, rumors began to fly about Kevin Harvick.
The most popular was that Harvick, who had raced Chevys for his entire NASCAR career, would move to Hendrick Motorsports next year to replace Kasey Kahne.
There were two reasons the rumors started. The first is that 2016 is the third and final year of Harvick's first contract with SHR. The second is that Kahne's results in the last two seasons at Hendrick have been disappointing.
It was only logical that some people would put 2-and-2 together and come up with 5.
Of course, there were a couple of holes in the theory, too.
For one thing, Harvick publicly and consistently denied it right from the start and continued to, as recently as a couple of days ago.
For another thing, Kahne signed a three-year contract extension in November 2014 that will keep him in the No. 5 Hendrick Chevy through the end of 2018.
Privately, Hendrick sources told me they weren't gong to sign Harvick.
And Rodney Childers, Harvick's brilliant crew chief, is already locked into a long-term deal of his own at SHR.
As Harvick himself said, he's in the best situation of his career, with the best team and crew he's ever been with. It would have been crazy for him to go elsewhere, even to as strong an organization as Hendrick.
You don't break up a winning team, when chemistry is so hard to build. You just don't.
But there's an important piece to this puzzle that wasn't taken into account by some of the gossip-mongering hacks: Harvick is one of just seven active full-time drivers to win a NASCAR Sprint Cup Series championship.
Next year, when Harvick's boss and close friend Tony Stewart is retired, there will be just six: Harvick, Kyle Busch, Jimmie Johnson, Brad Keselowski, Kurt Busch and Matt Kenseth. That's it -- and the odds are pretty good that one of those six will the title again this year.
Now look at the SHR deal from Ford Motor Co.'s perspective: Ford hasn't won the Cup Manufacturers' Championship since 2002; they haven't won a Cup Driver's Championship since Kurt Busch drove for Roush Fenway Racing in 2004. (Keselowski, who drives a Ford now, won the 2012 Cup title in Team Penske's last season with Dodge).
On top of that, in the last four seasons, Ford lost two of its top drivers, Kenseth and Carl Edwards, to Toyota.
Ford desperately wants to win again, at the manufacturer and driver level. Ford wants championships and wants to break its more than decade-long dry streak.
Signing a new, four-car team involves making a multi-million-dollar investment and throwing a whole lot of engineering and marketing muscle behind the move. It isn't just slapping a few Ford Fusion bodies on a couple of old Chevy SS chassis and hitting the track.
It's an incredibly complicated process that involves a whole lot of different elements, all of which need to function properly to produce the desired results.
If you're Ford Motor Co. and you want to sign Stewart-Haas to a long-term deal, it just makes sense that Harvick -- a proven champion and the most successful driver of the past three seasons -- is locked in as part of the deal.
I would be shocked had Ford signed SHR if they weren't sure -- or at least extremely confident -- that Harvick would be part of the deal. He's too good not to be included.
Of course, that didn't keep a few uninformed asshats from throwing crap against the wall to see what sticks. In this case, nothing did.