Where have all the lefties gone?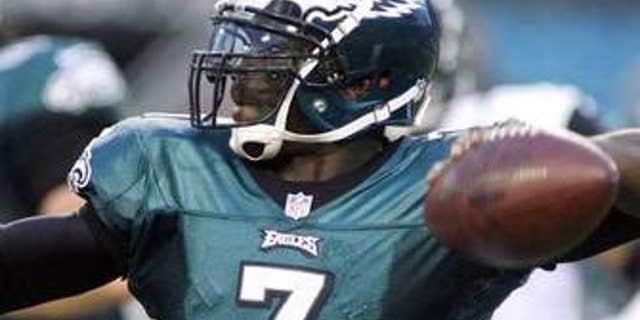 Once upon a time, there were a handful of left-handed quarterbacks making their marks on the NFL. Across the league, you had southpaws carving up defenses and bringing home hardware. Kenny Stabler, Bobby Douglass, and Jim Zorn were the mainstays of the '70s and '80s. Boomer Esiason, Steve Young, and Mark Brunell bridged the next generation of lefty gunslingers. Then came a new batch of first-round picks in Cade McNown, Michael Vick, Matt Leinart, and Tim Tebow over the next 15 years.
Now? In 2013?
You can count the left-handed quarterbacks left in the NFL on less than one . . . well, hand.
Look around the league this summer and you'll see quarterbacks of all shapes and sizes. But you'll find only five left-handed quarterbacks with legitimate shots at making their teams' final 53-man rosters -- and that is giving Leinart the benefit of doubt in Buffalo. Vick, who won the starting gig in Philadelphia, is entering his 13th NFL season. After him, the rest of the left-handed quarterback crop left in the league leaves a lot to be desired.
Tim Tebow is in New England, Kellen Moore is in Detroit, and Pat White is in Washington this summer, but all three will serve as emergency third stringers on their respective teams, if they make the final squad at all. Leinart was signed just last week by Buffalo when injuries sidelined the top two guys. Tyler Palko, like Leinart a journeymen veterans who held a roster spot a season ago, was not in NFL training camps this summer. Sean Canfield, a former Drew Brees backup in New Orleans, isn't either.
"It's a great question. Where'd all the lefties go?" asks Brian Martin, owner of the TEST Football Academy, a workout facility that specializes in preparing college quarterbacks for the NFL draft. Martin's trained Super Bowl XLVII MVP Joe Flacco, JaMarcus Russell, and over 200 other high school, college, and professional quarterbacks over the past five years. "Off the top of my head, I can think of maybe two of our guys that were left-handed. And both of those kids were more of the athletic, running type of quarterbacks than pure pocket passers.
"Now that you bring it up -- it's pretty bizarre, isn't it? There were a lot more back in the day," says Martin. "Steve Young, Mark Brunell even guys like Scott Mitchell and Todd Marinovich. Now, there really doesn't seem to be too many left-handed guys out there. It's pretty crazy."
Greg Cosell, an executive producer at NFL Films in Mount Laurel, N.J., has seen just about everything in his two decades of watching film with the company. Chatting at last week's Eagles-Panthers preseason game, Cosell was perplexed by the dearth of left-handed quarterbacks in the game today.
"I have no idea. I never thought about it or noticed it, really," he said during halftime at Lincoln Financial Stadium. "Are there even any standouts in the college game right now? I don't know if there's really a good reason why there aren't."
Of the top 10 ranked college quarterback prospects on prominent NFL draft website NFLDraftScout.com, not a single one of them is left-handed. There wasn't one southpaw quarterback selected in the 2012 or 2013 NFL drafts, either. Twenty-two quarterbacks were taken. None of them were lefties.
So, what happened? Why have left-handed quarterbacks gone the way of the dodo?
Super Bowl XXI MVP Phil Simms, a right-handed quarterback, raised a left-handed quarterback in former NFL player Chris Simms. "There's no conspiracy against left-handed quarterbacks or anything," says the elder Simms. "They're just all playing baseball now. They're all pitchers, making much more money in a different sport. It starts at a young age, too. Once the coaches see a lefty with a big arm, they turn him into a pitcher. Percentage-wise, you see far more left-handed pitchers in baseball than you see left-handed quarterbacks in football."
Martin, the quarterback guru, suggests that it could be more of an issue of NFL economics than anything else. "It's just a theory I'm throwing out there, but maybe it's because teams invest so much money into their left tackles now. Aside from quarterback, it's arguably the most important position on the field. Right tackles don't tend to be the same caliber of player," says Martin.
"If you've got a top 5 pick playing left tackle, and you're paying him top 5 pick money -- are you necessarily looking to draft a left-handed quarterback? No, you probably want him to protecting that quarterback's blind side."
Plausible theory? The numbers don't lie. Teams are investing more in left tackles now than ever before. To be certain, there were five left tackles taken in the 2013 NFL draft's first round, alone. Only one quarterback, Buffalo's EJ Manuel, was selected in the first 39 picks. The last time a left-handed quarterback went in the first round was Tebow in 2010. Leinart, taken in the 2006 draft, was selected 10th overall. Is the sudden rise in the value of left tackles responsible for the left-handed quarterback becoming a rare species?
"That's just wrong," said a dismissive Simms. "If a guy can play quarterback, teams don't care if he throws with his left hand, his right hand, or both hands. Make no mistake -- teams still build their rosters around the quarterback; not the offensive line. It's the quarterbacks who are signing the $100 million deals this offseason. You need a quarterback to win. You build the offense line around the quarterback, not the other way around."
Former NFL scout John Middlekauff insists there's no prejudice against left-handed quarterbacks in NFL draft war rooms, either. "Honestly, it's not even something we pay attention to," says the longtime Eagles scout.
"Personally, I think it's totally random. If Andrew Luck or Colin Kaepernick would have been born with the same tools, but were left-handed -- would we even be having this conversation? I don't think it's something scouts, general managers, or even coaches think about."
Brock Huard, a former left-handed quarterback who had an 0-4 career record as an NFL starter, laughed at the thought of a potential anti-lefty bias. "There was no prejudice against any of us. I don't think so, at least," says Huard.
"Although, I do think Mike Holmgren would get a little irritated having to flip the calls around when I was in the game.
"Maybe it was a disadvantage being left-handed because it became a bit of a challenge for the traditional right tackle. When I was in, he had to block the blind side. Play-callers, too, had to flip the calls around," adds Huard. "Having said that, I don't think Tom Moore, my offensive coordinator in Indianapolis, even knew I was left-handed."
Middlekauff insists that he never dinged a draft prospect for being left-handed. "I never even thought about it when evaluating a player. I may make a mark in my report that he's left handed but that would be it," says the scout. "It would be a small detail of the final report. That's it. Are there disadvantages? I think it all depends on the player, and really it has nothing to do with being left handed, Steve Young's strengths and weaknesses as a player are totally independent from Mike Vick, yet they are both lefties."
Vick is 32 years old. The 2014 NFL draft looks to be devoid of left-handed quarterback talent, too.
Is there anybody out there? Or are we looking at the end of an era?
In my noble quest to locate the great southpaw quarterback hope that'll somehow save the species from extinction -- I think I've found the savior.
His name is Shane Morris.
Who? Shane Morris, University of Michigan, Class of 2017.
The 6-foot-3 true freshman was one of the most highly sought after high school quarterbacks of his recruiting class. Though he might not look the part, he's the real deal . And he's a lefty.
He truly may be the great lefty hope.
Is Morris aware that he's got an entire fraternity of current and former NFL players relying on his prized left arm? Is he capable of carrying such a burden over the course of his next four years?
We'll have to wait and see how he develops.
Good luck, Shane Morris.
An entire species is counting on you. No pressure, kid.