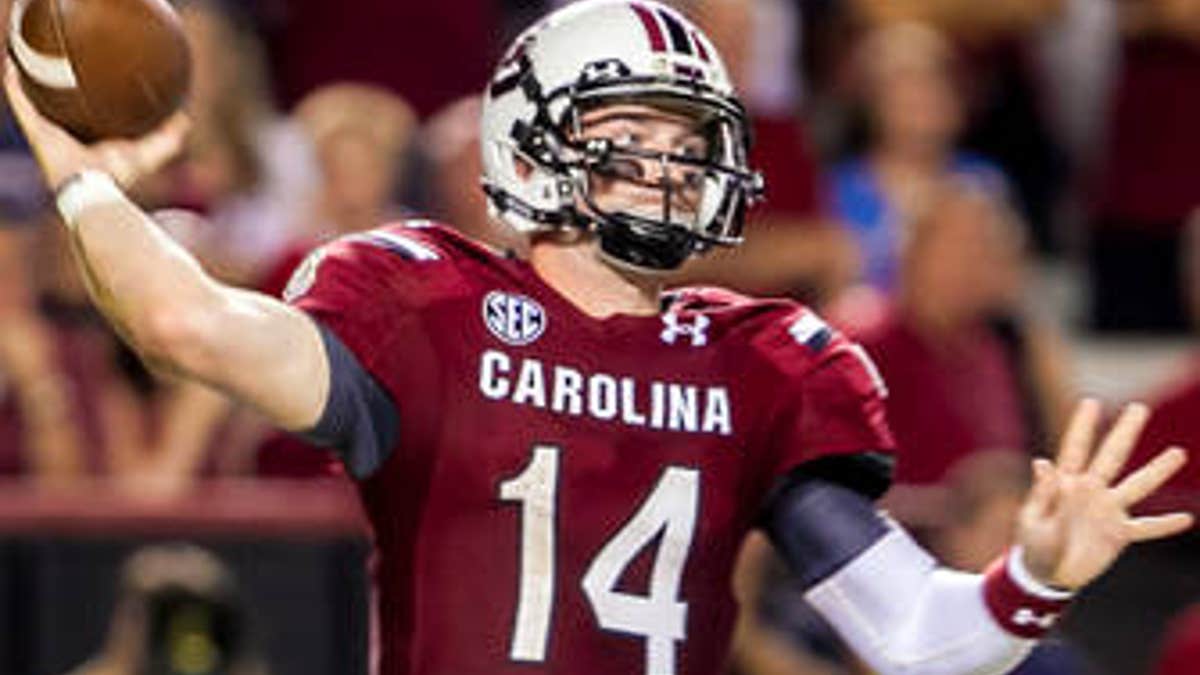 Last week, I went 2-4, dropping us below the betting Mendoza line for the year.
Our record at the halfway point?
A disappointing 20-21.
There's been a lot of betting sound and fury, signifying just about nothing.
Worse than that, I'm 4-9 in my last two weeks.
Some would take that as a bad sign.
Not me.
The turnaround is here this week.
And it starts with these picks.
How do I know this?
Because you know how when you hit a drive perfectly off the tee? (Admittedly I don't experience that very often.) Well, that's exactly how I feel with these eight picks.
Georgia at Vandy +7.5
The Commodores are coming off a bye week and they've been quiet, like a cobra sitting in the grass. (Okay, a really smart cobra that loses a lot of battles, but still, a cobra).
Meanwhile, Georgia is an offensively depleted team that still has a bad defense.
The Commodores and defensive coordinator John Shoop are pretty good against pro-style offensive attacks. Especially pro style offensive attacks without a lot of weapons.
It wouldn't shock me at all if Vandy wins.
The moneyline on a Vandy win here is +245 if you want to make a bet with an even better payoff.
Florida -3 at Missouri
What happens when the better team is a home underdog?
You load up on the home underdog.
Missouri's like the girl who shows up at your high school reunion looking much better than she used to. Yes, you're impressed, but you think there must be a catch.
There's no catch with the Tigers.
Mizzou's the better team here and the game's going to be low scoring and ugly.
Do you know how wild this Mizzou home crowd will be?
The Tigers get it done, 17-13.
South Carolina -7 at Tennessee
Last week, I picked against South Carolina at Arkansas. And the Gamecocks scored 52 unanswered on the Razorbacks. I think South Carolina found something in the process, finally playing a complete game instead of being selectively dominant. As if that wasn't enough, there's a good chance the Gamecocks win the SEC East if they win out.
That long hangover after the Georgia game and the Jadeveon Clowney mess?
It's over.
Sure, Tennessee's coming off a bye week, but here's the deal: Tennessee's awful on offense.
And Connor Shaw is faster than every Tennessee defensive starter.
Tennessee hasn't defended a running quarterback well since 1936.
Give me the 'Cocks.
Auburn +13 at Texas A&M
Texas A&M's rush defense is flat-out awful.
And Auburn has one of the best rush offenses in the country.
I'm no genius, but that seems like a bad match-up.
Make no mistake, Johnny Manziel and Texas A&M are winning the game thanks to Johnny's offensive heroics, but Auburn's keeping this game close.
Thirteen points is way too many here.
LSU -8 at Ole Miss
I'm doubling down on this game.
LSU covers and the over at 59.5 is happening.
My rationale is simple, LSU's scoring at least 42 on this depleted, awful defense and Ole Miss is scoring at least 21 because LSU will get bored and take too many risks.
Voila, a double win on this game.
Arkansas at Alabama -28
My prediction -- Arkansas pain.
Alabama is rounding into perfect championship form and Arkansas's head coach can't even walk into the stadium without falling.
Yeah, this one is going to be really ugly.
Call it #karma?
Florida State at Clemson +3
I understand the Seminoles are the darlings of Las Vegas.
And make no mistake, they're a good football team.
But Jameis Winston hasn't started a game in a rough road atmosphere.
That's why I think he comes out early and he's erratic with the football.
It's just too hard for me to go against an undefeated team with a veteran quarterback playing at home at night.
Tajh Boyd and crew gets it done.
Okay, time for the viewer guide.
1. Start off your day with us on Fox College Saturday.
We've got Keith Jackson live in studio and I'm ecstatic to meet him.
Honestly, this should be awesome.
We're on 10-12 ET on FoxSports1.
2. South Carolina at Tennessee, noon ET, ESPN
Can the Gamecocks continue their roll or will Butch Jones get a signature win at Tennessee?
I'm betting on the Gamecocks.
Two weeks ago, I thought the Vols could get it done.
At what point was my feeble mind correct? We'll find out early on Saturday.
3. Texas Tech at West Virginia, noon ET, FoxSports1
Texas Tech and Kliff Kingsbury are undefeated.
Not just in football.
But in life as well.
But, look out!
West Virginia isn't good, but the Mountaineers have been known to pull a trick or two when pretty boys venture into their hollers.
Will Tech be squealing?
4. Georgia at Vandy, noon ET, CBS
If you'd told Vandy fans their beloved Commodores would be hosting a CBS telecast in the seventh week of their regular season, optimism would have surged to record heights.
Alas, this game isn't as sexy as one might have hoped earlier in the year.
Aaron Murray is -- spoiler alert -- Jaime Lannister after his right hand was chopped off. Georgia's a pale shadow of the team that took the field on Aug. 31.
That's why I think the Commodores may well win this one.
5. Florida at Missouri, 12:21 ET, ESPN Gameplan
How good is SEC football?
A game between Top 25 teams is on ESPN Gameplan.
This is why the SEC Network is going to be such a hit: every week about half the games that matter are being played in the SEC. You can hate that fact if you're a fan of another conference, but it's true.
Can Mizzou take a stranglehold on the SEC East? And if you're a Florida fan, good lord, even after all these tough games you still have games left against Georgia, South Carolina, and Florida State.
That's a brutal schedule.
When is the pain going to end for Gator fans?
Not until the Music City Bowl.
6. UCLA at Stanford, 3:30 ET, ABC
UCLA has been sneaky good this year.
Sure, they popped up on the national radar with a road win at Nebraska, but how many college football fans have actually watched the Bruins play this year?
Check them out for the first time Saturday if you haven't already.
I happen to think they pull off the road upset.
7. Auburn at Texas A&M, 3:30 ET, CBS
CBS has the best television deal in all of sports.
For an average of $55 million a year the company just racks up ratings win after ratings win with the top games in all of college football.
Can you imagine what the ratings are going to be for A&M at LSU and LSU at Bama?
In the meantime, Johnny Football is the best reality television show in the country.
Get geared up for this one.
8. LSU at Ole Miss, 7 ET, ESPN2
The Bayou Bengals are starting to look like the third-best team in the country behind Alabama and Oregon.
Win this one and, post Furman, 8-1 is in the bag.
Could LSU then go on the road and beat Alabama and take down Texas A&M two weeks later to win the SEC West?
Seriously, it could happen.
Meanwhile, remember when Ole Miss was 3-0 and America's football darlings?
That seems like forever ago.
The Rebels are about to lose their fourth straight game.
9. Florida State at Clemson, 8 ET, ABC
The game of the night.
Right now there are two players guaranteed to be in New York City for the Heisman ceremony -- Johnny Manziel and Marcus Mariota.
The quarterback whose team wins this game will be the third Heisman finalist.
I'm betting on Tajh Boyd.
Clemson fans are going to be dancing in the streets up until the final game of their regular season, when South Carolina wins a fifth straight over the Tigers.
10. Washington State at Oregon, 10 ET, FoxSports1
Finish your night off strong by watching Oregon play in pink helmets.
As a bonus, the game will be over by halftime so you can actually get a good night's sleep.
See, everybody wins.
Except for Washington State.
Who is going to get crushed.
The original article can be found at FOXSports.com: Week 8: Best bets for NCAA football.