Washington State is trying to redefine its late-game culture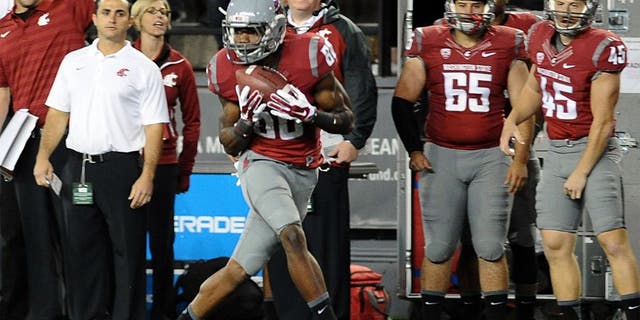 NEWYou can now listen to Fox News articles!
Sep 13, 2014; Pullman, WA, USA; Washington State Cougars wide receiver Dom Williams (80) makes a catch that would turn into a touchdown against the Portland State Vikings during the second half at Martin Stadium. The Cougar beat Vikings 59-21. Mandatory Credit: James Snook-USA TODAY Sports James Snook USA Today
The term "Cougin' it" has become synonymous with the Washington State program. The Cougars have consistently blown late leads and it had become something of an inside joke around the Pac-12.
However, after Washington State's double overtime victory over Oregon, it seems as though the late-game stigma attached to the Cougars name may be on the way out.
Before Washington State's game against the Ducks, head coach Mike Leach decided to address the team regarding the term often associated with the Cougars late-game collapses.
"We need to measure up to our expectations and our standards rather than worry about what other people's are," Leach said, according to ESPN. "That whole thing is a ridiculous thing to attach to a team. None of it is beneficial and helpful."
The players are aware of the term and were not fans of it. In fact, they hated it.
"It hurts hearing anyone say it," offensive lineman Gunner Ekland said. "We should not have a term for losing. That should never be acceptable. ... That term, it hurts. When he brought it up it made us think about it and dig deep."
After its win against Oregon, which included a touchdown with one second left to force overtime, perhaps the Cougars are in a position to change "Cougin' it" into a positive.
(h/t ESPN)