Waino win would tie record for most wins ever vs. Brewers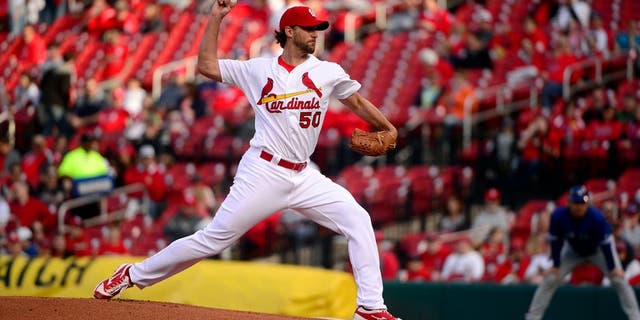 Trying to beat the St. Louis Cardinals is proving to be a tough task for the Milwaukee Brewers.
The Brewers have not won a series against the Cardinals since the 2014 season, going 0-15-2 in that stretch, and manager Craig Counsell knows to get that elusive first series victory they will have to win both Wednesday night and Thursday afternoon.
The teams have split the first two games of the four-game series, with the Brewers earning a 7-5 victory in 10 innings on Monday night on the strength of a three-run homer by Travis Shaw before losing 2-1 on Tuesday night.
The job won't get easier Wednesday, with Adam Wainwright scheduled to start for the Cardinals.
Wainwright (2-3, 6.12 ERA) has had more success against the Brewers than against any other opponent in his career. He has a 15-8 lifetime record with a 2.19 ERA in 29 starts and 36 total appearances. The 15 wins are the most he has recorded against any foe.
A win Wednesday would tie Wainwright with Ryan Dempster and Bronson Arroyo for the most career wins ever against the Brewers. The 2.19 ERA is the lowest all time against the Brewers for a pitcher with at least 140 innings against them.
In Wainwright's last game in Milwaukee on April 21, his bat was as important as his pitching. He homered and drove in four runs in a 6-3 victory. On the mound, he struck out nine batters in five innings.
"I never had stuff like that one game last year," he said after that game. "Even if I'd throw a complete-game shutout, I was just making stuff up out there last year. This year, I have great stuff. I have to be more efficient."
Right-hander Chase Anderson (2-0, 2.10 ERA) will make the start for the Brewers, hoping to continue the success he has had against them but also aiming for at least one difference.
Despite compiling a 1.97 ERA in six career starts against the Cardinals, Anderson is 0-2 in those game. He had a no-decision vs. St. Louis on April 22, allowing no earned runs in six innings in a game the Brewers won 4-1.
Anderson is 7-1 with a 2.41 ERA over his past 17 starts dating to last season.
The loss Tuesday night dropped the Brewers out of a first-place tie with the Chicago Cubs. Even though it is only May, Counsell knows winning games is important, especially for a young team like the Brewers.
"You can't not see the standings (on scoreboards), so I'm not going to say I don't see them," he said. "But it's about getting wins. That's what it's about. And it's about playing well and getting guys to their best selves.
"For every team, winning and hope is a big deal."
The Brewers hope to get slugger Eric Thames back on track after a slump. The National League co-leader with 11 home runs, Thames is 3-for-22 (.136) with no homers and one RBI in the past six games.