Villanova beats buzzer, North Carolina to win NCAA championship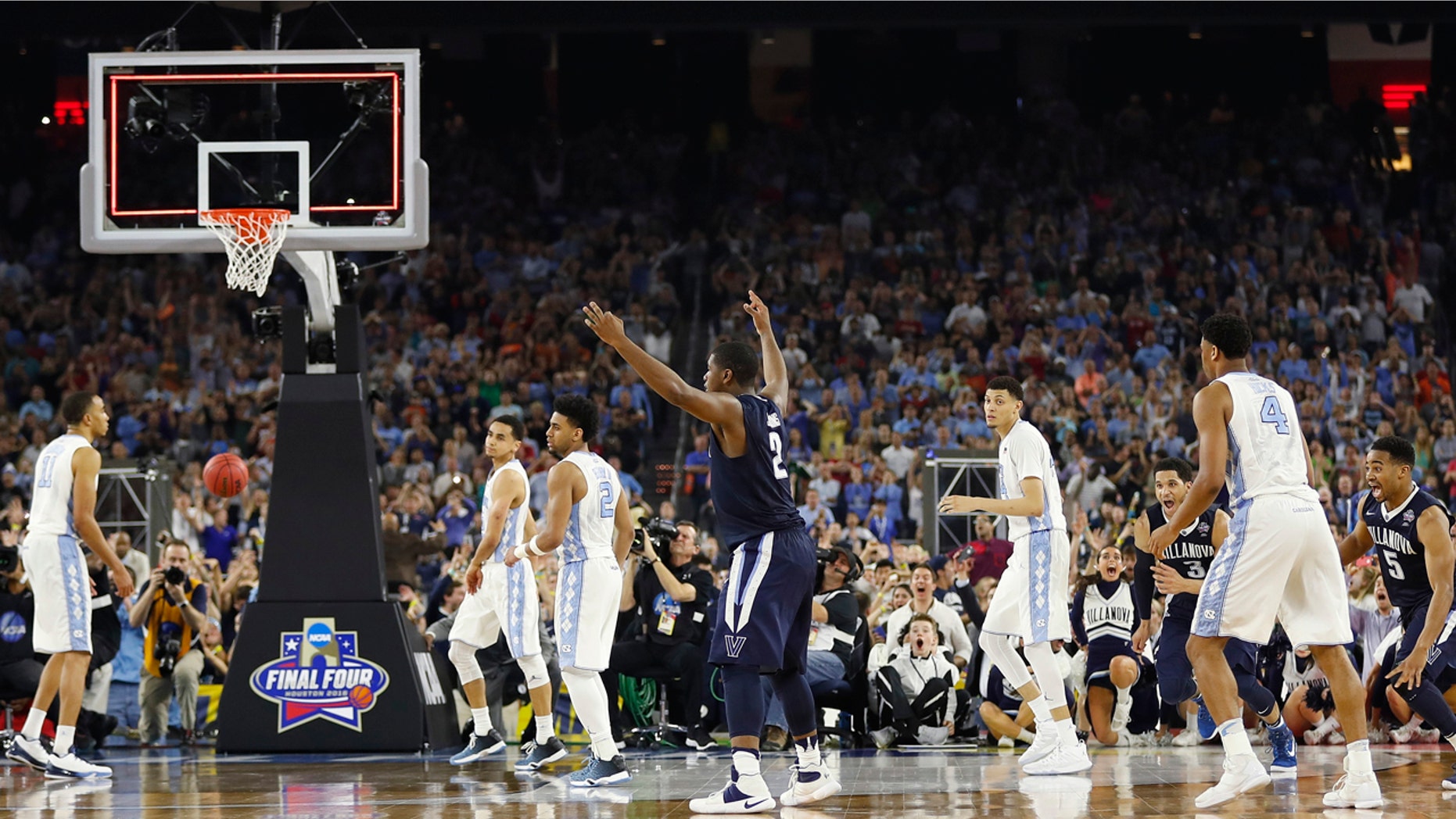 Kris Jenkins hit a three-pointer as time expired to lift Villanova over North Carolina, 77-74, in the NCAA men's basketball championship game Monday night.
North Carolina guard Marcus Paige thought he had sent the game to overtime after he hit a double-clutch three-point shot of his own to make the score 74-74 with 4.7 seconds remaining. The shot climaxed a Tar Heel comeback from 10 points down with five-and-a-half minutes left and from six points down with 1:52 to play.
After a Villanova timeout, Ryan Arcidiacono worked the ball upcourt and got it to Jenkins, who swished it from about two steps behind the 3-point line.
"Kris told him he was going to be open, Arch made the perfect pass," Villanova coach Jay Wright explained. "Kris lives for that moment."

A few moments later, Jenkins was leaping over press row, hugging his family and shouting: "They said we couldn't, they said we couldn't, they said we couldn't."
Jenkins, who was adopted as a kid by the family of North Carolina guard Nate Britt, finished the game with 14 points. He was one of four Wildcats to score in double figures.
Arcidiacono, who was named the Final Four's Most Outstanding Player, finished with 16 points on 6-of-9 shooting. But reserve guard Phil Booth stole the show, scoring 20 points to lead all Villanova scorers.
It was Booth's turnaround jumper at the shot-clock buzzer that stopped a 7-0 Carolina run and gave Villanova a 69-64 lead with 3:07 remaining. A free throw by Josh Hart (12 points) made it 70-64 with 1:52 left.
But North Carolina came right back. A Paige three, a jumper by Brice Johnson (14 points, eight rebounds), and a putback by Paige pulled the Tar Heels within 72-71 with 23 seconds left.
Hart made two foul shots to give Villanova a three-point cushion before Paige's acrobatic shot set the stage for Jenkins's heroics.
Paige led all scorers with 21 points, while Joel Berry II added 20 points for the Tar Heels, who remain stuck on five NCAA titles and have not won one since 2009.
Villanova won its first NCAA men's basketball championship since 1985, when then-coach Rollie Massimino lead an underdog team to a victory over star-studded Georgetown.