Vikings edge Steelers in low-scoring HOF game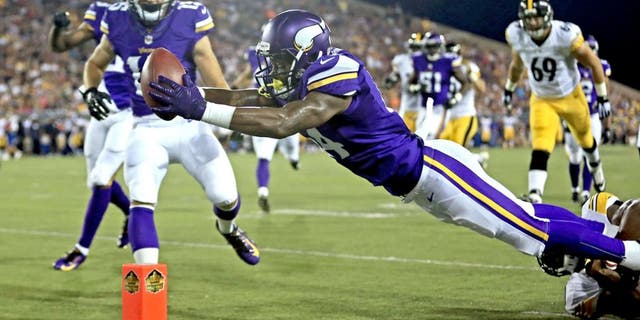 CANTON, Ohio (AP) Backup quarterback Mike Kafka threw a touchdown pass and running back Joe Banyard ran for another score to help the Minnesota Vikings beat the Pittsburgh Steelers 14-3 on Sunday night in the Hall of Fame game.
Most of the regulars watched from the sidelines in the annual exhibition opener, including Adrian Peterson and Ben Roethlisberger.
Minnesota quarterback Teddy Bridgewater completed 5 of 6 passes for 44 yards in his one series of work. The reigning Rookie of the Year's night ended when the Steelers stopped the Vikings on fourth down midway through the first quarter.
There was a moment of silence before kickoff for Hall of Fame running back and longtime broadcaster Frank Gifford. The former New York Giants star died Sunday morning at age 84.
Hall of Famer Jerome Bettis waved a ''Terrible Towel'' during pregame introductions, with the decidedly pro-Pittsburgh crowd roaring its approval. The running back nicknamed ''The Bus'' stood with the rest of the Hall's new class for the coin toss, the only moment of true star power on a night the bold-faced names still in uniform didn't break a sweat if they even bothered to suit up at all.
Peterson's return from a lengthy suspension will have to wait at least one more week, if not decidedly longer. The running back hasn't played in an exhibition in nearly four years, a streak likely to continue. Peterson's position on the depth chart is safe. The ones behind him not so much as the Vikings try to build on an erratic but at times promising 2014 behind Bridgewater and first-year coach Mike Zimmer.
Like Peterson, Roethlisberger stuck to shorts and a T-shirt. All-Pro running back Le'Veon Bell and All-Pro wide receiver Antonio Brown put together a full dress rehearsal, even going through warm-ups. They spent the majority of the night hanging out, the only exercise the notoriously hard-working Brown enjoyed coming while he absentmindedly worked the exercise bike.
Bridgewater deftly guided the Vikings on a 10-play, 51-yard drive in the first quarter, hitting tight end Kyle Rudolph for a pair of 11-yard gains. Rather than attempt a short field goal on fourth-and-1 from the 10, Zimmer opted to go for it only to see Jerick McKinnon stopped for no gain by nose tackle Steve McLendon, one of the handful of Pittsburgh regulars to actually take the field.
With Roethlisberger given the night off and usual backup Bruce Gradkowski dealing with a sore arm, the Steelers gave third-stringer Jones an extensive look. The former Oklahoma player is trying to convince the team to keep three quarterbacks on the roster. While coach Mike Tomlin said early in camp Jones was on the ''incline'' he was going to reserve judgment until after seeing Jones face guys in different-colored jerseys.
The early returns weren't exactly promising. Jones completed 15 of 32 passes for 128 yards and an interception while taking nearly every Pittsburgh snap. He led the Steelers on their only scoring drive of the half, finding Shakim Phillips for a 35-yard strike that set up a 36-yard field goal by Shaun Suisham. Jones also moved Pittsburgh to the Minnesota 1 with less than 2 minutes to go before the break. Four snaps, however, produced zero points. Jones ended the drive with three straight incompletions, the last a drop by rookie tight end Jesse James even as a wide-open C.J. Goodwin waved frantically for the ball in the end zone.
Minnesota didn't have nearly as much trouble finding the end zone after the early near miss. Kafka took advantage of a blown coverage to connect with MyCole Pruitt for an easy 34-yard TD strike 4:20 left in the first half.
The Vikings extended the lead midway through the third quarter following a 62-yard punt return by rookie wide receiver Stefon Diggs. He was tripped up just short of the goal line. No matter, one play later, Banyard strolled into the end zone to make it 14-3.
NOTES: Minnesota WR Mike Wallace lost a yard on a reverse and dropped a pass in his first action with the Vikings since coming over in a trade with Miami. Wallace starred for the Steelers from 2009-12. ... Steelers RB Cameron Stingily left with a knee injury and did not return. ... Vikings first-round pick, CB Trae Waynes, had three tackles and was called for a holding penalty that was declined. ... Pittsburgh's top pick, LB Bud Dupree, had two tackles. ... Pittsburgh visits Jacksonville on Friday. Minnesota hosts Tampa Bay on Saturday.