Victoriaville's Danault brings passion to every shift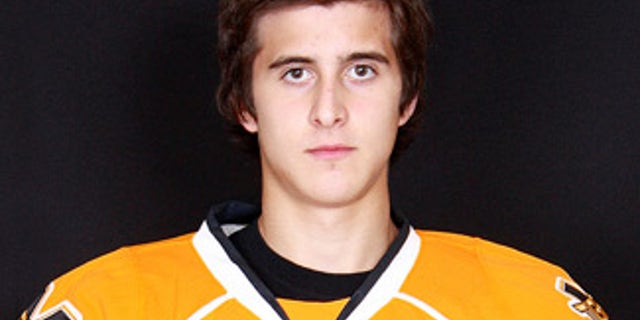 The outward exuberance exhibited by Victoriaville Tigres center Phillip Danault is ridiculously infectious.
There's something downright genuine about Danault, who also happens to be from the city of Victoriaville. Maybe it's his broken English, or his perpetual smile.
Whatever it is, once Danault begins describing his game and how incredibly fortunate he is to be captain of the Tigres of the Quebec Major Junior Hockey League, nothing else really matters.
On the ice, he's known for possessing a tremendous drive, great playmaking ability and intelligence. It's a combination too good to ignore and likely won't be when the 2011 NHL Entry Draft is held June 24-25 in St. Paul, Minn.
"Personally, I think he's a late first-round guy, maybe top of the second round, but we'll see," NHL Central Scouting's Chris Bordeleau told NHL.com. "It's still early and things could change in April."
Bordeleau is referring to Central Scouting's final meeting in April that will rank the top players eligible for the draft. In the Jan. 10 mid-term release, Danault was rated No. 23 among North American skaters -- the fourth-highest for a QMJHL player.
"I'm a finisher … I finish everything, even my checks," Danault told NHL.com. "I bring energy and emotion to every shift and I can play both ends of the ice."
Danault was a member of Team Cherry in the CHL/NHL Top Prospects Game on Jan. 19 in Toronto, and was named Player of the Game against Russia in the 2010 Subway Super Series in November after notching 2 assists for Team QMJHL in a 5-4 loss.
In January, Danault was presented a new challenge when Victoriaville general manager Jerome Mesonero named him team captain after the previous captain, Philip-Michael Devos, was traded to Gatineau.
"For me, it's an honor to represent my town because I live there and I have a lot to prove," said Danault, who turns 18 on Feb. 24. "It was pressure, but coach (Yanick Jean) told me not to do too much and I just do my job and try to lead my team at the same time. I'm not the type of captain who yells because I make mistakes, too. Nobody yells unless it's the coach. I'm also young and learning."
This isn't the first time Danault has been a captain. In a Quebec International Peewee Tournament with Bois-Francs in 2004 and '05, he captained his teams in Novice A, Atom BB, Peewee AA and Bantam AA.
"It was tough the first couple of weeks (after earning the Victoriaville captaincy), since it's a feeling-out process and he was filling in for a guy who was captain for three years," Jean told NHL.com. "But we're helping him become an even better captain.
"The thing about Danault is he's a tremendous worker. He's dedicated to the game, but now he's taking more and more leadership and it's contagious. He has the admiration of every single one of his teammates just on how hard he works."
The desire to bring out the best in his teammates is something that fuels Danault.
As a youngster, he regularly tagged along with his father, Alain, to just about every Victoriaville home game at the Colisée Desjardins. Alain was the team's public address announcer. It was around that same time that Danault began to dream that one day he'd be donning the Tigers' yellow and black and playing a big role for the team.
"I just wanted to play one day for the Tigres and it's my dream," he said. "At the end of games that my father announced, I'd go down to the (locker) room … and waited at the door where the players enter. When they go out, I said 'Hello' to everybody. Now, I'm a Tigre."
Danault never will forget his father's reaction when he was selected by Victoriaville with the ninth pick of the 2009 QMJHL draft.
"He looked at me and said, 'Phillip, welcome home,'" he said.
Actually, it's almost as if the Colisée Desjardins in Victoriaville has become a second home for the entire Danault family. Phillip's sister, Ann-Andrée, works for the team in the marketing and administrative department.
"It's impossible to describe how proud we are of Phillip," she said. "He's a good person and knows how to keep his feet on the ground and stay focused. Hockey is his life; he's passionate about it."
In 53 games this season, his second in the league, the 6-foot, 178-pound Danault has 20 goals and 37 assists. He also sports a plus-18 rating and has scored 4 power-play goals. He led Victoriaville rookies in goals (10) and was tied for points (28) last season.
"He's very versatile and can play in all situations, including wing and center," Bordeleau said. "I think his main weakness is his lack of strength, but he'll work that out in the gym."
Danault patterns his game after Dallas Stars captain Brenden Morrow and the Pittsburgh Penguins' Maxime Talbot because "they like to work hard."
Jean is confident that whichever team drafts Danault will reap the benefits.
"He'll bring work ethic, dedication and leadership," Jean said. "His passion for the game is unique because he's the most passionate kid I've ever coached. He plays with pride; he's not the type of kid who thinks he's better than the next guy, but he challenges himself to be as good if not better."
Follow Mike Morreale on Twitter at: @mike_morreale