US Open: Dominican tennis pioneer Estrella Burgos sees bright future for Latino players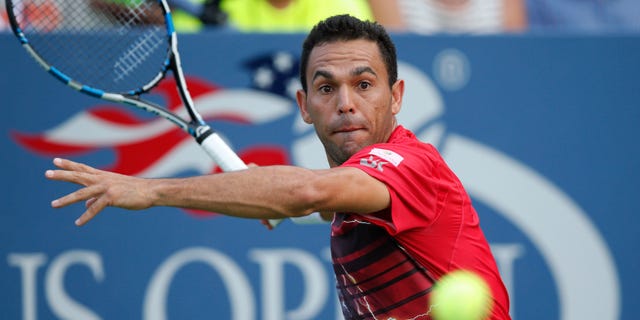 New York – Victor Estrella Brugos made history at last year's U.S. Open tennis tournament by becoming the first Dominican to play in – and, at 34, the oldest to make his debut at – the New York City grand slam event.
He reached the third round in his first go-around, and he had hoped to make an even deeper run this time around but fell short Tuesday night to the American Jack Sock.
Now 35, Estrella Burgos said he isn't frustrated by the loss, noting that Sock has a very "difficult game" with a variety of shots that the Dominican could not adapt to well.
"I did not feel comfortable," Estrella Burgos told reporters after his match in Flushing Meadows. "I lost in the first round, but I played well. I've had a great year. It's only one tournament."
After breaking into the top 100 in ATP rankings, Estrella Burgos went on to participate in all four grand slams last year – making Dominican history at each – and in February 2015, he won his first ATP title at the Ecuador Open in Quito, becoming the oldest first-time ATP tour winner of the Open Era.
"Right now, the Dominican Republic is a country famous for its baseball players, but that is changing," he said. "Tennis is growing. There are a lot of young people who are interested in playing."
One of those players is 25-year-old José Hernández Fernández, who is ranked No. 184 and was defeated in the second round of U.S. Open qualifiers.
Hernández told FNL after his first-round qualifying win last week that interest in the sport has grown exponentially with Estrella Burgos' success, and he wants to help continue the momentum.
"Right now [Dominican fans] are all very excited by what Victor has done," Hernández said. "All the sacrifice that everyone makes, it's nice that people value it."
Its young players like Hernández that Estrella Burgos sees coming out of not just the Dominican Republic, but also from the rest of Latin America in the coming years.
"Without a doubt, players will be coming out of Latin America. And I will go even further and say that from the Dominican Republic there will be some players," he said, acknowledging that the style of play is different from that in Europe, but saying that should not be an impediment. "We have some players who are playing tennis well and are motivated."
Estrella Burgos is now concentrating on his next tournaments, which include a Davis Cup qualifier against Germany later this month. It's a new milestone for the Caribbean country.
"Germany is a great team, but nothing is impossible. I think we have a chance," he said. "We are in a good position. We are going to show that in the Dominican Republic, we play tennis."