Upon further review: Packers vs. Lions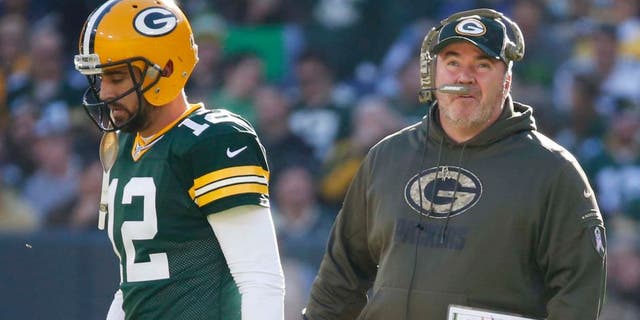 NEWYou can now listen to Fox News articles!
It was a game the Green Bay Packers shouldn't have won, could have won and in the end didn't win.
Looking to end a two-game skid, the Packers figured to cure what ailed them by facing the Detroit Lions -- who had lost 24 straight games in Wisconsin -- at Lambeau Field. But, as the saying goes, on any given Sunday any team can beat another.
Two missed extra points by Detroit's Matt Prater gave the Packers life and an onside kick recovery reminiscent of last season's NFC Championship Game -- only this time in Green Bay's favor --- appeared to be a continuation of the Wisconsin jinx for Detroit.
But instead, it turned out to be a continuation of Green Bay's struggles, as Mason Crosby mis-hit a potential game-winning field-goal attempt from 52 yards and the Lions won on the road against the Packers for the first time since 1991, 18-16.
Here's a recap of Sunday's game:
SUNDAY SCHOOL
-- Green Bay had 10 drives between its opening field goal and first touchdown, running 46 plays for 134 net yards (this includes one kneeldown for -1 yard at the end of the first half), an average of 2.91 yards per play.
-- Where was the run game? Detroit entered Sunday 30th in the NFL in rush yards allowed per game (133.8) on 4.3 yards per carry with 14 touchdowns. Even with Eddie Lacy inactive due to a groin injury, James Starks only had nine carries in the first half, along with two for Aaron Rodgers and one for Randall Cobb. In the second half, Starks ran just six times -- while Rodgers had 38 pass attempts. Starks finished with just 42 yards and a 2.8 average per carry, but Green Bay never tried to even establish the run. Green Bay never had more than three rushes on any drive, and did it just three times: the opening drive in the first quarter, early in the second quarter (although one was a scramble by Rodgers) and one which started with 11:20 left in the third quarter.
-- For the most part, the Packers defense played a solid game. While they recorded no sacks, Lions QB Matthew Stafford was under a lot of pressure. But the defense wasn't helped at times by a short field. Detroit's first three scores came on drives of just 22, 1 and 22 yards.
-- When Green Bay needed a stop, however, the defense did not come through. On its drive to take an 18-10 lead, Stafford completed a pass of 13 yards to Calvin Johnson on 3rd-and-9 -- escaping a rush to make the throw -- and on a 3rd-and-3 play, Stafford found Golden Tate on a short route, and he turned it into a 43-yard gain. Sam Shields tried a shoulder tackle, which didn't work, and Morgan Burnett failed to wrap up Tate on the play.
DULY NOTED
-- Davante Adams was targeted an incredible 21 times. No one else on Green Bay had more than 10 targets (Randall Cobb). Adams finished with 10 receptions for 79 yards. In the second half he had 11 targets but just two catches.
-- Cobb had a drop in the first quarter on 3rd-and-9 with 4:06 left that certainly would have gone for a big gain, perhaps even a touchdown.
-- Green Bay again had a lack of big plays, with just four of 20+ yards, all of which came in the second half (three in the fourth quarter).
-- The Packers held the Lions to just one play of 20 or more yards -- but it was Tate's 43-yarder which set up the Lions' final touchdown. Detroit only had three plays which went longer than 15 yards.
-- As bad as Green Bay's running game was, Detroit's was worse. The Lions had 45 yards on 26 carries, a 1.7 average.
-- The Packers called a timeout before a 3rd-and-goal play for Detroit with 13:38 left in the third quarter because they had 12 men on the field. Matthew Stafford hit Brandon Pettigrew on a 4-yard touchdown pass on the next play. How much could have Green Bay used that timeout late in the game?
-- On the Pettigrew TD, Julius Peppers slipped in coverage. B.J. Raji tried to slip over in coverage, but to no avail.
WHAT IT MEANT
It might not be full-fledged panic time in Green Bay, but there's a lot of worrying going around. The Packers were expected to snap out of their funk against a moribund Lions team, but instead never got going on offense until the waning moments. The running game is bad and the passing game inconsistent. However, all is not lost. At 6-3, Green Bay is still in position to make the playoffs and possibly even win the division. However, "still in position" and "possibly" is a far cry from a few weeks ago and talking about locking down the No. 1 seed in the postseason.
PLAYER OF THE GAME
Green Bay limited Detroit to under 300 yards of total offense. Leading the way on that side of the ball was safety Ha Ha Clinton-Dix, who had a team-high 11 tackles, including a tackle for loss, a pass defensed and a key interception (at the time), when he stopped a Lions drive by diving in front of Lance Moore for the pick.
DON'T FORGET ABOUT ME
The Packers have been looking for production out of a tight end since, well, Jermichael Finley's career ended. With Andrew Quarless due back soon of the short-term injured reserve, Justin Perillo had the game of his professional life. The undrafted free agent from Maine had two catches all season -- he matched that total on his touchdown-scoring drive at the tail end of the fourth quarter. He finished with five catches (on six targets) for 58 yards and the touchdown.
THAT MOMENT
The Packers had a chance to tie with a two-point conversion with 32 seconds remaining. Green Bay was 2 for 2 on those plays this season. Aaron Rodgers looked like he might have been hurried into a throw to a covered Davante Adams. If he had looked a little to the left, he would have seen Richard Rodgers had a step on his man and might have been the better target, all things considered.
THIS NUMBER
61 -- pass attempts by Aaron Rodgers. He had never thrown more than 48 in a game (against Pittsburgh in 2009 and last week against Carolina. This is not a recipe for success. Rodgers averaged just 5.1 yards per pass attempt (including sacks). Stafford averaged 6.4 yards. He was averaging 7.7 yards per attempt coming into this game, which is his worst in a season since he averaged 7.7 yards per attempt in 2008.
THEY SAID IT
"We dropped one today that we felt we had a very good opportunity to win." -- Green Bay head coach Mike McCarthy said.
"We needed 19 points to win today, you would expect us at home to score 19 points." -- Green Bay quarterback Aaron Rodgers.
"We [the wide receivers] pride ourselves in sparking this team and giving this team a boost and we didn't do that today. . . . But no excuses, they beat us today." -- Green Bay wide receiver James Jones
WHAT'S NEXT
The Packers (6-3) travel to Minnesota to play the Vikings (7-2) and trying to avoid falling two games behind in the NFC North. A win, and they are back in the driver's seat for the division.