Upon Further Review: Packers at Cowboys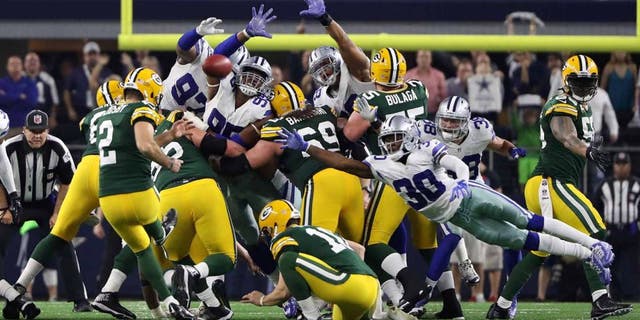 NEWYou can now listen to Fox News articles!
When Aaron Rodgers was sacked by Dallas Cowboys safety Jeff Heath with only 18 seconds remaining in a tie game, it seemed overtime was on everyone's mind.
Everyone but Rodgers, that is.
The 12-year veteran rolled to his left with 12 seconds to play and delivered a 36-yard strike to tight end Jared Cook, who tapped his feet inbounds at the Dallas 32-yard line.
That set up a Mason Crosby game-winning field goal that flirted with the upright but ultimately sailed through to send Green Bay to its first NFC Championship berth since 2015.
SUNDAY SCHOOL (ON MONDAY)
--The game began with Green Bay's offense picking up where they left off after a 38-point effort against New York last week. They jumped out to a 21-3 lead, turning their first three offensive possessions into touchdowns. Richard Rodgers caught a 34-yard touchdown and Ty Montgomery finished off two drives of a 90 and 80 yards, respectively, with two rushing scores.
--Dallas, on the other hand, came out of the gate sluggish and looked like a team that, well, hadn't played a game in two weeks. Although the Cowboys scored on their first possession with a 50-yard Dan Bailey field goal, they punted the next two possessions and found themselves down by 18 points.
--The Cowboys were able to chip away at the lead before halftime. Rookie quarterback Dak Prescott connected with wide receiver Dez Bryant two plays in a row -- one for a 21-yard gain and the other for a 40-yard touchdown grab over Packers cornerback LaDarius Gunter. Dallas also added a field goal to trim Green Bay's lead to 21-13 at the break.
--Green Bay received the ensuing kick after halftime, and it only took six Rodgers passes for the Packers to find the end zone again. Tight end Jared Cook found himself open for an easy six points, and the Packers claimed a 28-13 lead.
--Dallas struck back. Facing an important 3rd and 14 and the Green Bay 21-yard line, tight end Jason Witten ran a 15-yard curl route that moved the chains and set up his 6-yard touchdown catch on the next play. After a Green Bay punt, Dallas tied the game 28-28 with Dez Bryant's second touchdown of the day and a quarterback sneak from Prescott on the two-point conversion.
--Then Mason Crosby became a factor. Aaron Rodgers led his team down the field, and Crosby connected on a 56-yard field goal to put the Packers up 31-28 with 93 seconds remaining. The Cowboys, guided by Prescott's impressive poise, answered with a field goal to tie the game with only 35 seconds to play. But it was too much time for Rodgers.
--Rodgers, cool under pressure per usual, rolled to his left and connected with Jared Cook for a 36-yard pass with three seconds remaining. Mason Crosby then nailed a 51-yard field goal as time expired that sent Green Bay to a NFC Championship berth in Atlanta next weekend.
DULY NOTED
--Mason Crosby made his game-winning field goal not once, but twice. Dallas head coach Jason Garrett called a timeout before Crosby's first attempt, which rang true. Crosby was unflappable and sent another booming kick through the uprights after the timeout to beat the Cowboys 34-31.
--Rookie Kentrell Brice had a career-high seven tackles to lead Green Bay, including a monster hit on Dallas wide receiver Cole Beasley. Brice stepped up significantly after starting safety Morgan Burnett went out with an injury early in the game.
WHAT IT MEANT
--Green Bay has now won eight straight games, and its offense has scored over 30 points in six consecutive matchups. Expect a similar offensive output next week in Atlanta; the Falcons' defense ranked 25th in the NFL during the regular season, allowing 371.2 yards per game.
PLAYER OF THE GAME
--Jared Cook, and it's not even close. The tight end set up Crosby's game-winning field goal with his incredible toe-tapping catch that featured body control worthy of a Michael Jackson dance move. He tied his season high with six receptions on 11 targets and finished with 104 yards and a touchdown.
DON'T FORGET ABOUT ME
--It's pretty hard to forget Aaron Rodgers. The MVP candidate completed 28 of 43 pass attempts for 356 yards and two touchdowns, and he twice displayed his skill and composure running Green Bay's two-minute drill.
THAT MOMENT
--The Cowboys were gaining momentum early in the second half. Prescott seemed to find a rhythm and had his offense on the edge of Green Bay's red zone, threatening to score. However, Packers defensive back Micah Hyde stepped in front of a Prescott screen pass intended for Beasley. It was obvious that Hyde's anticipation and play making came from hours of studying film because Hyde was ready to jump the route as soon as Prescott snapped the ball.
THEY SAID IT
--"Well, it's a great catch by Jared. We took a timeout after that sack and tried a few last-second plays that we have…it's just kind of schoolyard at times, late in the game like that" -- Rodgers on "the catch" by Jared Cook
--"Very unusual. Most unusual football game that I think I've ever been a part of. It's been a wild weekend" -- Packers head coach Mike McCarthy
--"Aaron Rodgers…you only see this type of player once a generation or so" -- Michael Strahan, NFL Hall of Famer on the FOX postgame show
WHAT'S NEXT
--Green Bay travels to Atlanta for the NFC Championship game next Sunday. The Packers will try to avenge a 33-32 loss to the Falcons in Week 8 this season.