Upon further review: Packers at Bears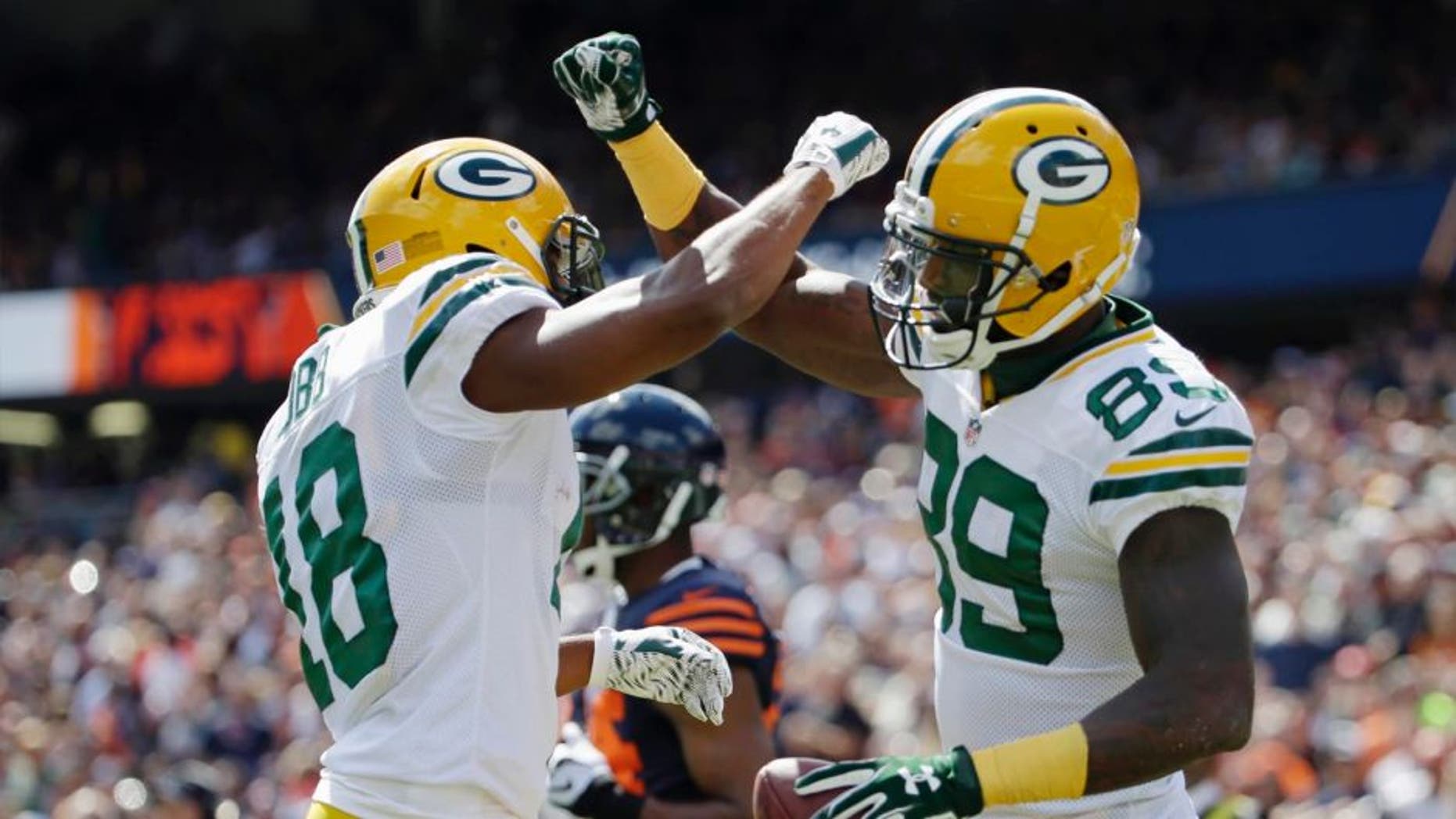 The Green Bay Packers didn't exactly enter the NFL season in perfect fashion.
Not only did they have to play on the road at rival Chicago, but also several defensive players were out due to suspension or injury, wide receiver Jordy Nelson was of course also sidelined (for the season) and the team is breaking in a couple of rookies in the secondary.
Yet, the Packers did just enough defensively and were efficient and turnover-free on offense in beating the Bears, 31-23.
In Green Bay's first game since the fateful NFC championship, this one would also come down to an onside kick, but it turned out much better for the Packers this time around.
A recap of Sunday's season opener:
SUNDAY SCHOOL
-- Jordy who? OK, let's not go that far, but the Packers proved they have other viable players at wideout, as (an injured) Randall Cobb had five catches while Davante Adams and James Jones had four each. The bad news was only two other players were targeted, Richard Rodgers and Eddie Lacy.
-- The run defense was under the microscope, and the Packers couldn't have liked what they saw. Matt Forte ran for 141 yards with a 5.9 average. An injury to Sam Barrington (ankle) didn't help, although Nate Palmer (7 tackles) did well filling in and even got some kudos from quarterback Aaron Rodgers in his postgame press conference.
-- Green Bay's defense as a whole was subpar except in one important category -- allowing touchdowns. Chicago's first TD came only after a foolish penalty on a field-goal try allowed the Bears to instead go for the touchdown, which they eventually got. The second TD essentially came in garbage time with the Packers up two scores and time winding down. But Green Bay did allow 402 yards of offense and Chicago was 11 of 17 (65 percent) on third-down conversions.
-- The new extra-point attempt might look a little strange -- especially when Robbie Gould booted a field goal from closer range -- but it had no effect in Week 1 for these two teams, as both Gould and Mason Crosby made all their attempts and neither coach went for a two-point conversion.
-- Ty Montgomery flashed as a kick returner. He had two returns of 40-plus yards and a 35.3 average overall.
DULY NOTED
-- Clay Matthews had a big play -- in the second quarter. Matt Forte sprung free on the left side but Matthews, coming from the opposite side of the field, ran the Bears running back down from behind. It was likely a touchdown-saving tackle and Chicago would have to settle for a field goal.
-- Early in the fourth quarter, up by just one point, the Packers went for it on fourth-and-1 from the Chicago 40. Many times teams are conservative in this situation, but Green Bay played the odds and James Starks ran three yards for a first down. The drive lasted 16 plays and ended with a Rodgers touchdown pass to Randall Cobb, who set up that Starks run with a catch-and-run for 10 yards on third-and-11.
-- Another area of concern for Green Bay: The Packers had 10 penalties for 74 yards. There was an 11th penalty, as well, but that was nullified by an offsetting Chicago penalty.
-- A one-handed catch by Eddie Lacy off an unplanned Rodgers backhanded pass was still being talked about after the game. Rodgers noted he went to the running back in the locker room to discuss it and Lacy jokingly said he felt like Randy Moss.
-- Lacy ran the ball 19 times. Green Bay's second-leading rusher was Rodgers, who had eight carries for 35 yards.
-- Jeff Janis, who had 10 catches and three touchdowns in the preseason, once again was invisible as the regular season got underway.
WHAT IT MEANT
It's just one week, but already having a division win, plus a road victory on top of that, is good, especially since the Lions also lost. And any win over the Bears feels nice.
PLAYER OF THE GAME
James Jones wasn't even on the Packers a week before the game. But he caught two touchdown passes, including the first of the season when he reached over a Chicago defender while in the air to grab the ball, and nearly had a third, but it was wiped away by a holding penalty. Jones caught all four passes thrown his way, as well. Hopefully, Green Bay at least sends the Giants a thank-you note.
DON'T FORGET ABOUT ME
Julius Peppers was a presence in Chicago's backfield, terrorizing his former teammates once again. He had five tackles, 1.5 sacks, 1 TFL and 2 QB hurries. Maybe the Bears shouldn't have let him go.
THAT MOMENT
With the Bears driving for a potential tying score late in the fourth quarter, Clay Matthews stepped in front of a pass intended for Chicago tight end Martellus Bennett for an interception. The Packers would take over in Bears territory and tack on another touchdown to all but put the game away.
THIS NUMBER
12. Number of consecutive games the Packers have had at least one interception against Cutler. And the one Sunday to make it a dozen straight was as crucial as they come.
THEY SAID IT
"It's a good way to start the season . . . to start the season with a division win, one against your rival, is obviously important." -- Green Bay head coach Mike McCarthy
"Taking the ball away in the second half was the determining factor." -- McCarthy
"It's always fun beating the Bears. It's a division rival. Everyone's always a little more amped up because of the rivalry and the history." -- Rodgers
WHAT'S NEXT
Gee, I wonder what the talk will be about for the next week? Green Bay hosts Seattle on Sunday at 7:30 p.m. The Seahawks are coming off an overtime loss at St. Louis, and who knows if Kam Chancellor will be with the team. Anyway, Packers fans might want to avoid watching preview footage to avoid any onside kick flashbacks.
Follow Dave Heller on Twitter