Upon further review: Minnesota at Nebraska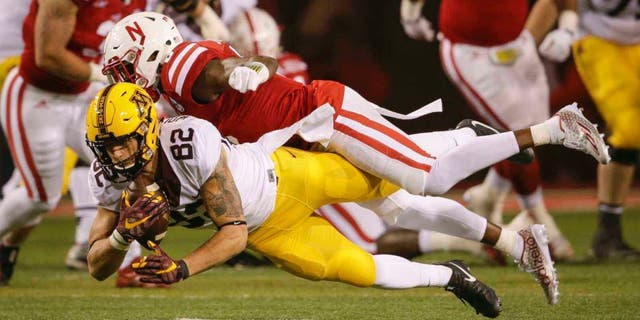 You can't say Minnesota didn't have its opportunities.
The Gophers went into Nebraska in a key Big Ten West battle and held a 17-10 halftime lead, but couldn't hold it, falling to the Cornhuskers 24-17.
Minnesota was driving down for a potential tying score, but a Mitch Leidner interception sealed the Gophers' fate, both in this game and in the division.
Here's a recap of Saturday's game:
CLASS LESSONS
-- The running game has been a big part of Minnesota's offense all season and Nebraska completely nullified it. The Gophers had run for at least 102 yards in every game this season, six times eclipsing 200. But against Nebraska, Minnesota only rushed for 85 yards on a 2.5 average -- season lows. Take away the biggest run of the game -- a 31-yard rush by Rodney Smith -- and the Gophers averaged a paltry 1.6 yards per carry.
-- The trouble in the run game was no more evident than early in the fourth quarter. Minnesota had second-and-1, which is normally a gimme for the Gophers. However, Nebraska stopped both Shannon Brooks and Smith for 1-yard losses, causing Minnesota to punt from plus-territory, the Huskers 46.
-- Down 24-17 late in the fourth quarter, Minnesota had two chances to get the tying score but both times made a mistake. The first time, the Gophers on a third-and-5 threw a pass short of the sticks to Rodney Smith, forcing a punt with roughly five-and-a-half minutes left to go in the game. The Gophers would get the ball back and get down to the Nebraska 17 but Leidner tried to force a pass into a covered Drew Wolitarsky, the ball getting deflected and then picked off, all but ending the game. Wolitarsky is Leidner's favorite receiver, but this was a bad decision in a crucial situation by a senior. Inexcusable.
-- Minnesota won the coin toss and decided to get the ball first and the move paid off as the Gophers scored a touchdown on their opening possession. Minnesota was aided by a Nebraska penalty on a fourth-and-1 punt play. The 14-play, 75-yard drive was the longest given up by the Cornhuskers this season.
-- Much of the success of Tommy Armstrong Jr was Nebraska having him throw short passes and screens, staying away from the downfield stuff that has gotten Armstrong in trouble in the past. But early in the second quarter, Minnesota had a chance to make Nebraska pay for going against that philosophy and perhaps could have turned the game around. Armstrong threw a midrange pass and Jalen Myrick read it, stepping in front of the wide receiver, nearly coming up with an interception. He didn't and Nebraska would eventually go for it on fourth-and-2, with a swing pass to Trey Bryant going for a 35-yard touchdown.
-- On the game-winning touchdown, it would be no surprise if Minnesota didn't think Armstrong would run the ball. He was limping around in the backfield and on a fourth-and-1 handed off. But he faked the handoff and burst into the end zone untouched. He also apparently pulled a hamstring and didn't re-enter for Nebraska's final drive.
-- With 35 seconds remaining in the first half, Minnesota had a third-and-5 and, despite its struggles in the ground game, decided to run with Smith, who got only three yards. Emmit Carpenter hit a 42-yard field goal as time expired, but was Minnesota too conservative here, basically playing for a field goal on the road? Or were they scared of a sack or turnover? Seemed like a situation to take a shot passing the ball.
DULY NOTED
-- Blake Cashman recorded just the seventh sack against Nebraska this season. Of course, it helped that Ryker Fyfe was in at quarterback at the time as Armstrong had been sidelined with an ankle injury after a fourth-and-1 quarterback sneak.
-- Smith had his 14th rushing touchdown, which is the most for a Gophers running back since Gary Russell had 18 in 2005.
-- Tyler Johnson had only one catch but it was nearly the play of the game. Johnson gained 25 yards, breaking one tackle and avoiding another to get Minnesota to the Nebraska 17 as time wound down. However, on the next play Leidner threw the interception.
-- Minnesota's 265 yards of total offense were its lowest since the Gophers had 173 at Northwestern on Oct. 3, 2015.
-- Nebraska punter Caleb Lightbourn not only shanked a punt but saw it take a bounce high and long backwards, the net result being the kick went minus-2 yards. You don't see that every day.
-- The Huskers had a lot of success on first downs. They ran 18 times for 118 yards (6.6 average) and passed seven times, completing six for 66 yards. On the other hand, Minnesota actually passed more than it ran on first downs, completing 8 of 14 passes for 60 yards while rushing for a paltry 23 yards on 10 carries.
WHAT IT MEANT
You can pretty much kiss winning the Big Ten West title goodbye. Sure, there are ways it can happen but all are pretty remote of occurring. At this point, Minnesota is playing for bowl positioning and then just hoping some luck falls its way.
PLAYER OF THE GAME
In a game in which Minnesota really struggled on offense, Drew Wolitarsky was the one bright spot. Wolitarsky had eight receptions for 90 yards and had several good grabs. Four of his catches came on third-down plays and resulted in first downs.
DON'T FORGET ABOUT ME
Minnesota had way too many tackles made by its secondary (three of the Gophers' top four tacklers were DBs). At the top of the list was cornerback Antoine Winfield Jr. The freshman, who is really becoming a key cog to Minnesota's defense, had 10 tackles, four more than anyone else on the team.
THAT MOMENT
In the fourth quarter it was tied at 17 and Minnesota was looking in decent shape after a holding penalty and a pass breakup by Jalen Myrick on a deep pass gave Nebraska a third-and-11 at its own 49. But Tommy Armstrong Jr. and Alonzo Moore connected on a 16-yard pass to keep the drive alive. The Cornhuskers would keep moving the ball, convert a fourth-and-1 and score the eventual game-winning touchdown.
THIS NUMBER
91 -- number of yards on Nebraska's game-winning drive, the longest drive allowed by Minnesota all season.
THEY SAID IT
"They're a good football team. I think we're a good football team. But they played a better second half than we did." -- head coach Tracy Claeys
"Definitely a throw I want back." -- quarterback Mitch Leidner on his interception
"I like this. I call it real football. I like the real old school football. Kind of ground-and-pound, kind of man-on-man action. So this was definitely more of a team that I am suited for and that I like playing." -- Nebraska linebacker Josh Banderas
WHAT'S NEXT
Minnesota closes out its home schedule with a game against 5-5 Northwestern. The Wildcats broke a two-game losing streak Saturday by thumping Purdue.
Dave Heller is the author of the upcoming book Ken Williams: A Slugger in Ruth's Shadow as well as Facing Ted Williams Players from the Golden Age of Baseball Recall the Greatest Hitter Who Ever Lived and As Good As It Got: The 1944 St. Louis Browns