Under new ownership, Bills seek to end role of playing AFC East rival Patriots' patsy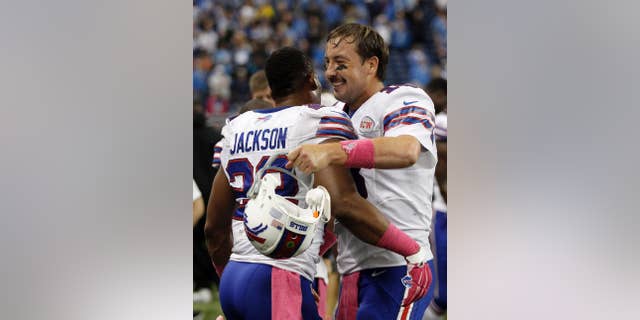 ORCHARD PARK, N.Y. – Forget the individual motivation. In the eight months since departing New England and signing with Buffalo, linebacker Brandon Spikes can appreciate what it would mean for the Bills to beat the Patriots on Sunday.
"I'm not going to say it's personal. But it's big for this organization. It's big for Buffalo. And we all need this," Spikes said. "Buffalo needs this. This franchise needs this. Everybody. This is bigger than the players. Way bigger."
It's even bigger than Spikes, the run-stuffing, high-energy, imposing 6-foot-2, 255-pound middle linebacker preparing to face his former team for the first time.
The game between the Patriots (3-2) and Bills (3-2) represents a showdown for the early-season edge in the AFC East in what has become a one-sided rivalry. The Patriots have won 20 of the past 21 meetings and 24 of 26 since 2001.
And yet, the Bills suddenly believe they can begin reversing that trend.
Buffalo is off to a better-than-expected start, and riding momentum following a come-from-behind 17-14 win at Detroit. The Bills are also opening a new era under Terry and Kim Pegula, the NHL Sabres' owners who received NFL approval this week to complete their $1.4 billion purchase of the franchise.
"Yeah, it would be big for them being their first game as new owners, but it would be better for us," running back Fred Jackson said. "If we don't handle business, we'll all feel rather sour."
The Patriots have issues of their own to address.
They're already 0-1 in the division after a season-opening loss at Miami. Questions are also being raised over whether New England's decade-plus run of divisional dominance is showing signs of decay.
The Patriots were blown out 41-14 at Kansas City two weeks ago before rebounding with a 43-17 win over Cincinnati. Which are the real Patriots?
"Well, you know, it was good to win. But we're really past that now," coach Bill Belichick said. "I don't think that has anything to do with this week. We're just focused on Buffalo."
Here are some things to look out for as the Patriots attempt to win their sixth straight against the Bills:
HAIR APPARENT: Spikes wasn't pleased with how his four-year career ended in New England after being placed on injured reserve before the playoffs in January. Without going into detail, Spikes said he left with bitter feelings.
His former coach, however, paid Spikes a compliment this week.
"I don't think he's changed much. His hair might be a little longer," Belichick said, referring to Spikes' long braids that flow out of his helmet. "The strengths he had when he played here for us, I think, are the same strengths that he's shown with Buffalo."
"Really?" Spikes said, when informed of Belichick's remarks. "What a pleasant surprise."
RUN-STUFFERS: Spikes has solidified Buffalo's once-porous run defense, which has yet to give up 90 yards rushing this season. That marks Buffalo's best streak to start a season and fourth longest in team history, according to STATS. The Bills held opponents to under 90 yards rushing just three times last year.
Buffalo has yet to give up a touchdown rushing this season. The five-game streak matches the team's best since 1981, according to STATS.
GRONK HOMECOMING: Patriots tight end Rob Gronkowski is from Buffalo, and has combined for 30 catches for 449 yards and nine touchdowns in six games against the Bills. That includes three games topping 100 yards.
Following a slow start after offseason knee surgery, Gronkowski had a season-best six catches for 100 yards and a touchdown against Cincinnati.
LONG MEMORY: Tom Brady might be 22-2 against the Bills, including a 10-2 record at Orchard Park, but don't try to suggest the trips to Buffalo have been a breeze.
"Yeah, but we lost pretty bad, though, both times," Brady said. "Those stick out with me."
Brady threw four interceptions in both losses, a 2003 season-opening 31-0 decision, and a 34-31 loss on Sept. 25, 2011.
ORTON OK: Buffalo's switch to Kyle Orton at quarterback has paid dividends after the 10-year journeyman went 30 of 40 for 308 yards with a touchdown and interception in his Bills debut at Detroit. Orton had Buffalo's first 300-yard passing game since Ryan Fitzpatrick had 337 in a 37-31 loss at New England on Nov. 11, 2012. Orton's 195 yards passing in the second half were the most by a Bills player since Fitzpatrick had 215 in the second half of a 30-23 loss against Miami on Dec. 18, 2011.
___
AP NFL website: www.pro32.ap.org and http://twitter.com/AP_NFL