UFC Fighter Alex García Laying 12-1 Record, Life And Limb On Line Against Neil Magny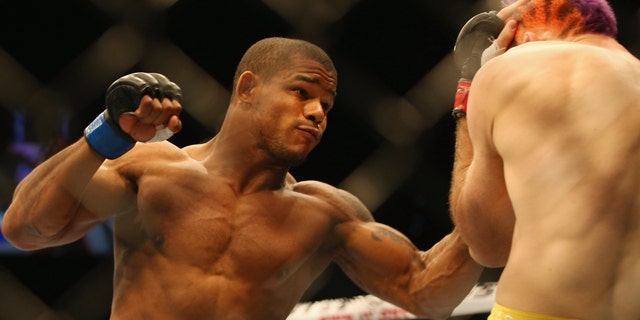 NEWYou can now listen to Fox News articles!
"When I was a kid in the Dominican Republic," the 27-year-old Alex García told Fox News Latino, "I would mess around with other kids in the living room, and I discovered that I liked to hit people."
García – an impressive, up-and-coming welterweight MMA fighter who has been called "a hulking mass of power, explosiveness and brutal strength" by the fight website, Sherdog – isn't talking about anything Hannibal Lecter-level crazy.
"It's my job," he said about fighting UFC. "That animosity that I have in the cage against the guy I'm fighting, I leave that inside the octagon."
On Saturday in Tulsa, Oklahoma, "The Dominican Nightmare," as García has been dubbed, takes his 12-1 record with 5 KOs and 5 submissions into the cage against Neil Magny (11-3), who has a 6-inch height advantage.
But then, García has a history of overcoming adversity.
Born in Santiago, D.R., he wasn't supposed to look beyond the baseball diamond for his sports dreams.
"My family demanded that I play baseball," he told FNL in Spanish, "but I preferred American football, the way they got to throw themselves at each other. There isn't much opportunity to play football in the D.R., though."
"In that sense, MMA is the closest thing to American football that there is," he said. "When I started training for it, I liked it."
García discovered MMA late, through a friend who had done jiu jitsu training and cage fighting in Panama and the U.S.
"When he got back," he said, "he totally dominated me. I didn't like that at all, so I tried it out."
García fought professionally in the D.R., but he had a hard time finding good coaches, so he moved to Montreal, Canada.
"The trainers and the facilities are so much better. In the D.R., the coaches didn't know much about MMA fighting," he said. "That's started to change in the last two, three years as the popularity of the octagon has grown there."
His first UFC fight was in August 2009, against Joel Vales. Like most of García's bouts, his opponent didn't make it to the second round.
His only defeat came in April 2011 against Seth Baczynski, but he has run off six straight wins since – including his most recent, a hard-fought, three-round split decision with Sean Spencer in March that García says was "the toughest fight I had so far. I got rocked pretty hard."
How does he try to clear his head when another fighter actually hurts him?
"My goal at moments like that is actually to try to relax," he said. "Get my cardio down and try to be aware of the situation."
The move to the far north has worked out well for him so far.
"I love Montreal," he said, adding, "during warm weather. In the winter, it gets a bit heavy, and I spend as much time as I can in the D.R."
García is known as a gym rat, but that doesn't mean that he hasn't developed a few pastimes.
"When I'm not training I like to ride motocross, go flyboarding, wakeboarding, snowboarding," he said, stopping short of listing all the X Games events.
Appropriately for a guy who was about to step into the cage and risk life and limb, García pointed out, "When it comes to sports, for me it's the more extreme, the better."