UConn, Florida, Arizona First Teams to Advance to 'Elite 8' Round of NCAA Tournament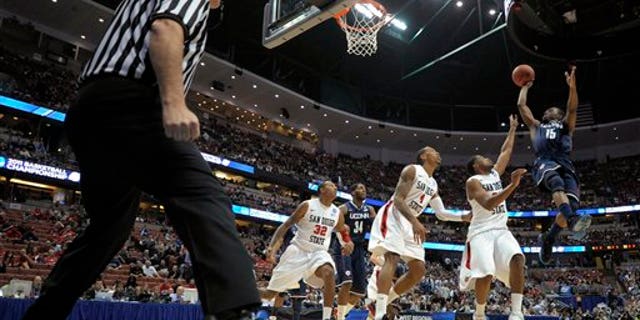 ANAHEIM, Calif. – Derrick Williams scored a career-high 32 points and his Arizona teammates showed they're not just a one-man team, upsetting defending national champion Duke 93-77 Thursday night to reach the final eight for the first time since 2005.
The top-seeded Blue Devils (32-5) were sent packing from a regional semifinal for the second time in three years. Coach Mike Krzyzewski, with 900 wins, will have to wait until next season to resume his pursuit of Bob Knight's record as the winningest men's coach in Division I history.
Williams scored 25 of his points in the first half before his teammates came up big in the final 20 minutes. Lamont Jones added 16 points and Solomon Hill 13.
Williams had 13 rebounds to help his team dominate the boards, 40-27, while playing 15 minutes from his hometown of La Mirada.
Fifth-seeded Arizona (30-7) will play Connecticut (29-9) on Saturday in the West Regional final. The third-seeded Huskies defeated No. 2 San Diego State 74-67 in the other semifinal.
Duke's Kryie Irving scored 28 points in his most minutes since returning at the start of the NCAA tournament after missing 26 games with a toe injury. Kyle Singler added 18 as one of three Blue Devils in second-half foul trouble. Nolan Smith was held to eight points — well under the senior's 21-point average.
_________________________________________________________________________
ANAHEIM, Calif. -- The legend of Kemba Walker is growing bigger with each postseason feat for the Connecticut Huskies, who are on the brink of another trip to the Final Four.
Walker scored 22 of his 36 points in another dynamic second-half performance, relentlessly driving UConn down the stretch in a 74-67 victory over San Diego State in the West regional semifinals Thursday night.
Freshman Jeremy Lamb added 24 points and hit a clutch 3-pointer with 1:43 left for the third-seeded Huskies (29-9), who won five games in five days to capture the Big East tournament and now are going to an NCAA regional final for the 10th time.
Walker, the fearless playmaker from the Bronx generously listed at 6-foot-1, scored 12 consecutive points for the Huskies down the stretch.
UConn advanced to Saturday's regional final against the winner of top-seeded Duke's meeting with Arizona later at Honda Center.
With four 3-pointers and a little veteran savvy to draw a run-stopping technical foul against San Diego State's Jamaal Franklin in the second half, Walker outdueled Aztecs point guard D.J. Gay, who scored 16 points and trimmed UConn's second-half lead to 65-64 on a 3-pointer with 2:53 to play.
Lamb replied with his 3, and his emphatic last-second dunk set off a celebration in the section of thoroughly outnumbered UConn fans at Honda Center, just 90 minutes up the interstate from San Diego.
Gay scored 16 points for the second-seeded Aztecs (34-3), who couldn't quite catch up to the Huskies down the stretch. Kawhi Leonard had 12 points and nine rebounds but never dominated inside, while Billy White added 14 points and Malcolm Thomas had 13 points and eight rebounds.
Walker scored 14 points in the first half to stake UConn to a 36-27 lead during a 19-5 run, but the Aztecs replied with an 11-2 surge early in the second half. Thousands of San Diego State fans who sold out every home game on campus this season turned the Honda Center into Montezuma Mesa North, singing along to their favorite pep-band songs and thoroughly drowning out the UConn cross-country travelers.
Walker's layup put UConn up 40-32 early in the second half, but the Aztecs finally remembered they're bigger and taller than the Huskies, repeatedly using their advantages to set up open shots while keeping Walker's teammates from getting comfortable.
Gay's free throws put the Aztecs ahead 43-42 with 13 minutes left, and back-to-back buckets put San Diego State up 53-49 with 9:19 to play -- but Walker even managed to turn that to the Huskies' advantage.
After Franklin made a steal and fed White for a layup, Franklin and Walker exchanged a little trash talk. On the way back to their benches moments later, Franklin and Walker bumped shoulders -- and Walker went crashing to the floor, drawing a technical foul and hitting both free throws.
Except for two regular-season meetings with BYU, the Aztecs were perfect throughout the winningest season in school history. San Diego State obliterated the school record for victories and won the Mountain West tournament before knocking off Northern Colorado and Temple for its first two NCAA tournament victories.
But UConn's road was rockier, with a 9-9 regular-season mark in the Big East. With three freshmen in their starting lineup, most expected the Huskies to need another year before contending for big prizes.
UConn has been streaking ever since its regular season ended with four losses in five games. After Walker drove them to the Big East tournament title in dramatic fashion, and the Huskies knocked off Bucknell and Cincinnati in the first two rounds behind Walker, who already has obliterated the single-season school scoring record.
The West Coast vibe suits the Huskies, who also came out of this region during their runs to the 1999 and 2004 national titles, along with their trip to the 2009 Final Four.
_________________________________________________________________________
NEW ORLEANS -- BYU had the best scorer on the court. Florida had the best team.
Alex Tyus scored 19 points and grabbed 17 rebounds as Florida beat BYU 83-74 in overtime
Thursday night, chasing Jimmer Fredette and the Cougars out of the NCAA tournament.
While Fredette was the star attraction, scoring 32 points on 11 for 29 shooting in the final game of his college career, Florida countered with balance.
Kenny Boynton added 17 points while Erving Walker and Chandler Parsons both scored 16. Boynton and Parsons each hit 3-pointers in overtime as Florida outscored BYU 15-6.
Fredette made just 3 of 15 from 3-point range and had to work for his points against Florida's physical defense. By the end of the game, he had a bandage on his chin from a blow in the second half, but the baskets kept coming until he was held scoreless in overtime.
When the outcome became apparent with one minute remaining, BYU coach Dave Rose subbed out Fredette, bringing a standing ovation from the crowd.
Florida (29-7) eliminated BYU (32-5) and reached its first regional final since 2007.
The Gators led for much of the first half, but BYU rallied to tie the game at 36 by halftime.
Florida was almost unstoppable early, making 10 of its first 13 shots and leading by 10 points early. But the Gators cooled dramatically from that point, making just 4 of 13 from the field and 1 of 6 from the free-throw line in the first half.
Fredette, who came into the game as the nation's leading scorer at 28.8 points per game, missed his first six shots from the field. But the Cougars were able to tread water thanks to Jackson Emery and Stephen Rogers, who combined to hit five 3-pointers in the first half.
Fredette was held scoreless for nearly 14 minutes before hitting a layup with 6:17 remaining in the first half. He made four of his next seven shots to finish the half with 10 points.
The Gators double-teamed Fredette occasionally, but usually guarded him one-on-one with Kenny Boynton or Scottie Wilbekin. Fredette was bumped several times while trying to finish layups, and two of his first three shots were blocked.
But fouls were hard to come by, despite Fredette's occasional glares toward officials and the anger from the vastly pro-BYU crowd at New Orleans Arena.
By midway through the second half, Fredette's chin was bleeding and he came out of a timeout sporting a white bandage. But it didn't stop him.
He brought the crowd to its feet with 4:56 remaining, nailing a 3-pointer from 30 feet away to tie the game at 63.
But Florida wasn't rattled, making several big shots. Tyus did the vast majority of his damage in the most cruical moments, with 12 points and 11 rebounds after halftime.
The Gators had the last shot in regulation, but Parsons missed a contested layup with one second remaining.
Compared to the tense final moments of the second half, overtime was anticlimatic. Tyus hit a layup and Boynton made a short jumper to give Florida a 72-68 lead and the Gators cruised from there as Fredette's 3-pointers wouldn't fall.
BYU beat Florida 99-92 in double overtime in the first round of last year's NCAA Tournament.
BYU finished the season with the most wins in school history and made the round of 16 for the first time since 1981, when another famous Cougars guard, Danny Ainge, was the star.