U.S. women's soccer coach Jill Ellis embraces pressure: 'Game day is what I live for'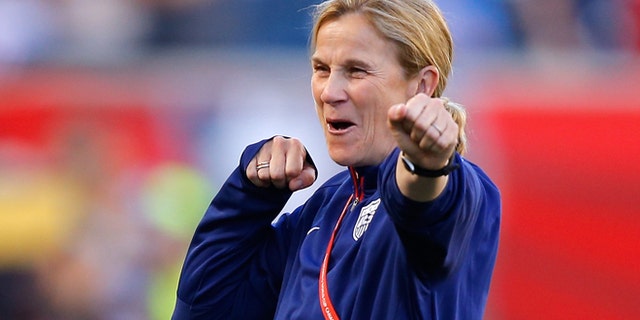 When the United States soccer team faces Nigeria in BC Place Stadium in Vancouver, Canada, Tuesday night at the Women's World Cup, the Americans will be under plenty of pressure to get a result.
A win would give them first place in Group D and allow them to avoid Brazil in the Round of 16 and enjoy a much easier path in the competition. But a tie would at least book them a spot in the knockout round.
Just don't talk to U.S. head coach Jill Ellis about the pressure. She embraces it.
"I've been with this program in US Soccer for many, many years," Ellis told Fox News Latino. "Always understanding the expectations there – it doesn't matter if it's the youth team or the senior team, the expectations are to be at the top level."
It has been a long, frustrating 16 years since Team USA won a Women's World Cup in 1999. Since then, the U.S. finished third in 2003 and 2007 and as runner-up in 2011.
"It's a good responsibility to have expectations," Ellis said. "We're certainly ready and hungry to win a World Cup. There's a whole generation that has not experienced not just the euphoria, but the impact and the fallout of a world championship. It would be great not just for our players but our sport to bring home a World Cup."
Ellis has a fan in Swedish national team coach, Pia Sundhage, who had the 48-year-old on her staff as an assistant during the Americans' second-place finish at 2011 Cup and for the team's gold-medal winning performance at the 2012 London Olympics.
"She's special," Sundhage told FNL about Ellis. "First of all, she's a student of the game. She has been around youth soccer for a long time, and now she's on top of her soccer life, coaching the best team in the world. She's a positive person. She likes people and she has a great chance to win the World Cup."
In March, the USA won the Algarve Cup, which is held in Portugal every year and brings together the best women's soccer teams in the world.
Recently, when it was pointed out to her that no Algarve Cup champion has won the World Cup in the same year, Ellis brushed the thought aside.
"I'm really not a big stat person," she said. "I truly live in the moment. Statistics are all in the past. What happened is the result on the day, the performance on the day."
A naturalized American who was born in England, Ellis became interested in soccer at a time when there were few opportunities for women to play. It wasn't until she arrived in the U.S. as a teenager that her passion for the game began to blossom into a coaching career.
She guided the UCLA women's squad for 12 seasons, reaching the NCAA Division I Final Four eight times before jumping to US Soccer in 2000. Since then Ellis has served in various capacities, including as coach of the Under-20 and U-21 sides.
After briefly holding the position of interim national team coach when Sundhage left in 2012, Ellis replaced the fired Tom Sermanni as coach last year.
Ellis learned about the sport and about coaching from her father, John Ellis, who guided Trinidad and Tobago's national team.
"[Being national team coach] is an unbelievable job," she said. "It's been everything I've hoped for. I'm really enjoying it. I love being in camp. I love the day to day, sharing ideas."
"But ultimately getting out in the field – I think any coach, game day is what you live for. That adrenaline, being in the moment, having the opportunity to win," Ellis said. "Every day there [are] little victories. Just the joy of that. It's seeing little pieces coming together. Then there's stuff off the field."
Ellis continued, "It's about connecting. If you want the players to be a part of something, to buy into something, the human element has to be an integral part of that. Just connecting with these players. They're really special people, not just on the field, but off the field as well. Those things are fun. I enjoy."
And watching them dance around BC Place with the trophy on July 5 no doubt would be the most enjoyable moment in Jill Ellis' life.