Turner says he's fine after taking pitch off pinkie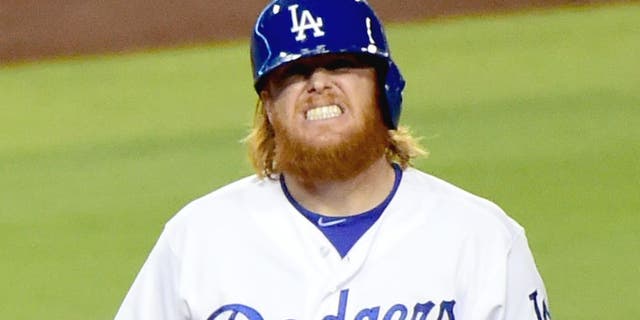 NEWYou can now listen to Fox News articles!
The Los Angeles Dodgers nearly had to break the emergency glass on Wednesday when third baseman Justin Turner was hit by a pitch in the hand.
In the bottom of the sixth inning of the Dodgers' 2-1 win over the Giants, Turner was hit by a pitch from San Francisco starter Mike Leake on his pinkie.
To the relief of the Dodgers, who don't have a true third baseman other than Turner on their roster, Turner remained in the game and X-rays soon after revealed that he didn't sustain any fractures on the blow.
"It got the tip of my pinkie and didn't have feeling in it for a couple of innings," Turner said, "but I took some X-rays right away and everything's good."
Turner told reporters after the game that he expects to be in the lineup on Thursday, when the Dodgers open a four-game series in San Diego against the Padres.
"It was numb but I knew right away there wasn't anything broken," the 30-year-old infielder said.
To the delight of the Dodgers, Turner has had a career year at the plate this season, hitting .292/.360/.508 with 15 home runs and 52 RBI.
Turner's bat is hardly the only reason why the Dodgers need him to remain healthy, though.
With utility man Kiké Hernandez recently being placed on the disabled list with a hamstring injury, the Dodgers don't have a true back-up at third base, as second basemen Chase Utley and Jose Peraza have limited experience at the position, and Alex Guerrero has proven to be a liability at the hot corner.
(h/t Los Angeles Times)