Tuesday's NFL injury updates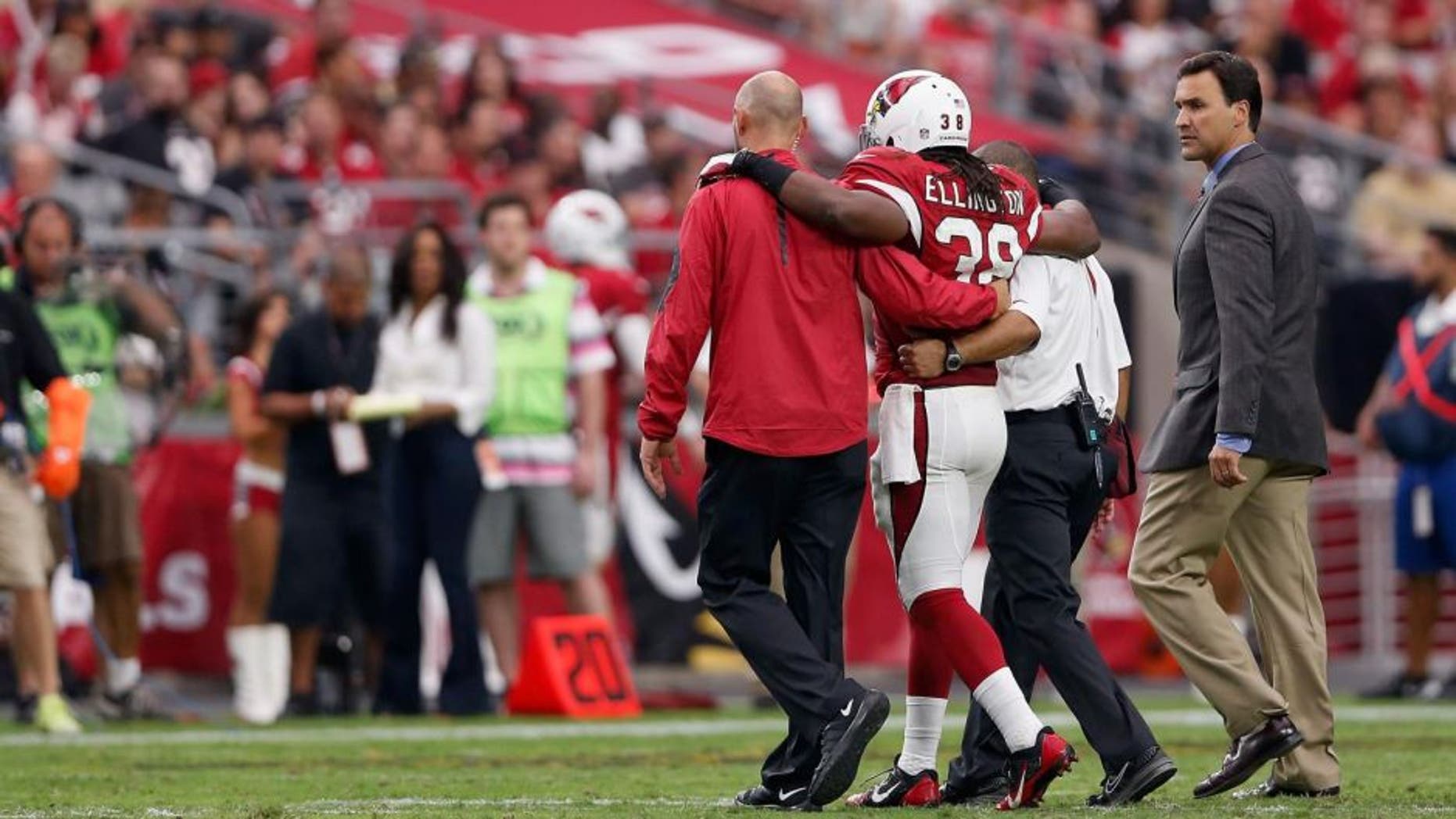 The toll that a painful Sunday took on teams across the league began to come into focus on Monday, and in Northern California it was the classic case of good news, bad news. First, the good news.
Oakland quarterback Derek Carr's injured throwing hand that knocked him out of the game Sunday is not as serious as originally feared, and the Raiders are hopeful Carr will be able to play this week against Baltimore.
An MRI on Monday showed that Carr only had a bruise on his right hand. Carr even showed coach Jack Del Rio that he was able to squeeze a ball in a sign that he should be able to practice this week.
The news wasn't so good in the secondary, however.
Safety Nate Allen will miss time with a knee injury but is expected back this season, Del Rio told the media on Monday. At that time, the first-year Raiders coach said he had not seen results of safety Charles Woodson's MRI exam on his injured shoulder.
But later Monday night, ESPN's Josina Anderson tweeted that Woodson suffered what sounds like a significant injury.
"Agent Carl Poston told me #Raiders S Charles Woodson informed him he has a dislocated shoulder & he's unsure of recovery timetable as of now"
But perhaps ... not so significant?
NFL Network's Ian Rapoport said that Woodson is already "campaigning against" missing even one game, and that he is telling people "not to rule him out this week."
* * * *
INDIANAPOLIS -- Colts Pro Bowl receiver T.Y. Hilton did not sustain any structural damage to his injured left knee and could play next week.
The injury forced Hilton to leave Sunday's 27-14 loss at Buffalo during the second half. Initially, the fear was the injury could keep Hilton out several weeks.
But coach Chuck Pagano said Monday an MRI was negative and that Hilton was listed as day to day.
Hilton said the swelling went down overnight and that he already was feeling better.
Pagano also said running back Frank Gore was "fine" after being forced to leave the game early because of cramps in his calf.
Indy (0-1) faces the New York Jets (1-0) next Monday at Lucas Oil Stadium.
* * * *
SAN DIEGO -- Chargers right guard D.J. Fluker is expected to miss considerable time with what is believed to be a high ankle sprain.
Fluker was hurt in the third quarter of Sunday's 33-28 victory against Detroit in which the Chargers scored 30 straight points to rally from a 21-3 deficit.
As usual, coach Mike McCoy declined to be specific, other than to say Fluker's left ankle isn't broken. When asked if it was a high sprain, McCoy said: "He has an ankle injury." The coach said Fluker was "a little sore."
Fluker was on the ground for several minutes and it took three people to lift him onto a cart, including big left tackle King Dunlap.
Fluker was playing his first game at guard. He played right tackle his first two seasons.
* * * *
ST. LOUIS -- St. Louis Rams coach Jeff Fisher said defensive end Eugene Sims and special teams ace Chase Reynolds have knee injuries that could sideline them for a few weeks.
Fisher said Monday the news was better than expected on both players, who were injured in the opening 34-31 overtime win against the Seattle Seahawks. The team had feared season-ending knee injuries.
Fisher said running back Tre Mason, who was among the game-day inactives with a hamstring injury, was a close call. Fisher said on his radio show Monday night that Mason had a "very good chance" of playing this week at Washington.
The coach added that cornerback Trumaine Johnson (concussion) was feeling better.
* * * *
ENGLEWOOD, Colo. -- Coach Gary Kubiak says he's confident the battered Broncos escaped any serious injuries in their opener.
Three players were knocked out of Denver's 19-13 win over Baltimore: defensive end Malik Jackson (head) and safeties Omar Bolden (left foot) and David Bruton Jr. (right hip).
Kubiak said Jackson is "doing great" and hasn't been diagnosed with a concussion, which would have ruled him out of Thursday night's game at Kansas City.
Bruton said he'll be able to play against the Chiefs and Bolden said he hopes to.
Receiver Demaryius Thomas (hand) said he was OK and Kubiak said running back C.J. Anderson (toe) was fine, too.
* * * *
ASHBURN, Va. -- Redskins wide receiver DeSean Jackson could miss 3 to 4 weeks with a strained left hamstring.
Jackson was injured on the first play of Washington's second possession against Miami Sunday. He was trying to catch Kirk Cousins' deep throw to the right sideline.
Coach Jay Gruden said Monday that Jackson's absence "could be shorter," but that recovery times from hamstring issues are tough to predict.
Jackson led the Redskins with 1,169 yards receiving and six touchdowns last season.
Jackson missed Washington's preseason games this year because of a shoulder injury.
* * * *
TEMPE, Ariz. -- Arizona Cardinals running back Andre Ellington has a sprained right knee, an injury that's less serious than initially feared, and coach Bruce Arians isn't ruling him out for Sunday's game at Chicago.
Ellington suffered a mild sprain of his right posterior cruciate ligament in Arizona's 31-19 season-opening win over New Orleans.
Such injuries usually sideline a player one to three weeks, but Arians thinks Ellington might play against the Bears.
If Ellington can't go, Chris Johnson would move into the starting role with rookie David Johnson as his backup.