Timberwolves vs. Magic preview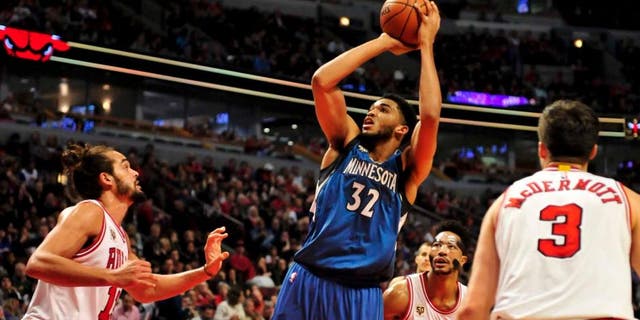 With a home-heavy stretch on the horizon, the Minnesota Timberwolves may prefer to remain on the road considering their somewhat bizarre start to the season.
The Timberwolves look to continue their strong play away from home Wednesday night by beating the Magic in Orlando for the first time in over seven years.
Minnesota (5-6) has lost 13 straight at home, including all five this season, but has been terrific outside Minneapolis with a 5-1 record after going 7-34 there last season.
An us-versus-them mentality seems to be part of their turnaround on the road.
"I think the road is a blessing to us," guard Andrew Wiggins said after scoring 24 points in Tuesday's 103-91 win at Miami. "That's one of the joys of playing on the road -- everyone's against you, except the guys on your team."
Stingy defense has keyed the success. The Timberwolves are yielding an average of 97.8 points on 41.0 percent shooting away from home compared to 109.8 and 50.6 marks at home.
"We're not a great shooting basketball team," coach Sam Mitchell said, "so we have to rely on our defense and rebounding."
After visiting Orlando (5-6), the Wolves' next nine games include seven at home.
Wiggins has also been better on the road, averaging 23.5 points while hitting 45.5 percent from the field. He's scoring 17.0 points per game at home and making just 37.9 percent of his field-goal attempts.
He had 22 points in a 97-84 home loss to the Magic on April 3 that was Minnesota's 11th loss in the last 13 meetings. The Wolves have dropped seven straight in Orlando since winning on April 11, 2008.
Karl-Anthony Towns is facing the Magic for the first time, and the rookie center is averaging 15.4 points and 10.5 rebounds after getting 14 of each Tuesday.
Orlando is seeking its first four-game home winning streak since taking five straight from Jan. 24-Feb. 9, 2014.
The Magic followed a pair of home wins with Saturday's 108-99 loss at Washington, hitting 14 of 18 from 3-point range after going 23 of 55 in the previous two games.
"When we're playing good, solid defense and we're doing the detail-oriented things on offense like running the floor hard, setting screens, concentrating on our spacing and not dribbling too much, we look like a good club," coach Scott Skiles told the team's official website. "Then there are parts of the game where we stop doing both and then we look like a terrible club."
Orlando could look better if Victor Oladipo returns to the lineup. The guard has missed two games with a concussion after averaging 14.7 points through the first seven.
He managed only eight points on 4-of-19 shooting, including 0 for 6 from long range, to go with seven assists against Minnesota on April 3.
Nikola Vucevic and Tobias Harris did the bulk of the scoring in that meeting with a combined 62 points. Vucevic added 17 rebounds, but now he'll have to contend with Towns.
Harris is averaging 20.0 points and 10.5 rebounds over the last four home games.