Things you don't want to hear: Darrell Waltrip looks at a wild weekend at Pocono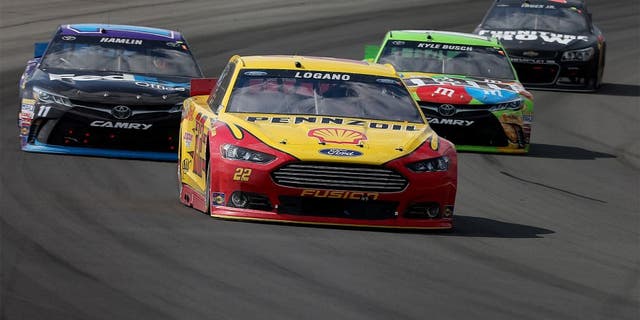 NEWYou can now listen to Fox News articles!
When you are in a race, there are certain things a driver, crew chief or team doesn't want to hear. One is the crew chief saying "Caution's out," and the spotter responds, "Yeah, and we're wrecked."
You also don't want to hear your driver say, "I'm out of gas." That's about as sick of feeling a team can ever have when you are trying to stretch that fuel but it doesn't work.
You know you are right on the edge. You can't hardly breathe because you're praying there's just enough left in the tank to make it. It's a gut-wrenching time for the driver, crew chief, team, owner and even the sponsors. You are just that close but end up being just that far away.
Let me pose a question to you: If I gave Kyle Busch, Joey Logano, Martin Truex Jr. and Matt Kenseth one gallon of gas, who would be able to milk it the farthest? The answer is Matt. The reason is Matt's driving style. He has a conservative driving style. Not only do conservative drivers take care of their equipment but they don't burn as much fuel, either.
You have to realize, though, that Joey, Martin and Kyle were in a box on Sunday and there was no good option out of it. Joey was in the lead but he couldn't slow down enough because Kyle was breathing down his neck. Joey didn't know how much gas Kyle had left, so if Joey let Kyle pass him and Kyle wins the race, then Joey would have felt like the fool.
Kyle couldn't slow down because he had to keep the pressure on Joey. By keeping that pressure on him, he forced Joey to run out of gas. That part of Kyle's strategy worked as he took the lead when Joey ran out, but then Kyle ran out on the backstretch on the last lap and his dream of winning four races in a row went POOF.
Martin was running third and had a huge lead over fourth-place Matt Kenseth. Martin won the first race at Pocono eight weeks ago, so he had visions of sweeping both races like Dale Earnhardt Jr. did in 2014. The problem was he had to push it hard enough to stay close to both Joey and Kyle so if they ran out of gas coming off Turn 3 that Martin would have enough time to catch and pass them both for the win. Unfortunately all three -- Joey, Kyle and Martin -- ran out of gas and the attention turned to the driver in fourth spot.
Matt Kenseth was the one in the catbird seat. He was sitting back there in fourth with nothing to lose. He couldn't catch the leaders, but he had a big lead over fifth place, so his only hope was for those front three to run themselves out of gas and wouldn't you know it, they did. Then the next thing you know the race ends with Matt in Victory Circle.
It was Matt's second win of the season. It was his first win at Pocono and his first ever fuel mileage win. Sunday also marked Matt's 33rd win in the NASCAR Sprint Cup Series. Up until that point, Matt's best finish at Pocono was a third, clear back in 2003. Poor Joey led the most laps (97) but ran out with just two laps to go. Kyle, like I mentioned, ran out with half a lap to go.
The one thing I noticed, and as an owner I would have been questioning my crew chief about Monday morning, was that it just seemed like neither Joey nor Kyle slowed down enough. When it became obvious with three or four laps to go that Kyle wasn't going to catch Joey, Kyle should have been told to slow down even more and get that second-place finish for the gains of the bigger picture. That bigger picture is making it into the top 30 in points and making the Chase. If Kyle slows down, then so does Joey because he's not being pressured as hard and Joey might have won the race. As you heard Kyle admit in his post-race comments, "We got greedy."
Here's how ironic though our sport is sometimes: If he hadn't of run out of gas, Kyle would have won his fourth race in a row plus be in the top 30 in points plus be qualified for the Chase. Even if Joey had won and Kyle finished second, Kyle still would have made it into the top 30 in the points. But here comes the ironic part, not only did he run out of gas with a half-lap to go, lost the race, lost a chance of four wins in a row and finished 21st, Kyle still gained points on the 30th spot and now is only 13 points away with five races to go to qualify for the 2015 Chase.
A number of other interesting things came out of Sunday's race. Teammates Dale Earnhardt Jr. and Jeff Gordon got a lot better finishes than they ran because of all the folks that ran out of gas. Jeff got a much-needed third-place finish, which helped his Chase chances. Remember, Jeff still doesn't have a win, so he's really keeping a close eye on the points in hopes of making the Chase in his final season. Sunday's third-place run helped Jeff move up to 10th in the points and gave him a little breathing room from the 16th-place Chase cut-off.
Greg Biffle got a fifth-place finish Sunday. The irony there is that it was his first top-five finish since Charlotte back in May, which also came down to a fuel mileage situation when he finished second. Greg needed that as he still has a chance to make the Chase. He's 57 points out of 16th spot with five races to go.
AJ Allmendinger got himself a seventh-place finish and that's a lot of positive momentum he needs as we head to Watkins Glen Sunday, where AJ is the defending race winner. He's 23rd in the points and I think he has to be licking his chops to get to Watkins Glen. Sunday is probably AJ's last best chance to make the 2015 Chase by winning this race like he did a year ago.
It was great to see Tony Stewart get a top-10 finish. We all know Tony's been struggling all year. He moved into the 25th in the standings with Sunday's ninth-place finish. Don't forget that Tony's a good little road racer too, so if he could pull off a win Sunday at Watkins Glen then the Chase picture changes yet again.
I was really impressed with Austin Dillon's run Sunday. He qualified fourth and finished 13th. I think he and crew chief Slugger Labbe are really starting to get their communication and chemistry down. We're starting to see more consistent results from that No. 3 car.
I was really proud of Landon Cassill in that No. 40 car. He started back in 29th and finished 14th Sunday. I'm telling you, that kid's been doing one heck of a job in that car. He's been getting some pretty darn good finishes this year out of that car. I'm glad to see him having some success because I think he's a good little race car driver.
The guy we normally see upfront week after week after week, Kevin Harvick blew up early and was a non-factor Sunday. How about Kasey Kahne's wreck? That was one hard lick but fortunately no one was hurt. As I tweeted Sunday, Kasey hit that pit wall harder than UFC fighter Ronda Rousey hit Bethe Correia and won her fight in only 34 seconds Saturday night.
All in all I thought it was a good race. I love strategy, and fuel mileage races give you all the strategy and yes, ulcers that a driver, crew chief and team will ever want. Personally I would have loved to seen Kyle Busch win his fourth race in a row. Kyle was trying to join Jimmie Johnson and Jeff Gordon as the only drivers to win four races in a row in the past 20 years. Johnson last did it in 2007 and Gordon did it in 1998. Now I'm blessed to say that I'm also in that list of drivers that won four races in a row, but mine has a twist. Our four wins in a row in 1981 were all from the pole. We won Martinsville, North Wilkesboro, Charlotte and Rockingham all in a row and from the pole. It's one of the biggest highlights of my career.
I'm thankful that Brad Keselowski's crew members are okay. He ran into a couple of them during a pit stop. Please don't ever say folks in our sport aren't athletes. Those two got clipped but jumped back up, serviced Brad's car and sent him on his way. Brad got a penalty, fought his way back and got a second-place finish. There's always that "what might have been" if Brad hadn't had that problem. Jimmie Johnson clipped a guy on Saturday in the garage area. Thankfully he was okay. Jimmie called it a "scary moment" and said he was very shaken about what happened.
So it was a really good weekend of racing. Young Ryan Blaney won the XFINITY race in Iowa in what he called a "flawless car." Kyle Busch actually did leave Pocono with a win by the way. He won the Camping World Truck Series race after three green-white-checkered attempts.
How about Brandon McReynolds, son of my FOX NASCAR buddy Larry McReynolds, who won the NASCAR K&N Pro Series race at Iowa Speedway Friday night? He started from the pole and led 127 of the 150 laps. It was Brandon's second of the season at Iowa Speedway, sweeping the year's events at the 7/8-mile track.
Also I want to send special congratulations to my good friend Bobby Rahal. His son, Graham, couldn't have done it any better Sunday. The Columbus native won Sunday's Honda Indy 200 at the Mid-Ohio Sports Car Course in the No. 15 Steak 'n Shake RLL Honda. The win really tightened the Verizon IndyCar Series points race with leader Juan Pablo Montoya. There are now only nine points separating first and second.
The downside for me is now I have to listen to my business manager Van Colley brag all week that Graham won, not only because the race was in Ohio, but because Graham was wearing a specially painted helmet resembling that of THE Ohio State University football helmet. Did I mention that being from Ohio, my business manager bleeds Scarlet and Gray? *SIGH* - It's going to be a long week for me!
Well anyway, now we are on our way to Watkins Glen and our final road course race of the season. Hopefully the weather predictions for rain this weekend will be wrong, but if not, we'll get to see some road race action on rain tires. We haven't seen that yet, but I know everyone will be prepared. Trust me though, that could throw a monkey wrench into a lot of strategy plans for these teams since racing on rain tires is a big unknown.