The Raiders will run out of excuses for their run defense in Week 11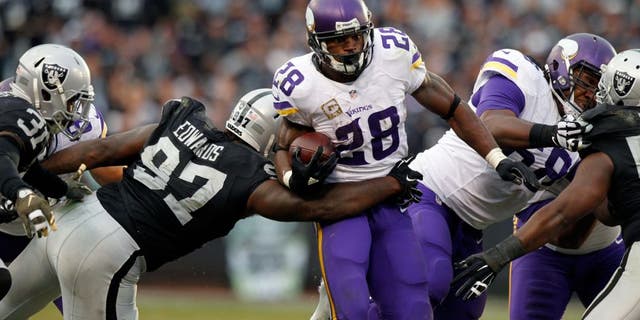 Runs like the kind Adrian Peterson peeled off against Oakland better not happen again in Week 11. Cary Edmondson USA TODAY Sports
Oakland's defense must be exhausted after chasing Adrian Peterson from behind all Sunday.
They could use a breather. And luckily, their Week 11 opponent is just the team to hand them one.
The NFL's worst rushing offense -- by a mile, not a yard -- belongs to the Detroit Lions. They're averaging under 70 yards per game on the ground and could end up with with second -lowest rushing output in modern NFL history (since 1970).
Even a rushing defense like Oakland's (458 rushing yards allowed the last two weeks) is expected to shut them down. If they don't, Jack Del Rio's head might explode.
"Leverage and tackle," the defensive-minded Raiders coach told ESPN's Bill Williamson. "That's really pretty simple."
Of course, it helps when the opponent can't run the ball, too.
(h/t ESPN)