The 7 luckiest NBA champions from the past 30 years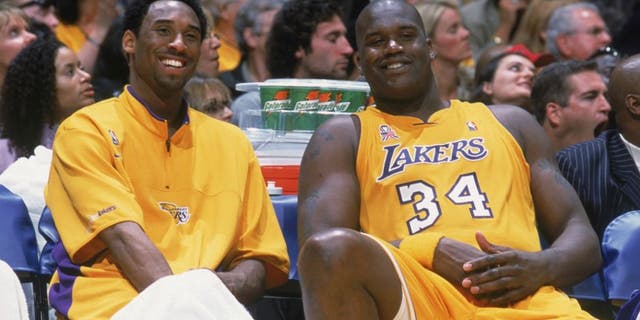 NEWYou can now listen to Fox News articles!
The two most important ingredients that are annually required to win the NBA championship are talent and luck. Both properties are inextricably linked to each other, along with the inevitable "last team standing" at the end of ever season.
But some teams are much luckier than others. Be it from an injury, their own flawless health, serendipitously evading a problematic match-up or watching the greatest player who ever lived retire in his prime, they caught a serious break at one time or another.
And that's kinda frustrating, right? There's never been more data or quantifiable aspects of on-court activity than right now to help us figure out which teams are the best or "most deserving" near the end of a respectable Finals run. Good fortune will forever exist as a factor that can't be measured but must be accounted for.
Now that we've cleared that up, here's a look at the seven luckiest champs from the past 30 years.
The Pistons won 63 games in 1989, one year after they fell oh-so-short in a brutal seven-game series against the Los Angeles Lakers—most memorable for Isiah Thomas brilliantly gutting through Game 6 on a badly sprained ankle. Clearly, they were very good and more than qualified and capable to win it all.
It's hard to say they're "lucky," but Detroit squared off against an undefeated Lakers team that was damaged by a couple key injuries before the highly-anticipated rematch could get interesting. Starting shooting guard Byron Scott—their second leading scorer, at the time—suffered a season-ending hamstring injury in practice before Game 1, and regular season MVP Magic Johnson suffered the same fate early in Game 2.
Would the Pistons have won this series anyway? Perhaps. They were hungry and had several Hall of Famers, a physically-intimidating defense and spent the entire year grinding their way through games with the slowest pace in league.
But life is much less complicated when the opposition's starting backcourt can't run.
This is probably a tad unfair, but there's a decent chance the 2015 Warriors would be remembered as a blinding and brilliant radar blip more so than a transcendent force had the 2016 Warriors failed to come back and defeat the Oklahoma City Thunder in this year's Western Conference Finals.
That's a shame because the Warriors overwhelmed the league last year, too. They had the best player in the world on their side and posted a net rating of 11.4, which was 4.5 points per 100 possessions better than the second place Los Angeles Clippers. Complete and total domination.
But thanks to outside forces well beyond their own control, Golden State's path to the title was cake.
(A necessary disclaimer before getting into all the good fortunate that broke Golden State's way: there's a very good chance little of it mattered. The Warriors were so, so, so good and could easily have stomped out perfectly healthy teams as convincingly as they did those that weren't at full strength.)
Against the New Orleans Pelicans, Tyreke Evans and Jrue Holiday were each hampered by knee injuries. Serious feet and face injuries kept Memphis Grizzlies point guard Mike Conley out of Game 1 in the following round; he wore an awkward protective mask for a majority of the series. The Houston Rockets didn't have Dwight Howard at 100 percent, while Patrick Beverley and Donatas Motiejunas missed the entire series.
And last but not least, Kevin Love didn't play in the NBA Finals and Kyrie Irving fractured his knee cap in Game 1. Meanwhile, the Warriors didn't suffer any injuries whatsoever throughout their run. Those are serious breaks.
After handily defeating the Los Angeles Lakers in the 2008 NBA Finals, the Boston Celtics blasted into the 2008-09 season with only two losses in their first 29 games. Kevin Garnett, Ray Allen and Paul Pierce led a peculiarly motivated, focused and cohesive defending champion.
Noticeable individual improvement from Rajon Rondo and Kendrick Perkins made them better, too.
But Garnett's knee derailed what, in all likelihood, would've been a second-straight trip to the Finals, where they would've squared off against a Lakers team that struggled to beat Aaron Brooks and the Houston Rockets in Round 2.
Los Angeles was a perfectly suitable champion. They won 65 games and finished the regular season with the NBA's third best-offense and fifth-best defense. But it's more than fair to wonder how they would've done against a better version of the team that crushed them the previous year, with a more dynamic Rondo (who led the playoffs that year in total assists despite only playing in the first two rounds) and just about every key contributor from the championship rotation back on board.
Beyond avoiding the Celtics, the Lakers benefited from a potentially history-altering miss by Courtney Lee in Game 2 of the Finals.
That shot would've changed the entire series. Garnett's health could've changed the entire season.
So, let's get this out of the way: the 2002 Western Conference Finals were awesome. A seven-game series between the Los Angeles Lakers and Sacramento Kings that went like this: Game 1 was a seven-point Lakers win, Game 2 was a six-point Kings win, Game 3 was a 13-point Kings win, Game 4 was a one-point Lakers win (after they trailed 40-20 at the end of the first quarter), Game 5 was a one-point Kings win, Game 6 was a four-point Lakers win and Game 7 was a six-point Lakers win (in overtime).
The Lakers faced elimination twice in this series, but still went on to sweep the New Jersey Nets in a competition-free NBA Finals. So, why were the Lakers lucky? Well, for one, this is how Game 4 ended:
Second of all: Game 6 is kinda sorta widely acknowledged as one of the lowest nights in David Stern's reign as commissioner.
This isn't to say that one game of questionable whistles is enough to decide a champion. The Lakers had two of the league's five best players plus a competent, battle-tested supporting cast that just won back-to-back Finals.
But still, all these years later, it's so hard to watch that series and think the better team won.
The 2007 Spurs aren't a lucky champion because they participated in one of the most lopsided NBA Finals in league history, though that definitely helps put them here. Instead, they're one of the luckiest champions ever because: A) they avoided the 67-win Dallas Mavericks (that were upset in the first round by Baron Davis, Captain Jack and the Golden State Warriors) and B) benefited from a still-sensitive suspension carried out in Game 5 of a second-round series against the Phoenix Suns.
Near the end of Game 4, with the Suns about to tie the series, Spurs forward Robert Horry checked Steve Nash into the scorer's table and all hell broke loose.
Afterwards, Spurs head coach Gregg Popovich said "I didn't think it was such a big deal," but the NBA disagreed, suspending Amar'e Stoudemire (who averaged 26.4 points and 10.6 rebounds on 50 percent shooting in the series) and Boris Diaw for Game 5 because they stepped onto the court from their own sideline. Virtually every impartial observer today, and at the time, can agree that this was a really dumb decision that cheated the NBA from truly figuring out which was the better team.
The Spurs won Game 5 by three points, eventually advanced to the Finals, then stomped all over the Cleveland LeBron James' in four quick games.
After winning three straight championships from 1991 to 1993, Michael Jordan infamously walked away from the NBA to barnstorm the country playing Double-A baseball.
Now, it's unfair to naturally assume that the Chicago Bulls would've advanced to the Finals in eight straight seasons, let alone win them all, had he stuck around. But does the second three peat ever happen if Jordan doesn't take 1.5 seasons to clear his head and rest his body?
The Rockets were damn good and had one of the greatest centers who ever lived on their team. Maybe that matchup is too much for Jordan and Scottie Pippen to handle after exhausting themselves through three straight deep playoff runs (plus the 1992 Olympics). Or maybe they would've owned the 90s and done to Hakeem Olajuwon as they did to Charles Barkley, Gary Payton, Patrick Ewing, Reggie Miller, Karl Malone, John Stockton, Clyde Drexler and so many other all-time greats.
We'll never know the answer, but we do know Jordan never lost in the NBA Finals. He went 6-0 and his Bulls were never pushed to the brink of elimination. What else? The two teams Houston eventually defeated in the Finals did not have the best player of all time.