Texans star JJ Watt's Hurricane Harvey effort raises record $41.6M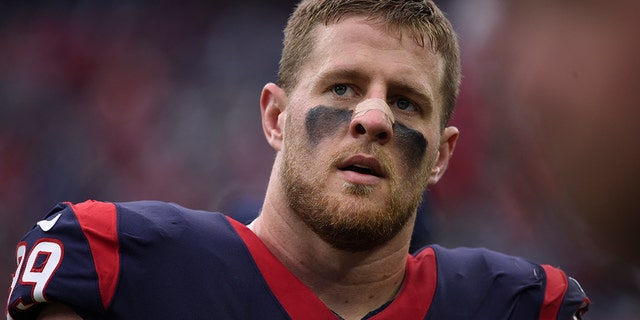 Houston Texans star J.J. Watt announced Monday that he has distributed the $41.6 million — a world record for a crowdsourcing effort — that his foundation raised to help rebuild the Texas Gulf Coast after Hurricane Harvey.
The online GoFundMe fundraiser the defensive end launched after the storm hit Texas last year went viral, and far exceeded his original goal of raising $200,000.
"As I reflect on the events of Hurricane Harvey one year ago, the memories of destruction and devastation remain, but they are accompanied by memories of hope, selflessness and the beauty of the human spirit," Watt said in a statement posted online. "The actions of professional first responders and everyday citizens alike were an inspiration to the world and a shining example of the inherent good that lies within us all."
Watt — who said he was grateful for the "generosity of strangers" — routed the money to eight groups actively involved in Texas' rebuilding and recovery. The money was distributed to All Hands and Hearts, Americares, Boys & Girls Clubs, Baker Ripley, Feeding America, Habitat for Humanity, Save the Children and SBP, as Bleacher Report noted.
According to the Texans, the funds already have been used to clean up and rebuild more than 600 homes and 420 childhood centers, distribute more than 26 million meals and provide health care to more than 6,500 people.
"We go to some of the areas where we've rebuilt houses and we go and visit a house and I talked to one family, and I was looking at the houses around them that were still pretty beaten up," Watt told ESPN Monday. "They were like, 'We haven't seen those people since.' A lot of people literally abandoned their house, whether they went somewhere else or — so, I think that while if you look at everyday life for most people, you may say, 'Yeah, they're in working, regular order,' but I think there's still a lot of people going through a lot of stuff."
Watt said his charity is not stopping at the one-year mark.
"While a great deal has been accomplished in the past 12 months, there is still much work to be done," Watt said. "Moving forward, there will be more of the same, as we continue to work with our incredible nonprofit partners to provide as much help and support as we possibly can for those affected by Harvey. I cannot thank everyone enough for your support and generosity."
The Associated Press contributed to this report.