TBT: Looking back at Joey Logano's first career win at New Hampshire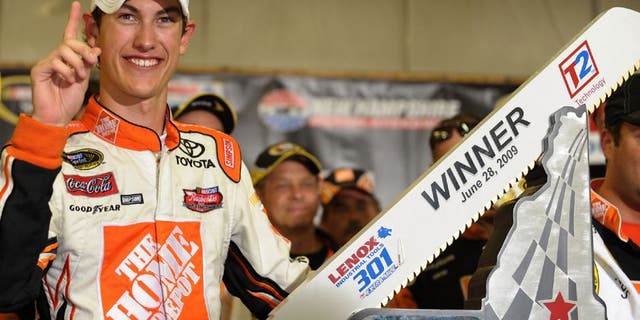 NEWYou can now listen to Fox News articles!
Sure, he's a 15-time winner in the NASCAR Sprint Cup Series now.
But on June 29, 2009, Joey Logano was a 19-year-old, winless Sprint Cup rookie on the hot seat, having been tabbed by car owner Joe Gibbs to replace a two-time champion in Tony Stewart.
It was on that day that Logano captured the first win of his Cup career in his 20th start in the Lenox Industrial Tools 301 at New Hampshire. It's the same 1.058-mile track where Logano made the first Cup start of his career a year earlier, and also where he will go for his second points win of this 2016 season this Sunday in the New Hampshire 301.
Logano didn't just win the rain-shortened New Hampshire race in 2009. He beat out four-time Cup champion Jeff Gordon, who finished second, to do it.
Logano also overcame a crash that put him a lap down early in the event, but in the end went to Victory Lane as the youngest winner ever of a NASCAR Premier Series race at 19 years, one months and four days.
"I'm absolutely thrilled for Joey and his family and for all of us," Gibbs said that day. "We figure we can keep this thing going, ride this thing for about 20 years."
Alas, that didn't happen.
Logano didn't win again for nearly another three years. And the year after that, in 2013, the native of Middletown, Conn., traded in his JGR fire suit for one from Team Penske, where he has since thrived.
But you never forget your first Cup win. Logano didn't even care that it ended up being a rain-shortened one, as it was called after 273 laps when it had been scheduled for 301.
"Obviously, it's not the way you want to win your first race, in the rain," Logano told reporters then. "But 20 years down the road, when you look in the record books, no one will know the difference. A win is a win and I'll take them any way I can."
It hasn't yet been 20 years, but some things never change and never will.