T.J. Dillashaw playing the waiting game for Dominick Cruz to get healthy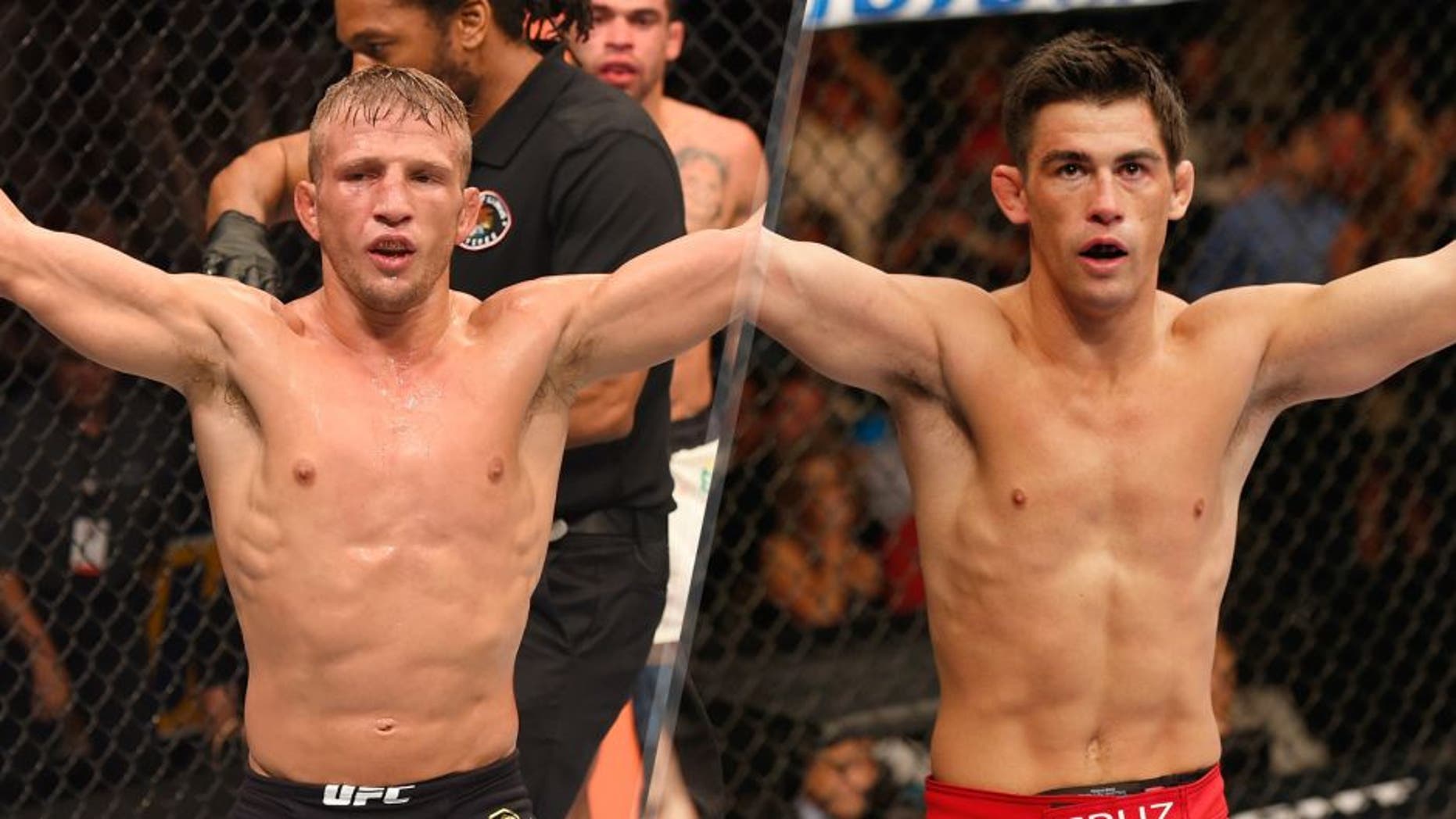 T.J. Dillashaw just defended his bantamweight title for the second time in late July, but he's anxious to book his next fight, and he hopes it will come against former champion Dominick Cruz.
Dillashaw was in Las Vegas last weekend to appear at UFC 191, but admittedly he was a little bummed he didn't get to take part in the "GO BIG" press conference, where the promotion celebrated the biggest fights left in 2015.
The top-ranked 135 pounder hopes the UFC calls his name soon because he's got a score to settle with a longtime rival to his home training camp.
"Obviously I want to fight sooner rather than later, but I'm sure we'll figure it out here soon, hopefully they'll announce a fight for me," Dillashaw said.
"I'm hoping (Dominick) Cruz. I'm waiting for him to get healthy, and that's the fight I want. Obviously, nothing's been announced but I think he's the one that's going to build my name the biggest and I think it makes sense."
Cruz has endured one of the roughest patches of any UFC fighter over the last few years. "The Dominator" suffered a torn ACL while filming "The Ultimate Fighter" in 2012 and then was forced to re-do the operation six months later after his body rejected a cadaver ligament that was used to repair the previous damage.
Cruz returned to action in 2014 and made quick work of UFC veteran Takeya Mizugaki before suffering another torn ACL, in the opposite knee this time, as he was getting back into training. The former UFC bantamweight champion is expected to be ready for return in late 2015 or early 2016.
The other logical option for Dillashaw would be a rematch with Rafael Assauncao, who he lost to by controversial split decision in 2013, but the top-five ranked bantamweight is currently sidelined after surgery on his ankle.
Dillashaw stopped short of actually breaking any news about a proposed date with Cruz, but from the sound of his comments, there are discussions taking place to finally name a card and location for the fight to take place.
"I don't know if I can even really say, but it seems like that's what's going to happen -- wait for Cruz," Dillashaw said. "Really there's no one in line right now, I'm just going to have to play the waiting game.
"It's only been a month since my fight, so I really haven't had to wait yet, but we'll see how long we would have to wait."
Dillashaw wants to settle the rivalry with Cruz before moving onto other endeavors, but he's also not going to sit around and wait forever.
At 29 years of age, Dillashaw is in the prime of his career and with only one fight in 2015, it's not likely he'll want to miss much more time without booking his next title defense.
"I won't wait forever that's for sure," Dillashaw said. "Who knows if he's even going to be able to get healthy?
"The guy's always hurt it seems like. I'll keep my fingers crossed and hopefully it will happen soon."