Survive and advance: Tensions high as Chase heats up in Charlotte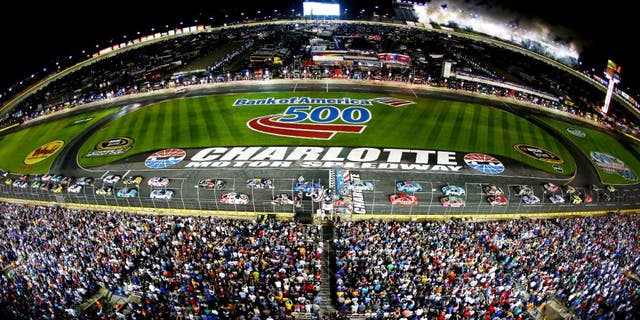 NEWYou can now listen to Fox News articles!
Every May at Charlotte Motor Speedway, drivers race for $1 million and bragging rights. Every October, they race for survival.
Saturday night's Bank of America 500 is the first of three races in the so-called Contender Round of the Chase for the NASCAR Sprint Cup. At the end of the round, the field of drivers eligible to compete for the championship will be pared from 12 to eight.
But there's a catch: The Contender Round ends at Talladega Superspeedway, in NASCAR's equivalent of the lottery: It doesn't matter how fast a car is or how skilled a driver. Surviving Talladega is as much a random act of luck as anything you will ever see in competitive auto racing.
And you better believe every one of the 12 Chase drivers remembers what happened last fall in the 2014 edition of the Contender Round: Kyle Busch finished second at Charlotte and third at Kansas. When they got to Talladega, Busch rode around in the back to play it safe. Then Aric Almirola turned J.J. Yeley on the backstretch on Lap 103. Busch checked up and got hit from behind by Austin Dillon, who sent the No. 18 Joe Gibbs Racing into the infield wall. Busch's Chase ended that day with a 41st-place finish.
Busch wasn't the only one. Eight of the 16 drivers who started this year's Chase failed to finish in the top 20 at Talladega last fall. It's the doomsday scenario every championship hopeful dreads.
"You can be running fifth one lap and 20th the next lap in Talladega, or you can be running up front and the next thing you know you're crashed," said Joey Logano, one of the favorites at Charlotte. There are just so many unknowns. The likelihood of crashing there is so high. ... It's just kind of hard to sleep well unless you win one of these next two races."
"You're really just trying to survive, but it's nearly impossible," said Martin Truex Jr. of racing at Talladega. "It's out of your control."
No one is safe at Talladega.
No one. Not ever. Not the best driver. Not the worst driver. No one. Ever.
And that makes winning Saturday night at Charlotte or the following week at Kansas a huge priority. Because the drivers who win those two races are guaranteed to make it to the next round of the Chase, no matter what happens at Talladega.
So pressure will be high Saturday night at Charlotte, just as it was a year ago in this race, when an upset Matt Kenseth did the most un-Kenseth-like thing ever, running through the garage and throwing Brad Keselowski in a headlock after Keselowski hit Kenseth on pit road after the race.
The need to win puts everyone on edge this time of year.
"If you have to go to Talladega to try to get a good finish, that's going to be the toughest hurdle to overcome," said Kurt Busch.
"If you have a shot and you can see the win at one of these next two races, you're going to see some really tough racing for that win because nobody wants to go to Talladega with uncertainty," added Carl Edwards. "There's going to be a lot of nerves at Talladega."
They're both right, of course.
Talladega will be insane.
But so will Charlotte and Kansas.
So far at the epicenter of stock-car racing, the usual suspects have looked strong: Joe Gibbs Racing, Stewart-Haas Racing and Team Penske all have had excellent speed in their cars, with Hendrick Motorsports not far behind.
The big question is who will push it hardest and risk the most to win at Charlotte? Because the pressure is only going to get worse.
"You go into this round and all the people are relieved to be in this round, a lot of us, because it was a nail‑biter," four-time champion Jeff Gordon said of surviving the first round of the Chase. "At the same time it's like you instantly switch over to getting the intensity ramped up to the next level because you know you've got a big job ahead of you the next three weeks."
And an uncertain one at that.
"You want to be locked in, but there's no guarantee that anybody is," said Ryan Newman, last year's championship runner-up. "That's the thing. Jimmie Johnson can go out and win the next two races and then we go into Talladega not knowing who the next group is going to be. It's all racing. That's why we love it."
And it's why everyone watching will be on the edge of their seats, too.
Bring it on.