Sun Devils hold off Huskies to end four-game skid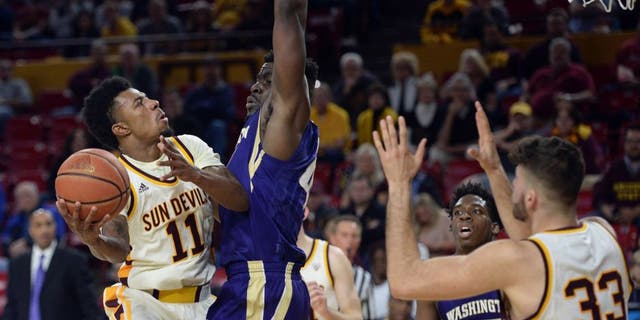 TEMPE, Ariz. -- Shannon Evans II helped shoulder the offensive load, and took on a major assignment on the defensive end for Arizona State Wednesday night.
Evans paced the Sun Devils with 25 points and led the defensive effort against the Pac-12's leading scorer, Washington's Markelle Fultz, in an 86-75 win over the Huskies.
"I kind of didn't take a break," Evans said of guarding Fultz. "I was active, trying to get up in him. Just respecting his game and preparing for it."
Tra Holder scored 21 of his 23 points in the second half, and Arizona State (10-11, 3-5 Pac-12) ended a four-game losing streak while Washington (9-11, 2-6) lost its fourth in the last five.
The Sun Devils had to hold on after the Huskies trimmed a 15-point deficit early in the second half to three, 50-47 with 12:17 to play. But Washington got no closer, as Holder drilled three straight 3s to extend the lead to 69-54 with 6:10 left.
Fultz, averaging 23.4 points per game coming in, found a rhythm late in the second half and finished with 28. He added eight rebounds and nine assists and made 11 of 23 shots, scoring 20 points in the second half. He was averaging 33.7 points over his previous three games.
Fultz hit a 3 with 33 seconds to play to make it 81-75, but Washington couldn't catch up. Matisse Thybulle added 15 points for the Huskies.
Arizona State had a 46-31 lead at the 16:20 mark on a layup by Evans.
A Holder 3-point barrage started with 7:44 to go for a 63-50 lead. His next 3 made it 66-52, and after the third he thumped his chest as the crowd roared.
"My teammates and the coaching staff were encouraging me to come in and knock down shots, because I really wasn't doing as much as I could have in the first half," Holder said.
Washington went almost five minutes without a basket in the first half, one that saw both teams shoot well below 40 percent. Arizona State led by as many as six in the first half, 22-16, but lost that lead when Noah Dickerson threw a baseball pass down court to David Crisp for a layup to cap a 7-0 Washington run.
The Sun Devils led 34-29 at halftime, with Evans scoring 11.
"We missed layups, we missed wide-open shots. We couldn't put the ball in the basket," Washington coach Lorenzo Romar said. "We had opportunities. This wasn't a situation where we just couldn't get good looks at the rim. We couldn't knock the shots down."
KEY PLAY
With the Sun Devils ahead 55-50 and Washington rallying, Evans drove to the basket and had his shot blocked. He got his own rebound and saved the loose ball from going out of bounds to teammate Torian Graham, who knocked down a 3 to push the lead back to eight with 8:55 to play. The Huskies never got closer than six points the rest of the way.
BIG PICTURE
The Sun Devils have all three current Top 10-ranked Pac-12 teams left on their schedule -- at No. 10 Oregon on Feb. 2, versus No. 8 UCLA on Feb. 23 and versus No. 7 Arizona on March 4.
UP NEXT
Arizona State hosts Washington State on Sunday, then four of the next six on the road.