Steph Curry's pregnant wife claims she was heckled, bumped in belly by Rockets fan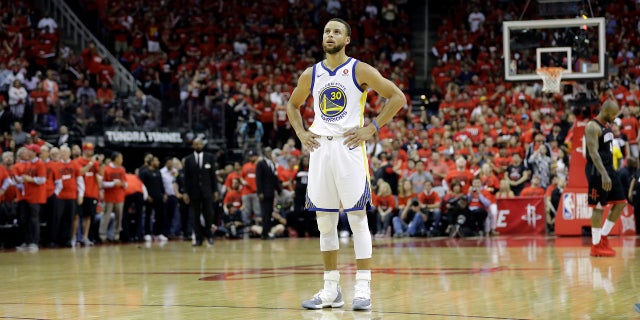 Ayesha Curry, pregnant wife of Golden State Warriors two-time MVP Stephen Curry, said she was harassed and poked in her stomach by a Rockets fan after Game 5 of the NBA Western Conference Finals in Houston on Thursday.
In a video posted to Twitter by a user named "Houston Corey," a man is heard heckling Curry and she can be seen grabbing a person's cigarette and throwing it toward the camera.
"Hey Ayesha, we're going to beat you at home. It's Houston time. Look at her! She's all bitter and sour. She's being all rude," a man is heard yelling. "Look at Papa Curry, he's all butt-hurt too."
The video was posted with the caption: "HAHAHAHAHA @ayeshacurry HEY SAVE THAT SALT FOR YOUR SH---Y COOKING SHOW!!"
Curry, who is well along in her pregnancy, said she was also bumped in the stomach and asked by the Rockets fan, "Doesn't losing feel like getting punched in the gut?" the San Francisco Chronicle reported.
"The fact that you have the audacity to post this after this man bumped me in my 8 month pregnant belly asking and I quote "doesn't losing feel like getting punched in the gut?" And continued to follow me and taunt me with his camera is beyond me…but "This is America" right," Curry tweeted in reply to the video.
The account that posted the video said the Rockets fan said "nothing foul," and argued that Curry was lying about being "bumped."
The Rockets fan tweeted his response to the situation, saying he never touched Curry and apologized after realizing she was pregnant.
"I never bumped you, I never touched you. I turned around & saw a group of GSW [Golden State Warriors] fans (that happened to be you and your in laws)," a user named Jose G Camargo tweeted. "I made a comment 'we are going to Oracle & give them the knockout blow to the gut' that I immediately apologized to papa Curry & yourself once I saw you were pregnant, but the comment was never made towards you I meant the team."
The user added, "It's playoff basketball emotions are hight that was it."
Curry later said Rockets fans were "wonderful," and that "it's just this man and a few others," according to the paper.
The Rockets defeated the Warriors 98-94 Thursday night to take a 3-2 series lead with the chance to eliminate Golden State in Game 6 Saturday night in Oakland.