Steph Curry is one cheerful cheerleader on bench during Warriors' win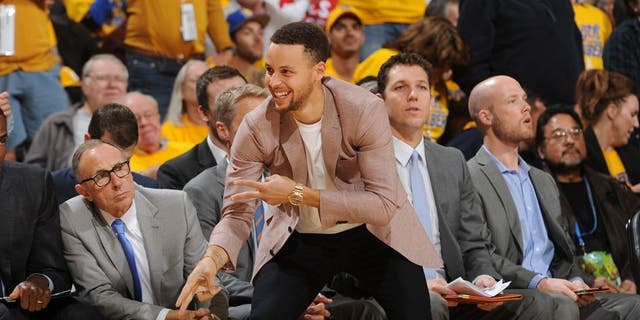 NEWYou can now listen to Fox News articles!
The last time we saw Stephen Curry, he was pretty messed up. Rolling around on the floor with a sprained knee, then emotional on the bench when he was told he couldn't return to the game.
What a difference a few days made. On Wednesday night, despite the fact he was relegated to cheerleader, Curry was all smiles and bouncing off the bench to celebrate 3 after 3 as Klay Thompson and the Golden State Warriors finished off the Houston Rockets, 114-81.
There was plenty for Curry to cheer, including exceptional ball movement like this:
Maybe the most impressive thing is that even from the bench, Curry managed to hold Jason Terry scoreless on 0-for-7 shooting.
Yeah, Terry. The guy who predicted a Rockets win in Game 5.
See you later, buddy. Have a great summer.