StaTuesday: Final 2016 Twins defensive ratings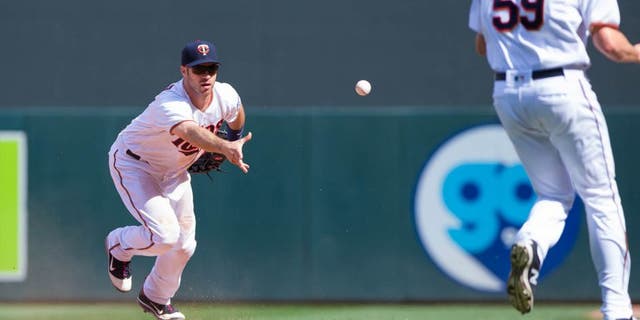 Back in June, we presented the initial results of the Society of American Baseball's (SABR) Defensive Index rankings (SDI).
As we mentioned back then, according to SABR, these rankings account for roughly 25 percent of the selection process used in determining each season's Gold Glove winners, which were announced last week.
The Defensive Index is compiled from different fielding metrics and incorporates a myriad of categories (for a more detailed explanation, please click here).
Which Minnesota Twins player do you think was rated the highest (note: had to meet qualifications for the Gold Glove)?
Believe it or not, it was first baseman Joe Mauer, who had a 1.6 SDI, fourth-best among first basemen in the American League. Only five qualifying AL first basemen had a positive SDI. Last season, Mauer finished with a -0.1 SDI, although he was at 2.1 back in June.
Positive SDIs were also rare among Minnesota players. In fact, only one other Twin was in the plus category: Max Kepler.
Minnesota's rookie right fielder checked in at a 1.4, seventh among American Leaguers at that position. Detroit's J.D. Martinez finished at -14.2, the worst ranking in the entire AL and well ahead of the next lowest-rated right fielder (Baltimore's Mark Trumbo, -5.2).
In the 2015 SDI, Eddie Rosario was Minnesota's top-rated defensive player, with a 6.9 SDI as a left fielder. But in 2016, Rosario slipped to a -0.6.
Again, the final Defensive Index only rated qualifiers for the Gold Glove. We'll love to see how Byron Buxton rates next season. But Minnesota had no qualifying players in center field this past season.
Minnesota also had no one ranked at third base, where Trevor Plouffe's 63 games at that position were most on the club. In 2015, Plouffe was the sixth-highest rated third baseman in the SDI.
Only one Twins pitcher qualified in the ratings, Ervin Santana, who was a -0.7.
At second base, Brian Dozier came in at -1.3, which actually put him sixth among AL second sackers and well ahead of the -6.1 SDI he had in 2015.
Once again, the SDI did not like catcher Kurt Suzuki, who had a -7.2. In the American League, only Chicago's Dioner Navarro (-7.5) was worse. In the National League, Nick Hundley had a -11.0. However, that did represent a minor uptick from 2015 for Suzuki, when he finished with a -8.4 SDI, which was worst among all qualifying major-league catchers.
Eduardo Nunez, who was traded at San Francisco, was the only Minnesota shortstop listed and he was at -1.2.
To view all the ratings, click here.
Dave Heller is the author of the upcoming book Ken Williams: A Slugger in Ruth's Shadow as well as Facing Ted Williams Players From the Golden Age of Baseball Recall the Greatest Hitter Who Ever Lived and As Good As It Got: The 1944 St. Louis Browns