StaTuesday: Best Milwaukee Brewers late-round draft picks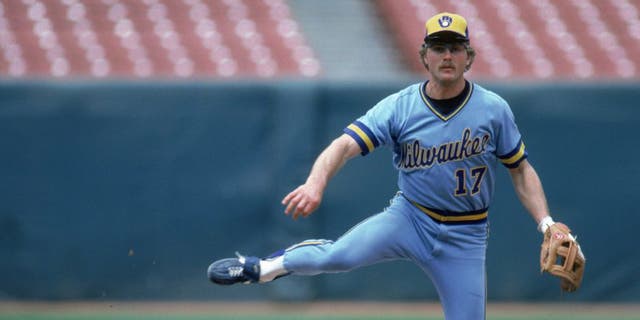 NEWYou can now listen to Fox News articles!
Only once you really look at years upon years of MLB drafts do you fully realize how few players make the major leagues.
This is especially the case the deeper you get into the draft. So when a team can find a "hit" with a later selection it is indeed noteworthy.
We've compiled some of the best late-round picks for the Milwaukee Brewers -- we'll consider that the sixth round and beyond for this exercise -- and listed them below.
Included are players who had some impact with the Brewers, and not players like Michael Brantley (7th round in 2005), who had good careers but did so mainly (or fully) with other teams. Also not included are any players who didn't sign with the Brewers at all, such as Jason Giambi (43rd round, 1989) or Jake Arietta (26th round, 2005).
Check out brief capsules of the players following the list.
Players ordered by year drafted, round taken then their WAR (per baseball-reference) both in their career and just for their days with the Brewers.
| | | | | |
| --- | --- | --- | --- | --- |
| Player | Year | Rd | Career WAR | Brewers WAR |
| Jim Gantner | 1974 | 12 | 22.3 | 22.3 |
| Lary Sorensen | 1976 | 8 | 13.6 | 12.3 |
| Chuck Crim | 1982 | 17 | 6.3 | 7.8 |
| John Jaha | 1984 | 14 | 12.4 | 8.7 |
| Doug Henry | 1985 | 8 | 2.5 | 1.3 |
| Darryl Hamilton | 1986 | 11 | 16.6 | 11.0 |
| Jeff Cirillo | 1991 | 11 | 34.4 | 26.2 |
| Mark Loretta | 1993 | 7 | 19.3 | 5.9 |
| Ronnie Belliard | 1994 | 8 | 20.7 | 5.8 |
| Bill Hall | 1998 | 6 | 9.5 | 9.4 |
| Corey Hart | 2000 | 11 | 14.7 | 15.7 |
Jim Gantner 12th, 1974
He never hit .300 or stole more than 20 bases. Only once did he reach double figures in home runs in a season (11 in 1983). He had 70 RBI or 70 runs just once -- both during the 1983 campaign. But Gantner aka "Gumby" was a popular player in Milwaukee, where he spent all 17 of his major-league seasons. A good defensive second baseman, he retired with nearly 1,700 career hits and a lifetime batting average of .274.
Larry Sorensen, 8th, 1976
Sorensen was drafted in June 1976. In June 1977 he made his major-league debut with 32 minor-league games under his belt. As a 22-year-old in 1978 he made his lone All-Star Game (he'd pitch three scoreless innings, allowing one hit) and finished the year 18-12 with 3.21 ERA and 1.165 WHIP. Sorensen would post a winning record and a sub-4 ERA in each of the next two years but in December 1980 he was traded in a six-player deal to St. Louis, with the Brewers acquiring key players for their 1981-82 playoff runs in Rollie Fingers, Ted Simmons and Pete Vukovich. After one season with the Cardinals, Sorensen would play for Cleveland, Oakland, Chicago Cubs, Montreal and San Francisco. Only once after leaving Milwaukee was his ERA below 4 (in 1981). He ended his 11-year career with a 93-103 record and 4.15 ERA. With the Brewers he was 52-46, 3.72.
Chuck Crim, 17th, 1982
Crim joined the Brewers in 1985 and immediately became an innings-eater. As a rookie, he tossed a career-high 130 innings, pitching mainly in relief, and saved 12 games. In 1988 and '89, he'd lead the league in appearances with 70 and 76, both times pitching over 100 innings while posting ERAs of 2.91 and 2.83. After another solid season in 1990 (11 saves, 3.47), Crim had an off-year in 1991 and was dealt in the offseason to the California Angels. He's pitch two years for the Angels and one with the Cubs. In five years with the Brewers, Crim pitched in 529 2/3 innings over 332 games with a 33-31 record, 42 saves, 3.47 ERA and 1.314 WHIP.
John Jaha, 14th 1984
It would take a while for Jaha to reach the majors, finally making it up for 47 games in 1992 at the age of 26. While injuries would limit his career, Jaha would post double-digit home runs in each year for Milwaukee from 1993-97. In 1995, Jaha would bat .313/.389/.579 with 20 home runs in just 88 games then follow that up the next season with .300/.398/.543, 34 homers, 108 runs and 118 RBI. But Jaha would appear in just 119 games over the next two season, hitting just a combined .225 with 18 homers. He'd sign with Oakland as a free agent and blast 35 home runs in 1999, but would play in only 43 games over his final two seasons. In Jaha's seven years with the Brewrs, he played in 639 games with a slash line of .268/.361/.465 and 105 home runs.
Doug Henry, 8th, 1985
Henry's four years with the Brewers went from good to bad to ugly. Called up in 1991 at 27 years old, Henry recorded 15 saves and posted a sublime 1.00 ERA and 0.833 WHIP. As the closer in 1992, he'd save 29 games, but his ERA jumped up to 4.02 and his WHIP was 1.354. In 1993, he slipped to 17 saves, 5.56 ERA and 1.673 WHIP. He'd lose his closer's role in 1994 and eventually spend time in the minors before being dealt to the Mets. Henry recorded 61 saves and a 3.99 ERA in four seasons with Milwaukee. He'd pitch until 2001 for the Mets, Giants, Astros and Royals, but mainly as a setup man. Henry would record just 21 saves after leaving Milwaukee and no more than nine in one season.
Darryl Hamilton, 11th, 1986
After getting a brief taste of the majors in 1988 at the age of 23, Hamilton was back up to stay in 1990. He'd never play more than 135 games with the Brewers in his seven seasons with the team, but he still had some productive years. In 1991, Hamilton batted .311. Then, in '92, hit .298 with 41 steals -- just one of 12 times a Milwaukee player has reached 40 stolen bases in a season. In 1993, Hamilton batted .310 with nine homers and 21 steals. Hamilton would leave for Texas as a free agent in 1996 and play until 2001 for the Rangers, Giants, Rockies and Mets. With the Brewers he batted .290/.351/.384 with 109 steals.
Jeff Cirillo, 11th, 1991
After appearing in 39 games in 1994, Cirillo became Milwaukee's everyday third baseman from 1995-99. He hit over .320 in three out of the last four years (as well as hit double-digit homers in each of those four): .325 in 1996, .321 in '98 and '326 in '99. He'd also top a .400 on-base percentage in each of those last two seasons. Cirillo was dealt to Colorado in a three-team trade before the 2000 season, but would return in 2005 -- after time with the Rockies, Mariners and Padres -- to Milwaukee and play two more seasons before spending his final year with Minnesota and Seattle. For old time's sake, Cirillo would hit .319 in 290 plate appearances in 2006, giving him a lifetime .307 batting average in eight seasons with the Brewers.
Mark Loretta, 7th, 1993
Loretta spent eight years with the Brewers mostly as a utility player. Although he did top 130 games three times, he'd never play any one position more than 90 games in a season in Milwaukee. Loretta's best year with the Brewers was 1998, when he hit .316/.382/.424 in 140 games. He would be traded to Houston before the waiver deadline on Aug. 31, 2002 and play until 2009 with the Astros, Padres, Red Sox and Dodgers.
Ronnie Belliard, 8th, 1994
From 1999-2002, Belliard was Milwaukee's regular second baseman. He'd hit .263/.341/.396 over that span. As a rookie, he'd bat a career-high .295 and in 2001 finished at .264 with 11 homers. Belliard left for Colorado in free agency, but his best years would come with Cleveland, for which he played in 2004-06. Belliard spent 13 years in the majors, also playing for the Cardinals, Nationals and Dodgers.
Bill Hall, 6th, 1998
Blessed with power, Milwaukee kept trying to find a spot on the field for Hall, playing him at various times at second base, shortstop, third base and center field. Hall had a breakout year in 2005, his fourth season, hitting .291 with 17 home runs and a career-high 18 steals. In 2006, he'd blast 35 homers but he'd dip to .254 and 14 HR in 2007 and .225 and 15 in '08. He'd be traded to Seattle in the middle of the 2009 season and appear for four other teams -- Boston, Houston, San Francisco and Baltimore -- in his final three seasons. Hall hit .253 with a .446 slugging percentage and 102 home runs in his eight years with the Brewers.
Corey Hart, 11th, 2000
After a couple cups of coffee in 2004 and '05, Hart created a stir in 2006 by hitting .283 with nine homers in 87 games. By 2007, he was Milwaukee's starting right fielder, hitting 24 homers while batting .295/.353/.539. That was arguably his best season with the Brewers, but he did hit 31 homers and drive in 102 in 2010 and have 30 HR in 2012. A knee injury caused him to miss the 2013 season. He tried coming back and two more seasons with Seattle and Pittsburgh but was never the same player, done at the age of 33. In nine years and 945 games with the Brewers, he hit .276/.334/.491 with 154 home runs.
Dave Heller is the author of the upcoming book Ken Williams: A Slugger in Ruth's Shadow as well as Facing Ted Williams Players from the Golden Age of Baseball Recall the Greatest Hitter Who Ever Lived and As Good As It Got: The 1944 St. Louis Browns