Sprint Cup Practice 2 results for Quaker State 400 at Kentucky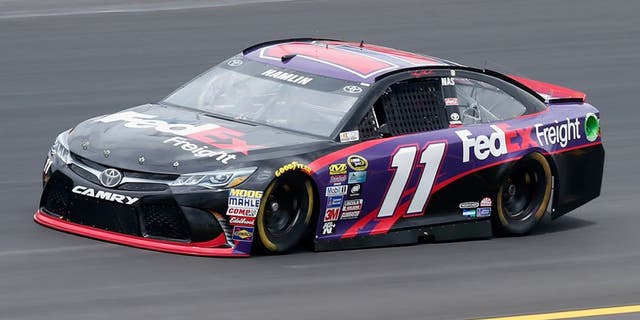 NEWYou can now listen to Fox News articles!
Mother Nature is at it again.
Severe weather forced an early halt to Friday's first round of practice for the Quaker State 400 at Kentucky Speedway, with teams getting just 23 minutes of track time before the skies opened up. Hard rain and heavy wind caused extreme havoc at the track.
Seconds before the red flag came out, six-time NASCAR Sprint Cup Series champion Jimmie Johnson bounced off the wall, forcing his Hendrick Motorsports team to pull out his backup No. 48 Chevrolet.
"I just got wide and evidently the track is dirty wide," said Johnson. "I didn't have anything go wrong, I just got wide and the car just started going straight and it wouldn't turn. I was in the marbles. I couldn't see the line where the track was clean and dirty and it just kept going straight and straight and straight and hit the wall."
During the brief session, Denny Hamlin was fastest, with a best lap of 188.265 miles per hour in his No. 11 Joe Gibbs Toyota. Johnson was second, followed by Kevin Harvick, Ty Dillon and Kyle Larson.
Although Hamlin was atop the board in his Camry, the next seven drivers were all in Chevrolets. In five previous Cup races at Kentucky, Chevrolet is the only brand that hasn't yet won here.
The final Happy Hour session is scheduled for 1:30 p.m. ET, with Sprint Cup qualifying scheduled for 6:45 p.m.
For full results from second practice for the Quaker State 400, click here.