Soaring USWNT looks to capitalize on strife in Mexico ranks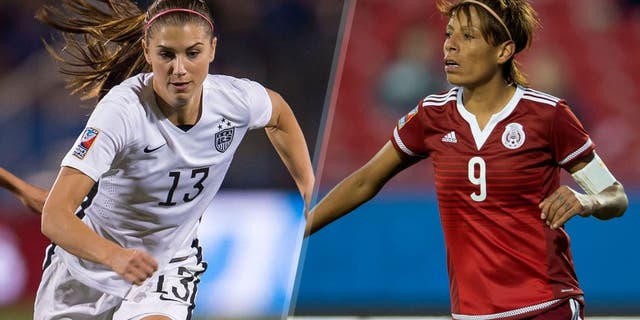 FRISCO, Texas -- After blistering Costa Rica in the first match of this CONCACAF Olympic Qualifying Championship, the U.S. women's national team will aim to secure first place in Group A play against Mexico on Saturday at Toyota Stadium. (4 p.m. ET).
With Alex Morgan and Carli Lloyd dynamically in sync at the top of the U.S. attack, and with a starting XI that U.S. coach Jill Ellis could pencil in in her sleep and get solid results, this match against Mexico has all the earmarks of a U.S. victory. If the U.S. does win, they'll take their 6 points and secure a trip to the semifinals in Houston Feb. 19 and within one victory of a 2016 Olympic berth. The two finalists at the CONCACAF Olympic Qualifying Championship will go to Rio.
However, what looks like gospel on paper doesn't always take into account the intangibles -- or the background intrigue -- that could spark Mexico to stiffly challenge their North American rivals. The expectation is that the No. 1-ranked U.S. women will win this second match of Group A play, but El Tri heads into this showdown with their own agenda.
Mexico and the U.S. are tied atop Group A with 3 points each after Mexico drilled Puerto Rico in their opener on Wednesday. And with a 6-0 victory in the books, Mexico are leading the goal-differential over the U.S. in this group.
Against Puerto Rico, Mexico were led by a hat trick from Maribel Dominguez, a Mexican player who did not compete in the 2015 Women's World Cup and is not playing for a club team. At age 37, the veteran striker was appropriately celebrated for her night's work, regardless of the overmatched opponent. But any over-reliance on Dominguez to repeat her work calls into question an underlying and dramatic storyline that follows Mexico into the tournament: Has long-time El Tri manager Leonardo Cuellar done enough during his long tenure to genuinely improve the Mexico women's national team?
Rumblings of this possibility started before the 2015 Women's World Cup, and have hardly abated since then. Mexico were soundly drummed out of group action in Canada -- a disappointment given the talent pool and the numbers of Mexican nationals who have played Division I soccer in American colleges. For a national team with a long history of international competition, it was startling to see Mexico tie Colombia in their World Cup opener, then lose 1-2 to England before getting pulverized by France, 0-5.
One of the biggest critics has been one of Mexico's best players: Charlyn Corral. The talented forward played at the University of Louisville before heading to the professional ranks in Spain. Her criticism of Cuellar led to him releasing Corral from the roster. Corral took the fight to Facebook, where she announced her international retirement -- at least as long as Cuellar is the coach.
"Football has given me so much, it has helped me forge values, discipline and a privileged upbringing," she wrote on Feb. 4. "Finally, I want to say to all the women footballers of our country that don't stop chasing your dreams and don't let anyone cut them wings. Before footballers we are people, women, and our success depends on our actions, not our limitations."
Corral took it further, accusing the Mexico national team of not allowing "freedom of expression."
"The worst thing in life is bitterness and lies,'' Corral said, saying that the Mexico national team selection process needs "more transparency and less lies."
In a time when women's soccer has improved vastly, with national teams from France, Colombia, Australia, Switzerland, Nigeria and other countries taking the game to new heights at home and collectively, Mexico is struggling to find its next level.
Mexico came out in their opener and delivered a 6-0 win, but even Cuellar emphasized that it will take more balance for Mexico to have any chance against the U.S.
"Maribel is the first to recognize that it is the job of the whole team, and I want to emphasize that her (career) 81 goals is impressive and confirms that she is an icon in our country where women's soccer is concerned, but … (it will take) balance to the group and responsibility of what should be as a team" to beat the U.S., Cuellar said.
Meanwhile, as Mexico apparently struggles to build a cohesive post-Women's World Cup roster, the U.S. has arrived at this Olympic qualifying tournament looking pleasantly -- and just a little surprisingly -- cohesive, strong and powerful.
With just 20 players on the roster, Ellis made careful choices to put versatile players together. But the truth is, with nine starters from the World Cup on board, and the addition of Crystal Dunn and Lindsey Horan at the flank and holding midfield spots, the 2016 U.S. women's national team looks and plays with much more focus than it did a year ago.
Mexico may be relying on a 37-year-old unaffiliated player to resolve its issues, but the U.S. -- without Abby Wambach and several other holdovers from 2011 and 2012 World Cup and Olympic rosters -- has entered a new era in grand style. Their decisive win over Costa Rica should be fuel for another good performance.