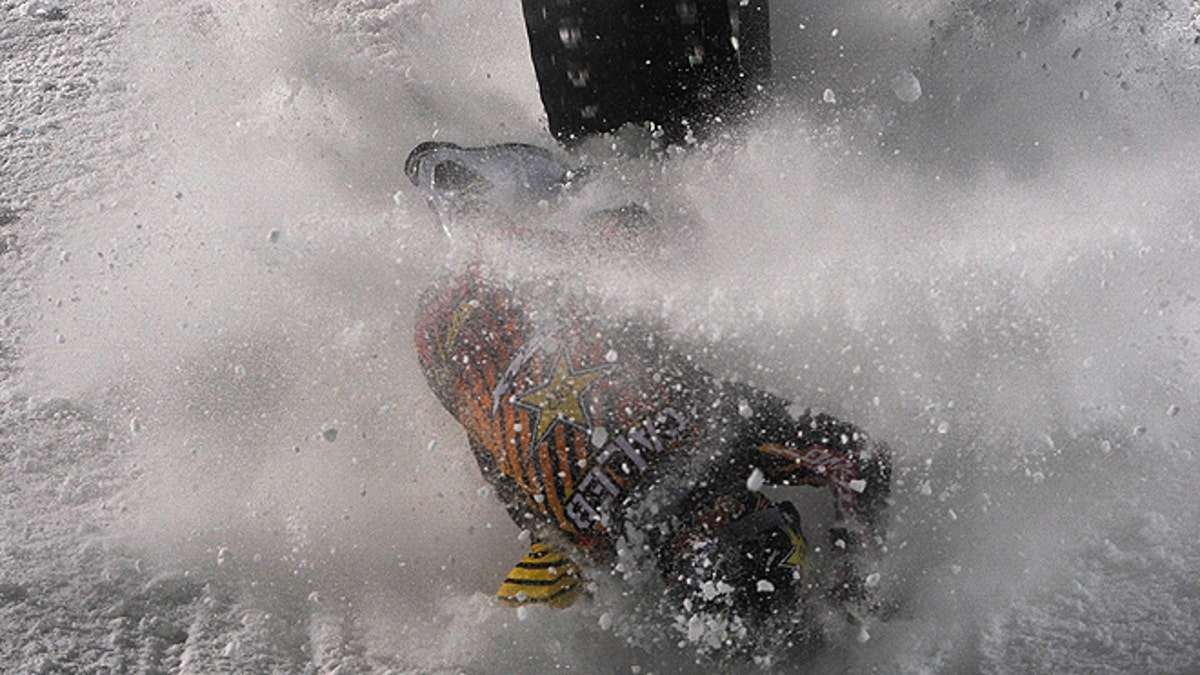 ASPEN, Colo. – Caleb Moore grew up racing all-terrain vehicles in Texas but later switched to snowmobiles, learning to do tricks and flips far from the mountain slopes. He was a fast learner, going from beginner to a fierce competitor in action sports in a short time.
But his run could end after a crash last week during the Winter X Games left him in critical condition Tuesday. His family said they weren't hopeful about the 25-year-old's chances for survival.
Moore was performing a flip off a jump Thursday when he caught the top of the hill that was serving as a landing area and went over the handlebars, landing face-first into the snow. His snowmobile rolled over him, but he walked away with help and went to a hospital with a concussion.
Moore later developed bleeding around his heart. His family said that Moore, of Krum, Texas, also had a complication involving his brain.
"Caleb is not doing good at all," his grandfather Charles Moore told The Denver Post. "The prognosis is not good at all. It's almost certain he's not going to make it."
A family spokeswoman thanked fans and friends for their support in a statement Tuesday, but declined further comment.
Moore's younger brother, Colten, was also injured at the games in Aspen on Thursday, suffering a separated pelvis. In a separate event Sunday, a runaway sled veered into the crowd after the rider fell off during a jump gone wrong.
The injuries underscore the dangers at the games, an increasingly popular showcase of the world's best action sports athletes in a festival atmosphere. In Sunday's incident, snowmobiling newcomer Jackson Strong tumbled off his machine during the best trick competition. The throttle stuck on the 450-pound sled and it swerved toward fans who scurried away.
In a statement, X Games officials said they've paid close attention to safety issues during the event's 18-year history. "Still, when the world's best compete at the highest level in any sport, risks remain. Caleb is a four-time X Games medalist who fell short on his rotation on a move he has landed several times previously," the statement said.
B.C. Vaught, Moore's agent, said his client is a quick and determined learner: "Whatever he wanted to do, he did it," Vaught said.
Two weeks after Vaught said he taught Caleb to do a backflip, the then 17-year-old said he was ready and joined Vaught's road show, including a trip to Europe. Vaught said Moore set up a practice ramp in his hometown about 50 miles northwest of Dallas, even though the area rarely gets snow.
Caleb began launching his snowmobile into pools of foam a month before the 2010 X Games. After training briefly in Michigan, he joined the big leagues, Vaught said. In the off-months, he used the foam pit in Texas for practice.
Tucker Hibbert, who won his sixth straight SnoCross title at Winter X, hopes people don't associate the injuries with snowmobiling.
"Obviously, at the X Games, you're seeing the most extreme side of our sport," said Hibbert, of Pelican Rapids, Minn. He said it was natural to "see some injuries and some pretty big crashes when you're pushing the limits."
Vaught said Moore's only previous injury was a bruised hip last year.
"In sports, everybody makes mistakes, even if it's rare. Caleb made a mistake. That's it," said Vaught, who witnessed Moore's crash.
The spills at Winter X haven't been limited to snowmobiles. Rose Battersby suffered a lumbar spine fracture in a wipeout during practice before the skiing slope-style competition. Soon after her crash, Ashley Battersby, who's not related to Rose, wiped out on the course and slid into the fencing. She suffered a knee injury.
Halldor Helgason of Iceland suffered a concussion when he over-rotated on a flip during the snowboard big air competition. He saluted the crowd as he was taken off the icy course.
Moore's crash came more than a year after Canadian freestyle icon Sarah Burke died from irreversible brain damage during training in Park City, Utah. The 29-year-old was a pioneer in the sport and a driving force behind the inclusion of slope-style and half-pipe skiing at next year's Winter Games in Sochi, Russia.