Snowmobiler Caleb Moore in critical condition after crash at Winter X Games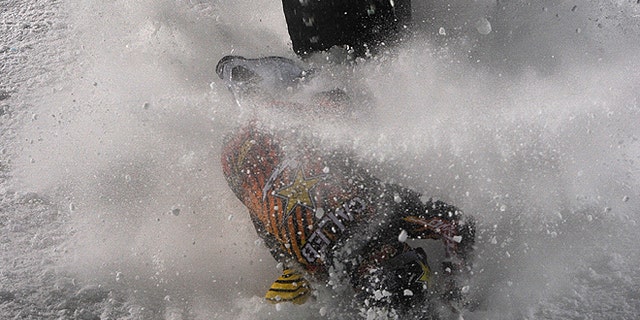 ASPEN, Colo. – Snowmobile rider Caleb Moore remains in critical condition days after a gruesome crash at the Winter X Games in Aspen.
His family thanked Moore's fans for their support Monday and asked for their prayers.
Caleb's grandfather, Charles Moore, told The Denver Post on Monday that the prognosis was "not good."
"It's almost certain he's not going to make it," Charles Moore told the newspaper.
If the Texan snowmobiler does not survive, it will mark the first fatality in the 17-year history of the Winter X Games.
The 25-year-old was performing a flip Thursday when he clipped the top of a jump and went over the handlebars. The snowmobile rolled over him, but he walked off the course with help and went to a hospital with a concussion.
While there, he developed bleeding around his heart and was flown to Grand Junction for surgery Friday. His family said Sunday that Moore then had a secondary complication involving his brain. They didn't provide details.
Moore's younger brother, Colten, also crashed in the competition and sustained a separated pelvis.
"Caleb is in critical condition and is being closely monitored," family spokeswoman Chelsea Lawson said Monday evening. "The Moores want to express their gratitude to all of Caleb's fans, friends and family for their strong support and ask for continued prayers in the coming days. The family will not be making any other public statements for the time being. Thank you for respecting the family's privacy during this difficult time."
The Associated Press contributed to this report.