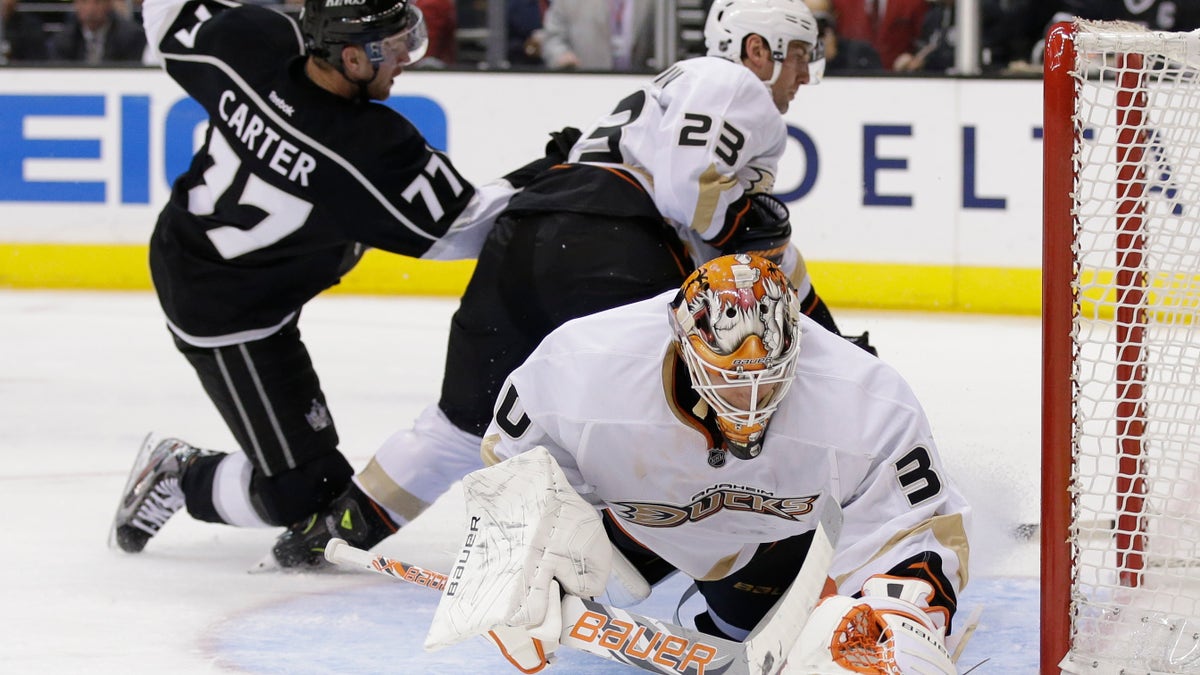 LOS ANGELES – Slava Voynov scored the go-ahead goal in the third period and the Los Angeles Kings defeated the Anaheim Ducks 5-2 Monday night for their fourth consecutive victory while snapping the Ducks' six-game winning streak.
Dustin Brown added a goal and his 200th career assist, and Anze Kopitar had three assists to help the Kings win for the sixth time in seven games. Jonathan Quick stopped 24 shots.
The Pacific Division-leading Ducks, who had come from behind in all six of their recent wins, twice owned one-goal leads, but fell short of tying the franchise record for consecutive victories. They had won 10 of 11.
Their 30-year-old rookie, Viktor Fasth, made 20 saves in the loss after winning his first eight NHL games, the longest streak in the league this season.
The Kings broke a 2-2 tie 4:46 into the third period. Voynov's first goal of the season came on a shot from the right side that struck Fasth and trickled through his legs. Kopitar and Brown got the assists.
With Sheldon Souray sent off for slashing, Jake Muzzin struck 15 seconds into the penalty, beating Fasth glove-side to make it 4-2 at 6:23. Kopitar and Voynov assisted.
Brown had a chance to extend the Kings' lead with 2:33 to play on a penalty shot. He was on a breakaway when he got pulled down from behind by Ben Lovejoy. But Fasth forced Brown wide right and he missed, making him 1 for 3 on such shots in his career.
Jeff Carter made up for it by scoring with 20 seconds left.
The Kings twice rallied from one-goal deficits in the second to tie the game.
Brown made it 2-2 on his shot from center ice that sailed over Fasth's head, hit the crossbar and bounced in at 17:53. Dustin Penner tied it 1-1 with his first goal of the season on a tip-in off a pinpoint pass from Jarret Stoll at 3:16. Stoll also earned his 200th career assist.
The Ducks led 1-0 on Andrew Cogliano's goal off a rebound that got under Fasth's glove 13 seconds into the second. They took a 2-1 lead on Saku Koivu's power-play goal at 5:51. Rob Scuderi swept away a rebound in front of the net that went to Koivu, who scored his fifth goal.
The Kings outshot the Ducks 10-7 in a scoreless first.
Notes: The Kings have beaten the Ducks four straight at Staples Center. ... The Ducks won the first meeting 7-4 in Anaheim on Feb. 2. ... Ducks RW Teemu Selanne played in his 100th career game against the Kings. He is Anaheim's career scoring leader against them with 52 goals and 66 assists. ... Penner played in his 499th career NHL game. ... The teams will meet twice more in April.